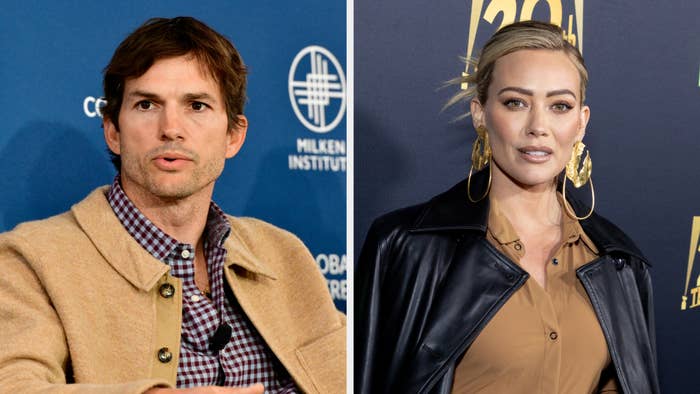 An old video of Ashton Kutcher making an inappropriate comment about Hilary Duff has resurfaced in light of his and Mila Kunis' support of Danny Masterson.
The clip comes from a 2003 episode of MTV's Punk'd, a show hosted by Kutcher until 2007, where he would infamously pull outrageous pranks on celebrities. In the newly viral video, Kutcher made a comment about Duff, his then co-star in 'Cheaper by the Dozen,' that some social media users agree didn't age very well.
"Hilary Duff is in Lizzie McGuire, she also has an album out. She's going to be in a movie called Cheaper by the Dozen," said a 25-year-old Kutcher about the then 16-year-old Disney star. "And she's one of the girls that we're all waiting for to turn 18. Along with the Olsen twins."
Another damning clip of Kutcher from a 2002 appearance on The Rosie O'Donnell Show is making its rounds online. During the interview, Kutcher and Kunis discussed co-starring as Michael Kelso and Jackie Burkhart on That 70's Show. They revealed that when they began the show in 1998, Kutcher was 19 years old, and Kunis was merely 14. Kutcher said they were told early on that the two would be "making out" in certain scenes. "And I'm like thinking this is slightly illegal, right," he pondered.
Kunis then claimed that Kutcher and Danny Masterson made a bet regarding the on-screen kiss, which she revealed was her first ever. "I never kissed a guy. And you know, Ashton is attractive and I was a 14-year-old little girl, and I was extremely scared for my life," he said.
"Then Danny goes, 'Dude, I'll give you $10 if you French kiss her,'" continued Kunis before being interrupted by Kutcher, revealing that Masterson had actually bet $20 that he wouldn't do it. "And then the cops showed up, and you got arrested," said O'Donnell. "They should have, but they didn't," Kutcher responds.
The clip ends with Kunis explaining that Kutcher's attempt to French kiss her never succeeded because she didn't allow it, even though he adamently claimed otherwise.
Another uncomfortable exchange, this time between Masterson and Conan O'Brien from 2004, was brought to light where the talk show host eerily predicted that the former TV star would be "caught soon."
Kutcher and Kunis, now 45 and 40 respectively, made headlines this week when it was revealed that they sent letters to a Los Angeles County judge asking for leniency for their former co-star Masterson who was sentenced to 30 years to life in prison after being found guilty of two counts of rape.
"While I'm aware that the judgment has been cast as guilty on two counts of rape by force and the victims have a great desire for justice, I hope that my testament to [Masterson's] character is taken into consideration in sentencing," Kutcher wrote in his letter, before adding that he doesn't believe Masterson "is an ongoing harm to society."
After online backlash in response to the letters, the couple apologized in a video uploaded to social media on Saturday. "We support victims. We have done this historically through our work and will continue to do so in the future," said Kunis in the clip. "They were intended for the judge to read and not to undermine the testimony of the victims or re-traumatize them in any way," added Kutcher. "We would never want to do that, and we're sorry if that has taken place."