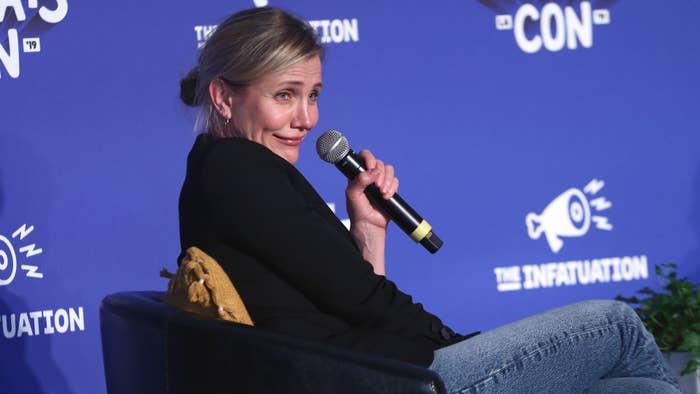 Following word that Cameron Diaz is indeed un-retiring from acting, a previously released interview has resurfaced in which the actress and author reflected on her pre-fame years as a model in Paris.
The Second Life podcast discussion from 2020, which received revived attention this week from Jezebel and other outlets, saw Diaz revealing she was convinced the "only job" she got while in Paris was one that—unbeknownst to her at the time—doubled as a drug mule.
"I got enough money to be able to go to Paris and get an apartment and live there," Diaz said of this chapter of her multifaceted career. "I shared an apartment with a girlfriend who's still one of my best friends. But I didn't work a day in Paris. Like, I was there a full year, and I didn't work one day. I couldn't book a job to save my life. I got, like, one job but really I think I was, like, a mule carrying drugs to Morocco, I swear to god."
Diaz noted this was "before TSA or anything like that," although she did have a nerve-racking ordeal while traveling.
"This was, like, early 90s and they gave me a suitcase that was locked that had my costumes in it—quote unquote, air quotes—and when I got there the guy was like 'Whose suitcase is this? Can somebody open it?'" she said. "And I was like …. What the fuck is in that suitcase?"
Ultimately, Diaz said, the "really unsafe" situation came to a close with her informing the inquisitive bag checker that she had "no idea" whose luggage it was.
"That was my only job I ever got in Paris," she said.
Of course, it all worked out in the end for Diaz, who later made her feature film debut alongside Jim Carrey in the 1994 blockbuster The Mask.
In June, Jamie Foxx announced that he and Diaz will appear together in the upcoming Back in Action for Netflix. Production on the film, which marks Diaz's first role since 2014's Annie, is set to begin later this year. In a recent CBS Saturday Morning interview, Diaz reflected on her decision to step away from acting eight years ago, as well as how it feels to be returning. See more below.