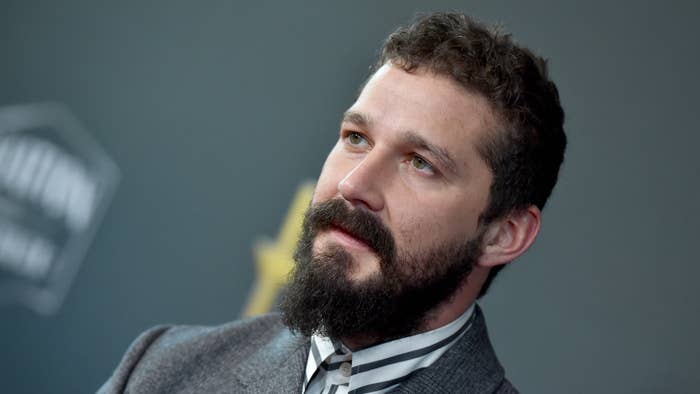 Screenwriter James Ivory has revealed more details about Shia LaBeouf nearly being cast in the role of Oliver in the Oscar-winning 2017 instaclassic Call Me by Your Name.
In a GQ-shared excerpt from his Solid Ivory memoir, Ivory—whose directorial history includes The Remains of the Day—reflects on LaBeouf having been contacted for the part, though he was initially "doubtful" the actor was the right choice. Still, after Ivory viewed some of LaBeouf's work, the actor—who was sued by FKA twigs last year for alleged physical, mental, and emotional abuse—flew to New York and read with Timothée Chalamet (who plays Elio in the film). As Ivory explains, he and Call Me by Your Name director Luca Guadagnino were "blown away" by what they saw.
"The reading by the two young actors had been sensational; they made a very convincing hot couple," Ivory wrote. LaBeouf was ultimately dropped from consideration due to what Ivory described as "bad publicity" at the time. Guadagnino "never spoke to, or of" LaBeouf again after casting Armie Hammer as Oliver.
Call Me By Your Name, starring Chalamet and Hammer, was released to effectively unanimous acclaim in the fall of 2017. This year, Hammer was accused of sexual assault. A statement shared with the Daily Beast in March, specifically in response to allegations from a woman who alleges Hammer violently assaulted her, saw an attorney for the actor stating that "all of [Hammer's] interactions with [Effie]—and every other sexual partner of his for that matter—have been completely consensual, discussed and agreed upon in advance, and mutually participatory."
Also this year, FKA twigs spoke with CBS' Gayle King about her allegations against LaBeouf, noting that domestic abuse can be a "really gradual step-by-step process" that results in a person being conditioned to think they deserve abuse.
"It's not one thing. It's loads of tiny little things that get sewn together into a nightmare," she said in February. An attorney for LaBeouf said in a court filing the same month that the actor denies "generally and specifically each and every allegation" contained in the lawsuit.