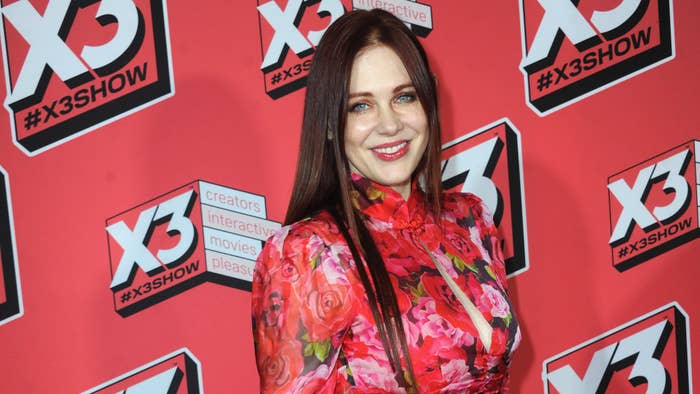 Acclaimed adult film performer Maitland Ward is opening up about her experiences as one of the stars of Boy Meets World, not to mention her more recent transition into the world of porn and her larger artistic goals within the medium.
Ward, whose adult film work has been met with numerous accolade from the AVN Awards and XBIZ (among others), this month released her new book Rated X: How Porn Liberated Me From Hollywood. In it, Ward reflects on her years spent playing Rachel McGuire on the Disney hit and how the resulting pigeonholing of the types of role she was able to land later inspired her to move into a field that's ultimately led to her being widely citied as one of porn's most in-demand stars.
In a new interview with the Daily Beast, Ward detailed her continued ambitions within porn—including her inventive work with Muse director Kayden Kross—and detailed some of the negative experiences she had during her Boy Meets World era.
"They were wanting me to be this sexual butt of the joke on the show, but at the same time they were saying, 'Oh, we're not doing that—and you shouldn't be doing that outside of work,'" Ward recalled of the double standard often employed by writers on the series. At the time, Ward said, she wasn't aware of how her character "was used as a sexual prop" on the series. Certain scenes were intentionally designed, Ward noted, to fulfill "fantasies" of the writers.
"And nobody came up and sexually assaulted me or anything, but it was always, 'Let's look at her,'" she told Marlow Stern. "I think that they fantasized about it in the writers' room, and every week they would put me in a different predicament that had a sexual undertone."
In addition to her and Kayden's shared aim of bringing mainstream film and porn together "completely," Ward also has big plans for her new book, including a potential sale of the rights for a possible biopic. She even floated a name to the Daily Beast as someone who could portray her during the Boy Meets World sections of the story: Stranger Things and The Whale star Sadie Sink.
In August, Ward and Kross launched the five-part feature Drift. See a recently released (and SFW) teaser below.
In a separate interview with Page Six, shared over the weekend, Ward spoke even more definitively about how this chapter of her career has been the most rewarding. Speaking on the low likelihood of such a trajectory being successfully carried out, Ward summarized just how far she's come while pointing to the importance of being sex-positive.
"You would (not) think a Disney star when she was young would become a top porn star," Ward told the outlet, which also shared a Rated Xexcerpt. "Not just making a sex tape or something, you know? Like an actual, substantial, award-winning porn star, making more money and (who) has more credibility and respect that she did when she was young."
In March, Ward was announced to have secured the lead in Sonja O'Hara's upcoming thriller Just for You. The film, billed as a "dark" psychological journey focused on a metaverse attack, is set to be released next year.