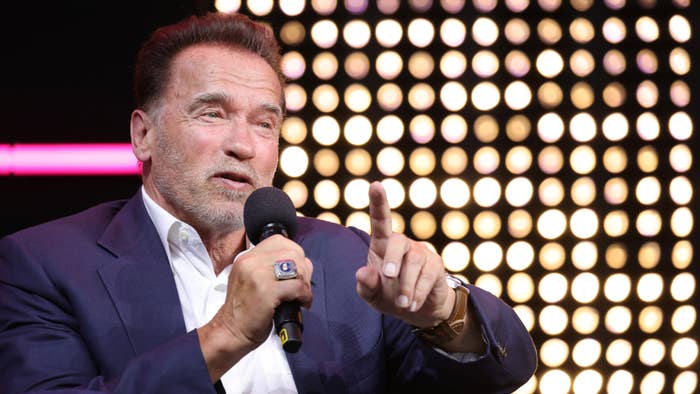 In a nine-minute video shared to social media and elsewhere this week, Terminator: Dark Fate star and former California governor Arnold Schwarzenegger addressed the people of Russia, as well as President Vladimir Putin directly, amid the country's invasion of Ukraine.
At the top of the video, Schwarzenegger explained that he was sharing this message in an effort to reach "my dear Russian friends and the Russian soldiers serving in Ukraine" about "terrible things" being withheld from them. The actor and Republican political figure mentioned his father—who was a Nazi sergeant—and refuted the oft-repeated claim from those in power in Russia arguing that the war is being carried out to "de-nazify" Ukraine.
"Ever since I was 14 years old, I've had nothing but affections and respect for the people of Russia," Schwarzenegger, who noted that an early source of inspiration for him as a teen was Russian weightlifter Yuri Petrovich Vlasov, said Thursday. "The strength and the heart of the Russian people has always inspired me. And that is why I hope that you will let me tell you the truth about the war in Ukraine and what is happening there. … I know that your government has told you that this is a war to de-nazify Ukraine. De-nazify Ukraine? This is not true."
From there, Schwarzenegger noted that this is "not the Russian people's war" and compared being compelled to speak out about the invasion to how he felt when addressing last year's fatal Capitol riot. Directly mentioning Putin toward the end of the video, Schwarzenegger urged the Russian president to end the war.
"To President Putin I say, you started this war," he said around the 8:26 mark in the video above. "You are leading this war. You can stop this war."
Schwarzenegger also spoke on "propaganda and disinformation," as well as offered words of support for those who have been actively protesting Russia's invasion of Ukraine. The actor, who's soon to be seen in the upcoming Kung Fury sequel, previously addressed the Ukrainian people in a note shared to his socials in February. "You inspire me with your bravery and your humanity in the face of this nightmare," he said at the time.