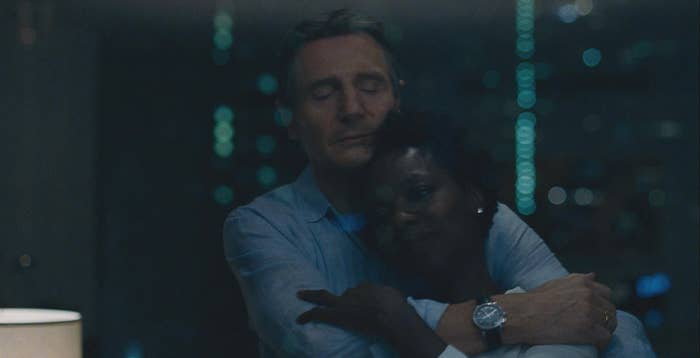 Steve McQueen and Gillian Flynn's heist film Widowsopens with Viola Davis, who plays Chicago Teachers Union lobbyist Veronica Rawlings, and Liam Neeson, who plays her husband and professional criminal Harry Rawlings, passionately tonguing each other down in their beautifully sunlit bedroom before they begin their day. They are in love. They are rich, which is immediately apparent in that shot from their quality sheets. It's an incredible opening scene, preceding an incredible loss—Harry and his three accomplices are killed by the police during a heist gone wrong. In less than ten minutes, McQueen and Flynn are not only able to show what the Rawlings couple mean to each other, but the backstories of the three other wives—Linda (Michelle Rodriguez), Alice (Elizabeth Debecki), and Amanda (Carrie Coon)—the heist, and how all of the women grieve. But it all goes back to that opening shot, the casual importance of which was stressed by Davis herself.
"I look at the way the film begins with me in bed with Liam Neeson. We're kissing and it's a sexualized kiss and here I am, I'm dark, I'm 53, I'm in my natural hair and I'm with Liam Neeson, I'm with what America would consider to be a hunk," she said in an interview with BBC. "He's not my slave owner, I'm not a prostitute, it's not trying to make any social or political statement, we simply are a couple in love. What struck me about that in the narrative is that I've never seen it before." 
I hear Viola Davis; as a black woman, her Hollywood path has been one rooted in both racism and sexism, and it seems she's finally getting the roles she's long overdue for. But, her statement does a light disservice to the complexity of Widows, and it's also ahistorical.
Critics have highlighted the optics of the Rawlings relationship too, though in a way that seems to be subtly racist. In Owen Gleiberman's review of the film for Variety, he wrote: "The simple fact of a mixed-race marriage presented this casually is still startling to see in a mainstream movie, to the point that we can't help but invest this passionate pair with a certain romantic idealism." Yet, it shouldn't be startling to see Davis and Neeson, as Steve McQueen told Buzzfeed: "If you saw it in the street you wouldn't think twice of it but somehow on the big screen it sort of amplifies and magnetizes what that is."
It's been done before. There's Whoopi Goldberg and Ted Danson in Made In America. Angela Bassett and Robert De Niro in The Score. Rick and Michonne on The Walking Dead. Kev and V on Shameless. British Television. And, Davis' own character Annalise Keating on How To Get Away With Murder, where she's married to a white man and later dates her therapist. And that's just a few movies and shows that have shown black women and white men in relationships without race being the main, or only, focus.
Widows does this, too. Race isn't the conflict of the plot, but race and class tensions are explored viscerally from the disparities in the local Chicago community to the Rawlings' marriage.
There's a funny scene where Veronica Rawlings is laying in bed, playfully pondering on "How did she end up marrying a white man." When Jamaal Manning (Brian Tyree Henry), the crime boss turned politician, tells Veronica, "welcome back" after her husband died, the racial subtext is clear. In a horrific flashback, we find out that the Rawlings' teenage son's death was the result of another unarmed black man being killed by the police (he was reaching for his cell phone). It's an unforgettable instance that changes the dynamic of the Rawlings loving marriage and our perception of it; Henry wants Veronica to move on, and Veronica is both hurt and angry at Henry.
And, it makes Davis' statement even more off-base when you find out the truth about the Rawlings marriage at the end of the film. [Ed Note: Spoilers from here on out.] Henry is indeed, like most men, trash. Veronica finds out that Henry wasn't killed, but instead hiding out with one of the widows, Amanda Nunn (Carrie Coon)—and their four-month-old baby—with a plan to escape and live happily ever after, I suppose.  In a heated moment, face-to-face with Henry after finding out the truth, Veronica, rightfully so, yells at him for leaving her all alone for his "new white family."
The thing to point out about the Rawlings interracial marriage isn't that it's presented "casually" or without "social or political commentary," but that it's presented honestly. The problem that Hollywood continually has with stories about interracial relationships is that it's either the main conflict of the story, or there's no talk of race at all. That's just not realistic; not exploring the nuances, cultural differences or very real underlying thoughts that very much so exists within the world of any two people building a relationship. It's clear that Widows intended to show that truth even in very subtle ways.