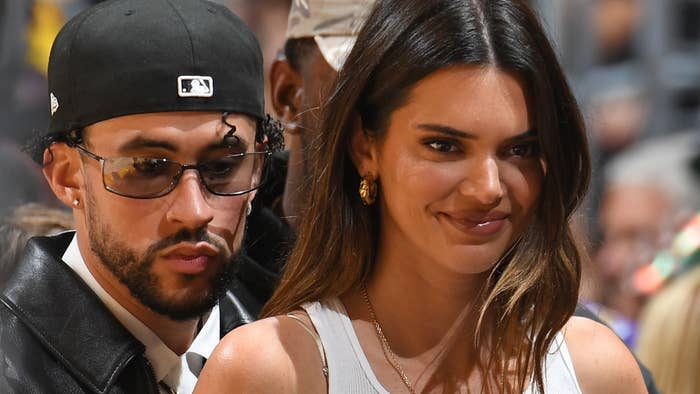 Throughout 2023, Kendall Jenner and Bad Bunny's private romance has been consistently making headlines, even at Complex. The surprise couple first sparked relationship rumors in February as they linked up with Jenner's close friends, Hailey and Justin Bieber, for an alleged double date. Since then, the pair have been inseparable and have seemingly continued to grow stronger, even going so far as to attend a Drake concert together—aka the peak of romance.
Coming from a high-profile Kardashian-Jenner clan, the fashion model is familiar with being the center of media attention. And throughout her dating life, Jenner also seemed to have one type...hoopers. Her high-profile exes include Devin Booker, Blake Griffin, and Ben Simmons, to name a few. Her sister, Kim Kardashian, apparently agrees with us considering that she flaunted Kendall's starting-five graphic T-shirt (which sports all five of Kendall's NBA exes) on TikTok.
So, when Jenner's romance with international pop star and Grammy winner Bad Bunny (also known as Benito Antonio Martínez Ocasio) first made headlines, fans were understandably surprised at the new pairing. The private couple has yet to speak about their relationship publicly, but their public appearances, along with their PDA, have increased over the past few months. Here is a full relationship timeline of the high-profile couple, from their first date to their latest outing.
The two are spotted out on an alleged double date with Justin and Hailey Bieber.
Date: February 2023
Kendall Jenner and Bad Bunny were seen leaving the same restaurant, immediately sparking romance rumors. At staggering times, Jenner was seen exiting the L.A. restaurant with her bodyguard, while Benito followed suit around 10 minutes later. According to TMZ, the pair appeared to be on a possible double date with Hollywood's "it" couple, the Biebers, for a Saturday night dinner as they also left following the rumored couple.
Earlier in the week, rumors circulated that Jenner and the Puerto Rican artist were seen having a makeout session in an L.A. nightclub, as per TMZ.
The pair are seen having a major PDA moment on a sushi date.
Date: March 2023
In March, the twosome confirmed their romance as they packed on the PDA after grabbing a bite to eat. Paparazzi caught the model and singer leaving Sushi Park in West Hollywood as they snuggled up to each other. Jenner was photographed with her arms wrapped around the "Mayores" artist, possibly leaning in to kiss the musician.
Bad Bunny shades Jenner's ex, Devin Booker, in his new song.
Date: March 2023
In March, the 26-year-old took a slight jab at Jenner's ex-boyfriend, Devin Booker. In his feature with Eladio Carrion, "Coco Chanel," the singer seemingly dissed Jenner's former beau with a line that translates: "I'm not bad baby, that's a gimmick/But the Puerto Rico sun is warmer than the one in Phoenix."
Fans attributed the artist's choice of lyrics to Booker since the NBA star is widely known as a Phoenix Suns point guard. The lyrics seemingly match up to fan theories, and Booker even acknowledged that the subtle remark was about him when he responded.
The ball player commented on @reggaetontvcom's Instagram post about the rumored drama, writing, "He worried about another MAN again."
Booker and Jenner's on-and-off two-year relationship ended in June 2022. The pair broke up due to their busy work schedules, as per E! News.
The two go on a horseback riding date.
Date: April 2023
The supermodel and her new boo enjoyed an adventurous date as they went horseback riding. Jenner is known for her love for equestrianism, so of course she took the reins. At the same time, Bad Bunny cozied up behind her. Paparazzi caught the couple at Hidden Hills Equestrian Center in California riding the reality TV star's stallion, Arizona.
Bad Bunny and Jenner make their first public appearance together at the Met Gala after-party.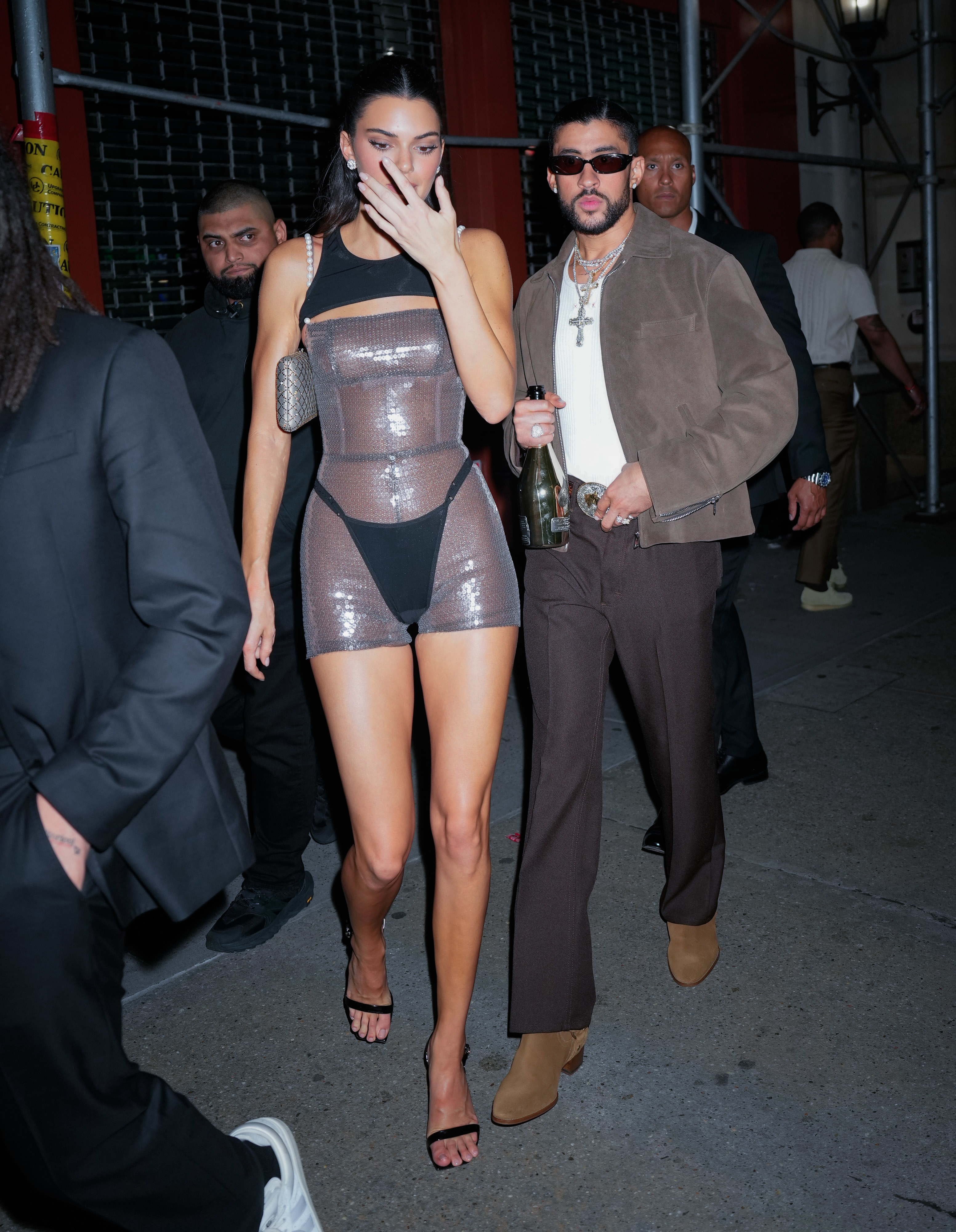 Date: May 2023
The private couple made their public debut as they attended the 2023 Met Gala. Although the pair entered the famed red carpet event separately, they were photographed together later in the night, making their way to the star-studded social evening.
The two were also together inside the event, walking side by side with each other.
Sources say the twosome are "serious."
Date: May 2023
Not long after their post–Met Gala night out, insiders disclosed that the pair's romance was deepening and "getting more serious," as per People magazine.
The source continued, "They are very cute together. Kendall is happy. He is a fun guy. Very much a gentleman and charming. She likes his vibe. He is very chill."
They noted that the pair's romance started slowly, but eventually blossomed into spending "almost every day together." Their two lives have deeply intertwined since they've been hanging out with each other's inner circles. "Kendall is not seeing anyone else. She really likes him," the insider confirmed.
The couple make their public debut at a Lakers playoff game.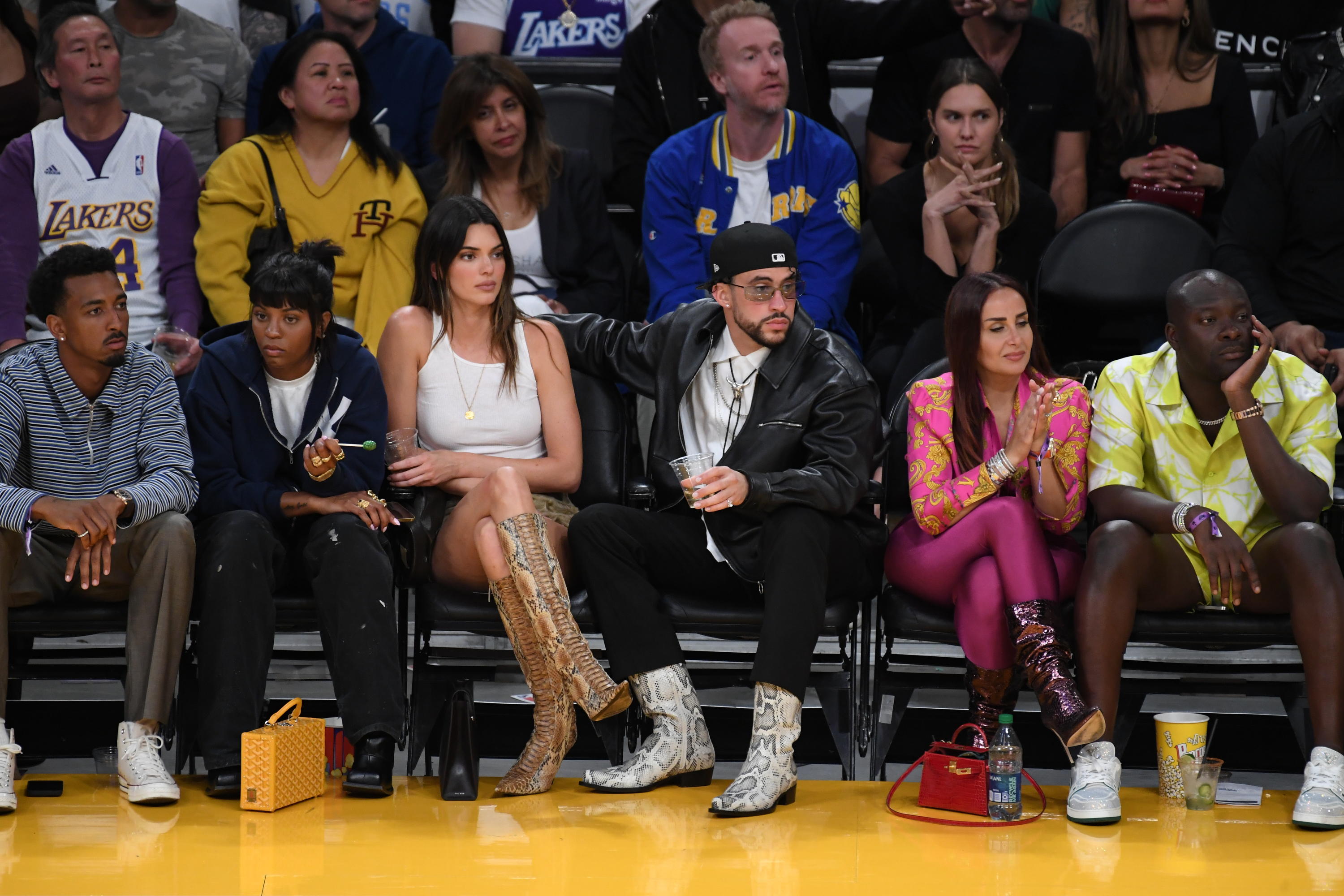 Date: May 2023
During the Lakers playoff game, Jenner and the Un Verano Sin Ti artist were seen courtside, marking their first public appearance. The pair seemingly coordinated snake-skinned boots as they were photographed throughout the night laughing and snuggling up against each other.
A source told Entertainment Tonight that there is "potential" for their relationship to become "long-term," as Jenner is "enjoying their low-key relationship and is excited about where they're headed."
Both speak about the importance of keeping their love life private in separate interviews.
Date: June 2023
In a conversation with Rolling Stone magazine, the songwriter spoke about the need for privacy in his personal life. "I know something is going to come out. I know [people are] going to say something," he said. "People know everything about me, so what's left for me to protect? My private life, my personal life."
The interviewer then asked the entertainer if he could confirm his relationship with the reality TV star. "That's the only answer," he responded, referring to his prior statement. "In the end, the only thing I have is my privacy."
Jenner also had no comment when it came time to spill details about her new relationship with WSJ Magazine. The supermodel is known for her private demeanor when it comes to her love life. "I try [to] find the balance of keeping things private and keeping things sacred, [and] also not letting the unfortunate frustration and stress of everyone trying to get in on it stop me from enjoying my side," she told the outlet. "Does that make sense? I'll go out of my way to do things as privately as possible because I just think that that's the healthier way of dealing with relationships anyway."
Kendall and the Grammy winner vacation in Idaho.
Date: July 2023
The 818 Tequila owner was seen embarking on a romantic getaway with the 29-year-old at the Gozzer Ranch Golf & Lake Club in Idaho, as per People magazine. An eyewitness noted that the pair appeared "really cute" and "so happy together" throughout their vacation. "They definitely seem in love, and super serious. They're really friendly. Kendall is so low-key that plenty of guests don't even know who she [is]," the source said.
Later in the month, the couple went on a date on another sushi date at Sushi Park, which seems to be one of their favorite spots. Paparazzi spotted the private couple walking alongside each other with friends, smiles apparent.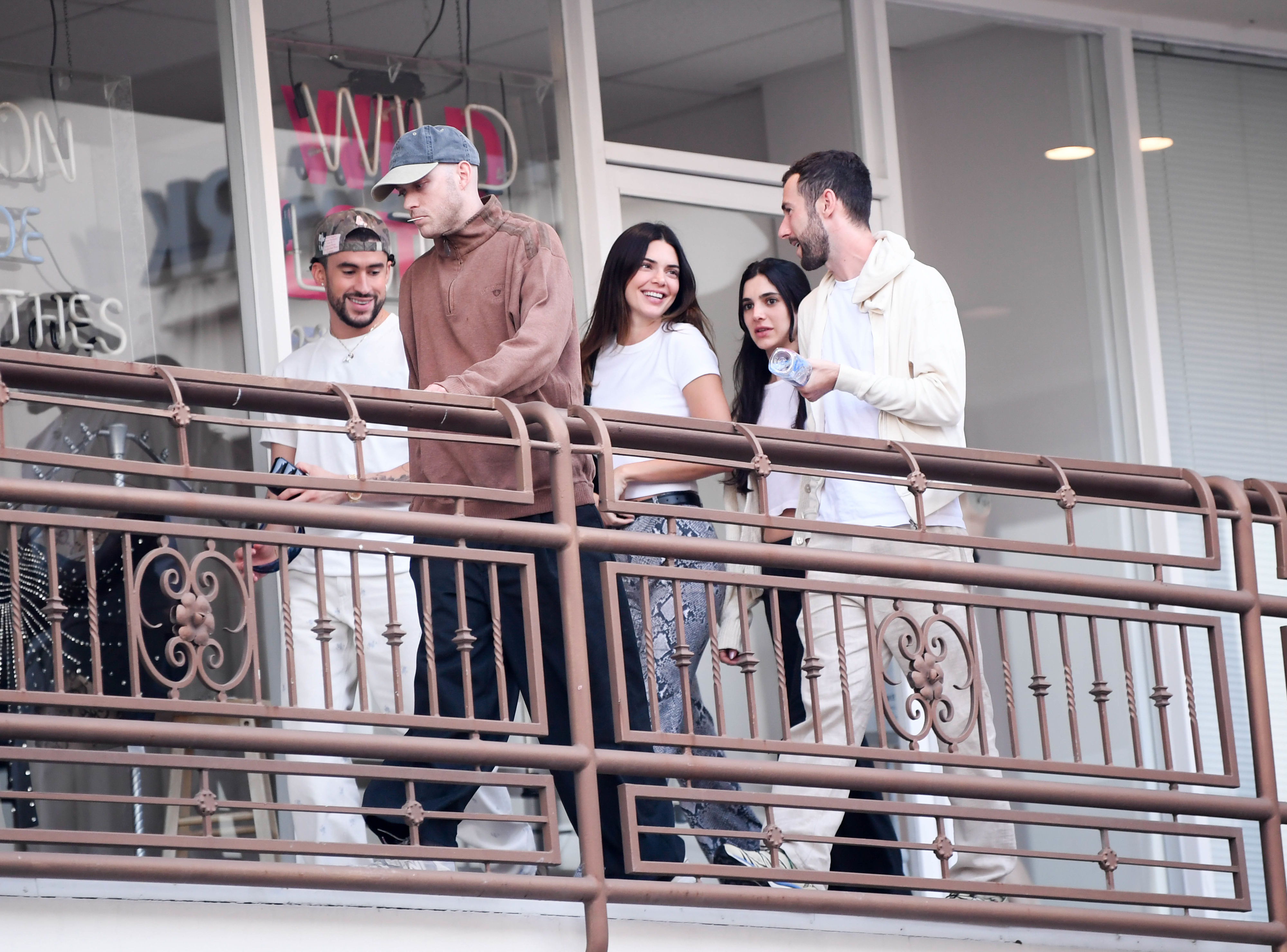 The two attended Drake's Its All a Blur tour with Kim Kardashian and Tristan Thompson.
Date: August 2023
The twosome made headlines while attending Drake's Its All a Blur concert stop in Los Angeles. The pair was seen in VIP alongside Jenner's sister, Kim Kardashian, and Tristan Thompson. Fans recorded them throughout the night and they were captured dancing and snuggling up to each other, while Drizzy performed "God's Plan." The couple was having such a good time together that Jenner was seen laughing so hard she dropped to the floor.
Bad Bunny confirms relationship with Jenner on Instagram.
Date: August 2023
As August came to a close, Bad Bunny sent fans into a frenzy with his steamy shirtless selfies. Fans also gushed over Bunny's post as he was seen wearing a "K" necklace, a nod to his newfound love for Jenner. Fans pointed out that this is not Benito's first time wearing the dainty jewelry piece. @misspeafairy wrote underneath @notskinnybutnotfat's IG post of the news, penning, "He already rocked this months ago at his basketball team's game in PR. It was everywhere."
Bunny's acknowledgment of Jenner doesn't stop there. He flaunted the supermodel's tequila brand on an IG story of two margaritas. The background of the pic showcases Jenner's 818 Tequila bottle.