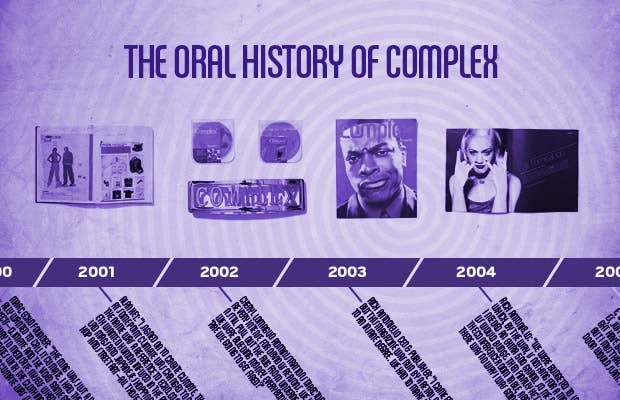 Once upon a time Marc Ecko dreamed of launching his own magazine, mixing and matching street art, hip-hop, fashion, and pop culture without regard to race. What sounded crazy back then now looks like a stroke of genius. Ten years after the first issue hit stands, Complex is both critically acclaimed and widely imitated—with a digital media network that's second to none. "We worked hard to keep it simple," says Ecko, "and make it fun."
"The way Complex was able to respectfully document this cultural stuff, broadcasting it on a mass level without bastardizing, is a real achievement," says Sacha Jenkins, a founder of ego trip magazine and part of the original Complex brain trust.
"Marc is a big proponent of doing shit without being afraid," Jenkins adds. "He took chances your average person wouldn't have taken. The reason why Complex is still here is because a guy like Marc said, 'Fuck it, I'm gonna go for mine.' And he found like-minded people to help make that vision a reality."
Marc himself is the first to admit that the idea was a long shot. "History will be good to Complex," he says now. "But it could have gone so wrong." Not that he ever entertained second thoughts. Let's take a trip down memory lane as we recollect the dawn of the Complex era.
2000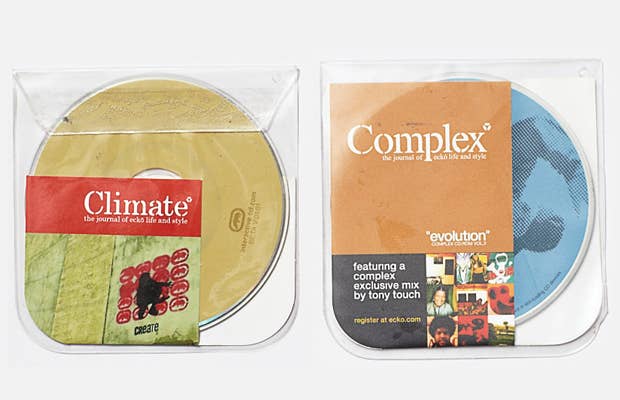 MARC ECKO, Founder: "The mag was just a dream. We initially wanted to call it Climate. I had these two pet projects—Climate and the video game Getting Up—that I used as a way to medicate myself when we were going through some difficult times with the clothing brand. The initial concept for Climate was slightly heady and intellectual."
ALAN KET, Founding Editor 2000–2002: "I knew Marc and Seth Gerszberg, the owners of Ecko, since the mid-'90s. I was starting a magazine called Stress and they were one of our first advertisers. In 2000, I shut down Stress and Seth said, 'Yo, come out and meet me and Marc in South River. We might have an opportunity.'"

The name "Complex" began as a reference to the Ecko.com website. In the early aughts, Ecko Unltd. merchandise had tags that said "ecko.complex." The idea was to evoke images of an "Ecko Complex" as in the Ecko Place, Ecko Factory, or Ecko Zone.
2001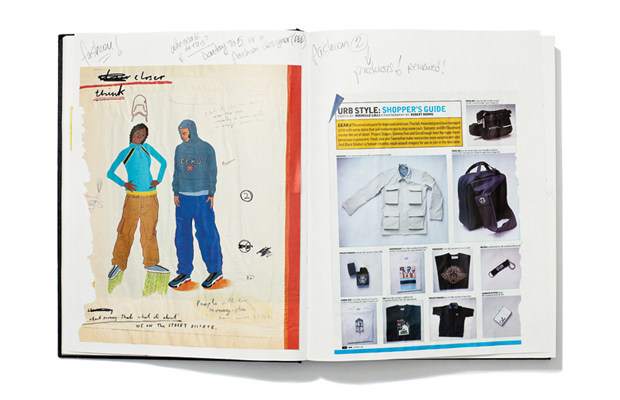 ALAN KET: "I signed on to create Climate, then at some point Climate was changed to Complex—the name was a reference to "Ecko.Complex," a phrase that appeared on the merchandise. The Ecko complex. The Ecko factory. We looked at other men's magazines to see what wasn't being done for men in the U.S. There was Details and GQ, but they were older and whiter. Marc and Seth wanted something else. We infused humor in the publication. British lad mags and Japanese shopping magazines mixed with hip-hop and street art—all those things together became Complex."
TINA IMM, Chief Operating Officer 2001–2003: "Ben White and I were brought onboard by Marc. We had worked in digital since '95 but we always collected magazines—we had a huge pile. The flip cover was inspired by Japanese magazines. We wanted to show the best of both worlds: the mag on one side and the shopping guide on the other."
MATT DOYLE, Photo Director 2001–2009: "I was there from the time when there was four of us. A big part of Complex was that young, creative atmosphere where everyone was just cool and was good at what they did. Very few egos for the most part."

Swag! Not even belt buckle aficionado 2 Chainz could afford this one-of-a-kind chromed-out promotional buckle, on loan from the Alan Ket archives and soon headed to the Smithsonian.
2002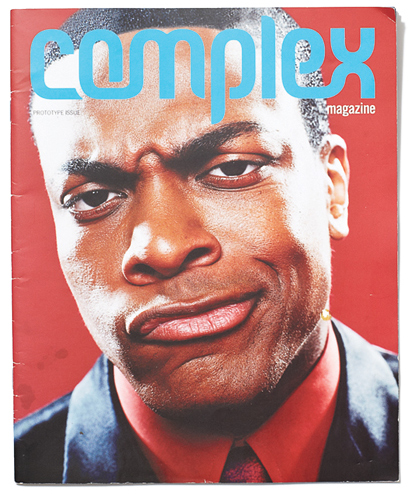 2003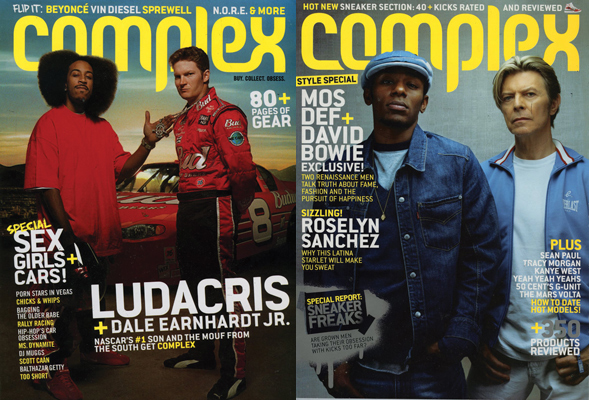 2004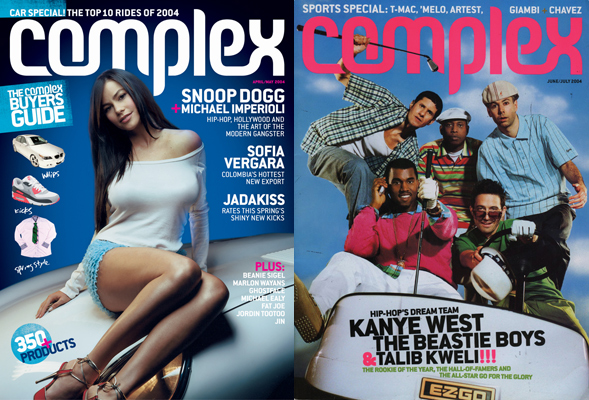 2005
2006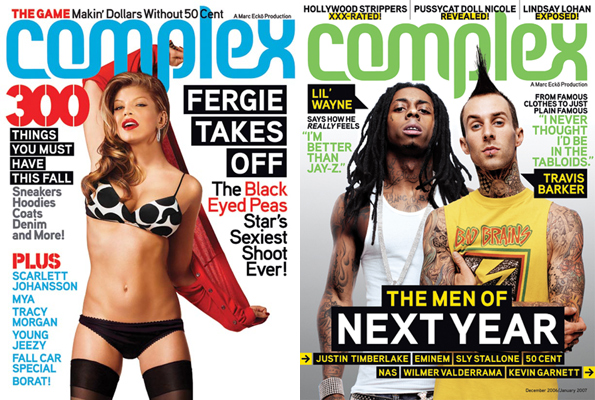 2007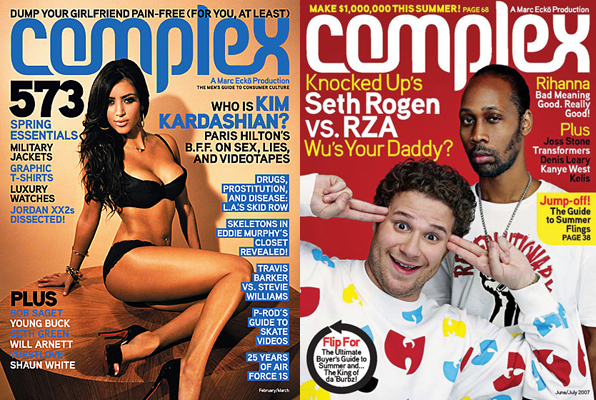 2008
2009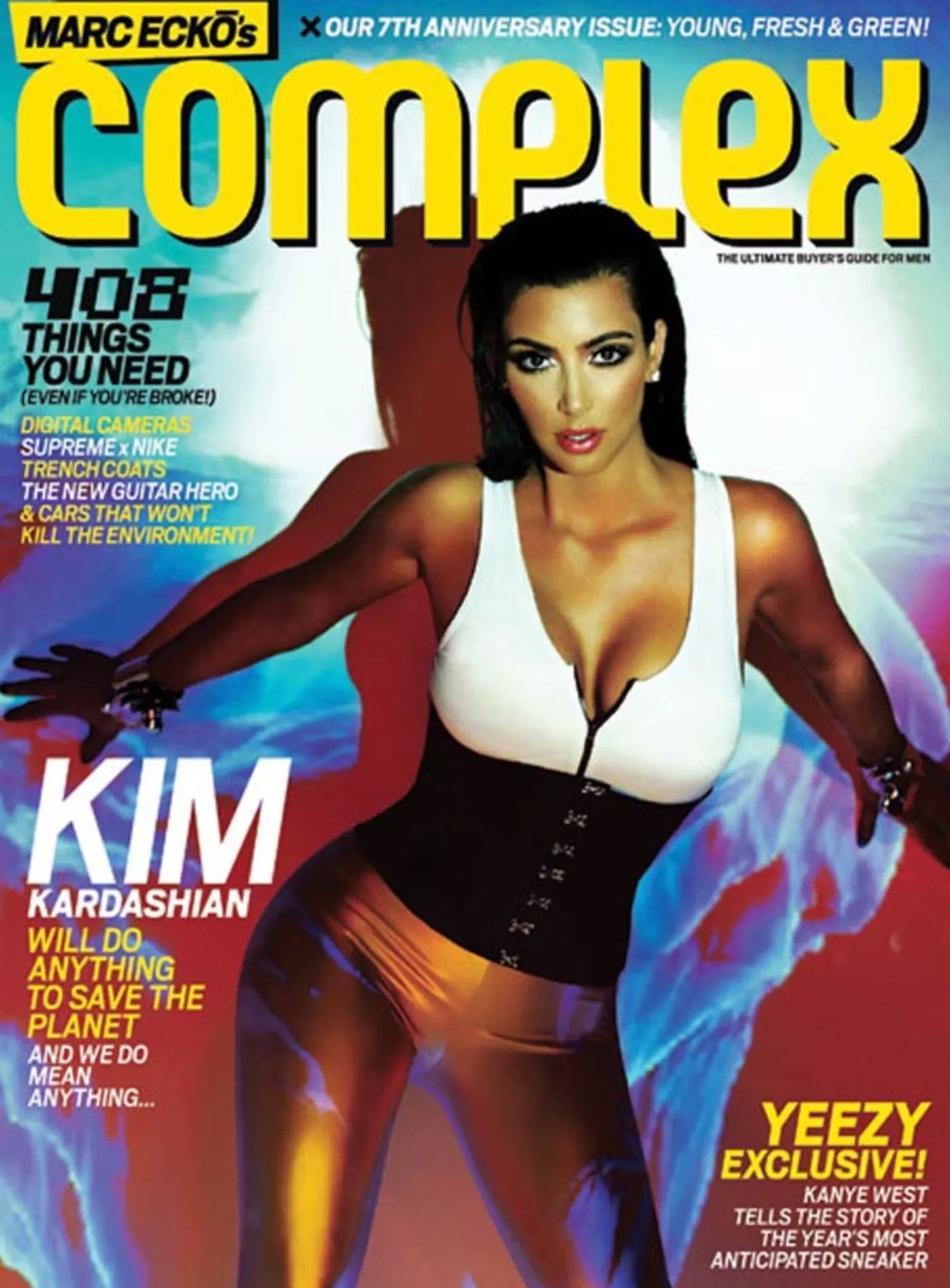 NOAH CALLAHAN-BEVER: "For our second Kim Kardashian cover, we accidentally leaked an image of Kim that was not retouched. Her publicist hit us back and asked us to fix it. We didn't really think much of it. But Bucky 'Dumpster Diver' Turco, our former web editor, ran the two photos on his site, AnimalNewYork.com, and it became a national news story."
TIM LEONG: "We did a CGI cover with Kanye West [April/May], his fourth appearance at the time. We'd had lots of meetings about this whole thing—phone calls with him and Chris Milk, the guy who did the CGI, and the video director. We talked about how the headline was going to work, how it would be rendered in 3D. Then Kanye came in for the layout meeting. Actually came into the office to approve it. It's impressive that he cares that much about how his content is presented. Nobody else really gives a shit. It's usually just an interview and then fuck off. So. He came into my office, looks at the cover, and says, 'Who did this?' I was like, 'Uh, that was me.' He says, 'It completely undermines the artistic integrity of the whole project.' I took a beat and said, 'Well, how do you want to fix this? Let's run through some options.' So, we redesigned the cover feature while he sat there."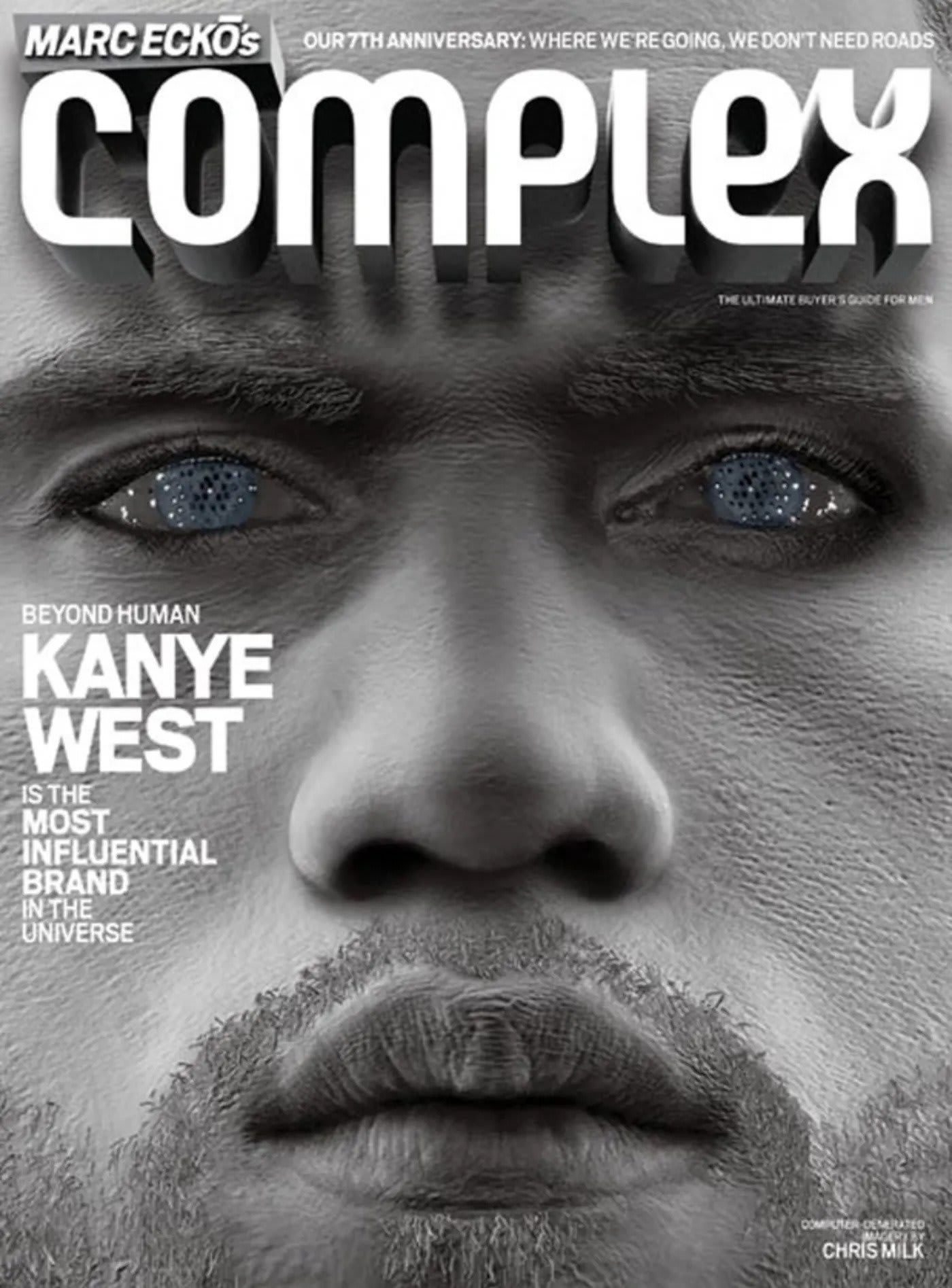 2010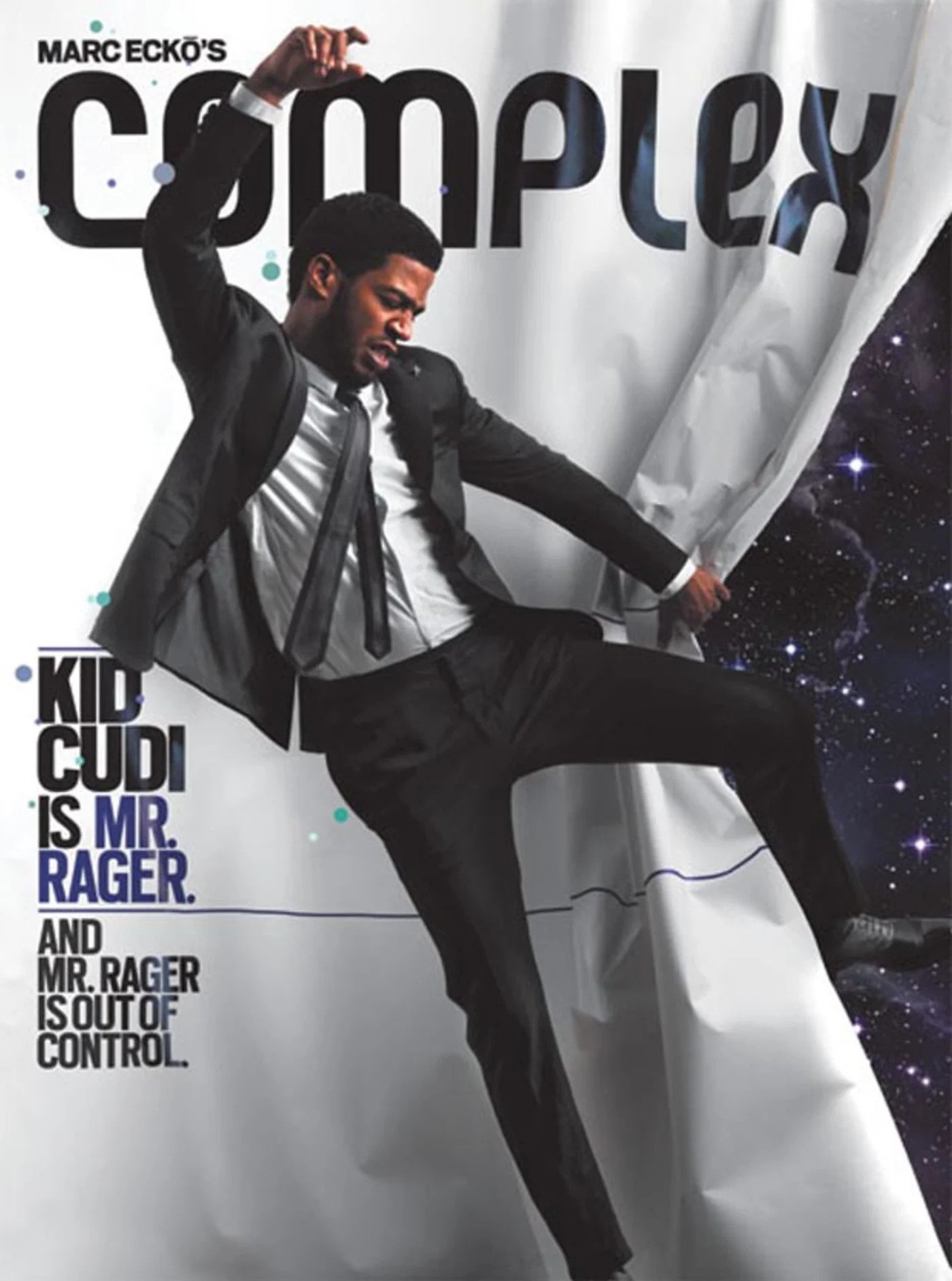 2011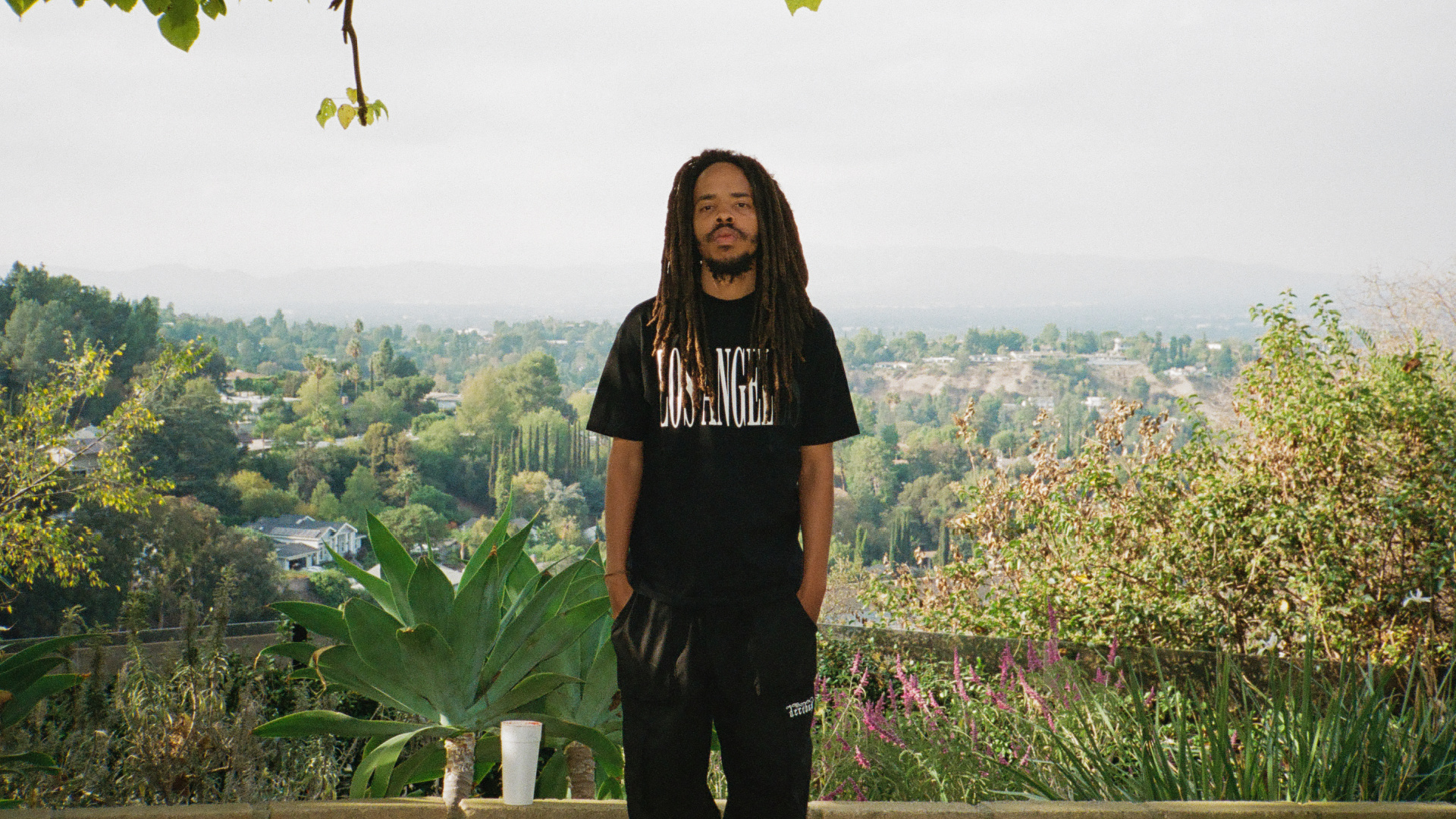 2012