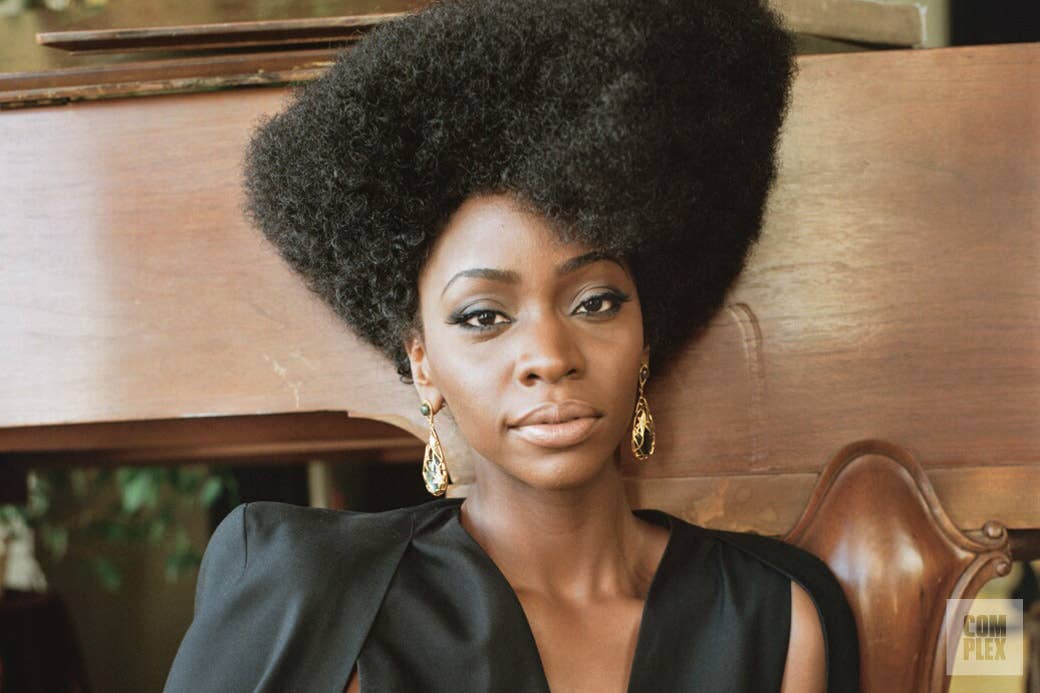 Teyonah Parris is splayed on a rug, embarrassed about the raunchiness of the rap verse streaming from her playlist. The flurry of "fucks" is a little bit of a shock when compared to her appearance—along with her supreme poise, the structural wig she's wearing lends her a regal air, like a modern Queen Nefertiti—but she can't move. The photographer has placed a bouquet of blushing Stargazer Lilies in her hand and the spindly legs of her stilettos would make getting up a scramble. Quickly and discreetly, she directs someone to skip the song. 
Make no mistake, the actor is a Southern Lady at her core, so much so that you can almost feel the stern looks her mama burned into her as a child growing up in South Carolina. After wrapping the photo shoot, she smiles as she scoots back onto a settee in a Los Angeles loft, sun flooding in through the floor-to-ceiling windows. The apartment is situated on a high enough floor that it offers a stunning, if parched-looking and sun-bleached, vista of the city. Having slipped out of her sleek black shift and heels into a striped romper and sandals, she looks younger, maybe, but just as classy. Unfailingly polite, she doesn't chew the berries in her fruit cup with her mouth open, makes a point to mention both the Lord and me by name and doesn't curse during the interview, substituting "shoot" and "oh, gosh" for the typical twentysomething slang—except when I mention this summer's highly publicized incident of an older white man who interrupted her tea date to touch her hair. 
As she documented in a series of incredulous Tweets, the man first asked if her hair was "hers or an add-on." Even after she replied, "Sir, that's rude," he pressed on, telling her it was "stimulating" before actually grabbing it. 
"Let that be a black man walk up to a white woman and decide he's gonna touch her hair. His ass might be dead right now," she says, heat flushing her cheeks. "There are black men dying for a lot less offensive things than that."
That she was fetishized so brazenly in 2015 only reinforces her strategy regarding the roles she's chosen in her burgeoning career, a strategy that aims to entertain, sure, but also to offer portrayals of complex, multi-layered black people. So far, it's been successful. She first attracted attention as Dawn, Don Draper's secretary, the first African-American hired in the Mad Men office. Last fall, she starred in the provocative satire Dear White People. Recently, she wrapped the film Chi-Raq, Spike Lee's very clever reimagining of the Greek play Lysistrata in current-day, gang-ravaged Chicago. And on August 22, she returns to Starz's Survivor's Remorse as Missy, a born-into-money former sorority sister with ever-laid and slayed hair whose first lines include a jab at her husband for moving her to Atlanta, "a city our ancestors came to in chains and lived like mules." 
"I try to be very particular about the roles I choose and what they say and put into the universe. I try to do my part," Parris says. "When you get into this industry and the restrictions placed on women, first, and then on women on color, next? Yeah, this business comes with its challenges. But I do not shy away from those challenges."
Parris has never been one to back down. Born in Hopkins, South Carolina, she spent summers at her grandparents' house deep in the country, climbing trees and rolling around in red clay with her two brothers while surrounded by chickens, a couple of pigs and lots of dogs. She was a tomboy, playing softball and wrestling with the boys, but at the same time, she also was entering beauty pageants. 
"We never had enough money to do the real ones. We would put together outfits. One time I wore pants and all the girls were like, [gasps], but I won!" she says, laughing. "It's all about what you're bringing, your attitude." 
She had plenty of that. She'd make outfits by stitching together her brother's hand-me-downs, then stick a red flower behind her ear. She'd spend hours on a complicated hairstyle for picture day, only to have her father tell her to take it down because it "looked crazy." And she began acting because while she loved being onstage in pageants, she realized she wasn't allowed to talk during them. 
So she auditioned for the South Carolina Governor's School for Arts and Humanities, and for the last two years of high school, she shipped off to study in an "intense" boarding school. "It really was like a baby Julliard," she explains. 
"Ever since I was maybe nine or 10 years old, I'd say, 'I'm gonna be an actor and I'm gonna Be in movies.' My parents never said, 'What's your backup plan?'"
Good thing, because she was well prepared for the real Julliard, even if the hardest part was the admission process. Freaking out about her future, she applied to over 20 colleges, but her heart pounded for Julliard. Her best friend, who also auditioned, received a call offering her a spot in the class of only 18 students. Parris was sick. She went to her teacher, who shrugged and gave her some tough love, saying, "One person got in. You're not getting in." She cried that night, then woke up the next morning to get on with her life. 
Except then she got a call from an unknown number as she was walking into her first class. It was Julliard. They'd been trying to reach her, but had the wrong number. Would she join them in the fall? 
"I was like, OH MY GAHHHHH, Lord! What a cruel joke! He had to teach me to trust in Him and whatever His plan was," she says. It was the first time in Julliard's history that two students from the same school had been offered admission in the same incoming class. 
"Ever since I was maybe nine or 10 years old, I'd say, 'I'm gonna be an actor and I'm gonna go to Julliard and I'm gonna be in movies. My parents never said, 'What's your backup plan?'" she says. "Now I know I was claiming that for my future self. When you get older, you start to doubt, and you put limitations on yourself. But little Teyonah had no fear."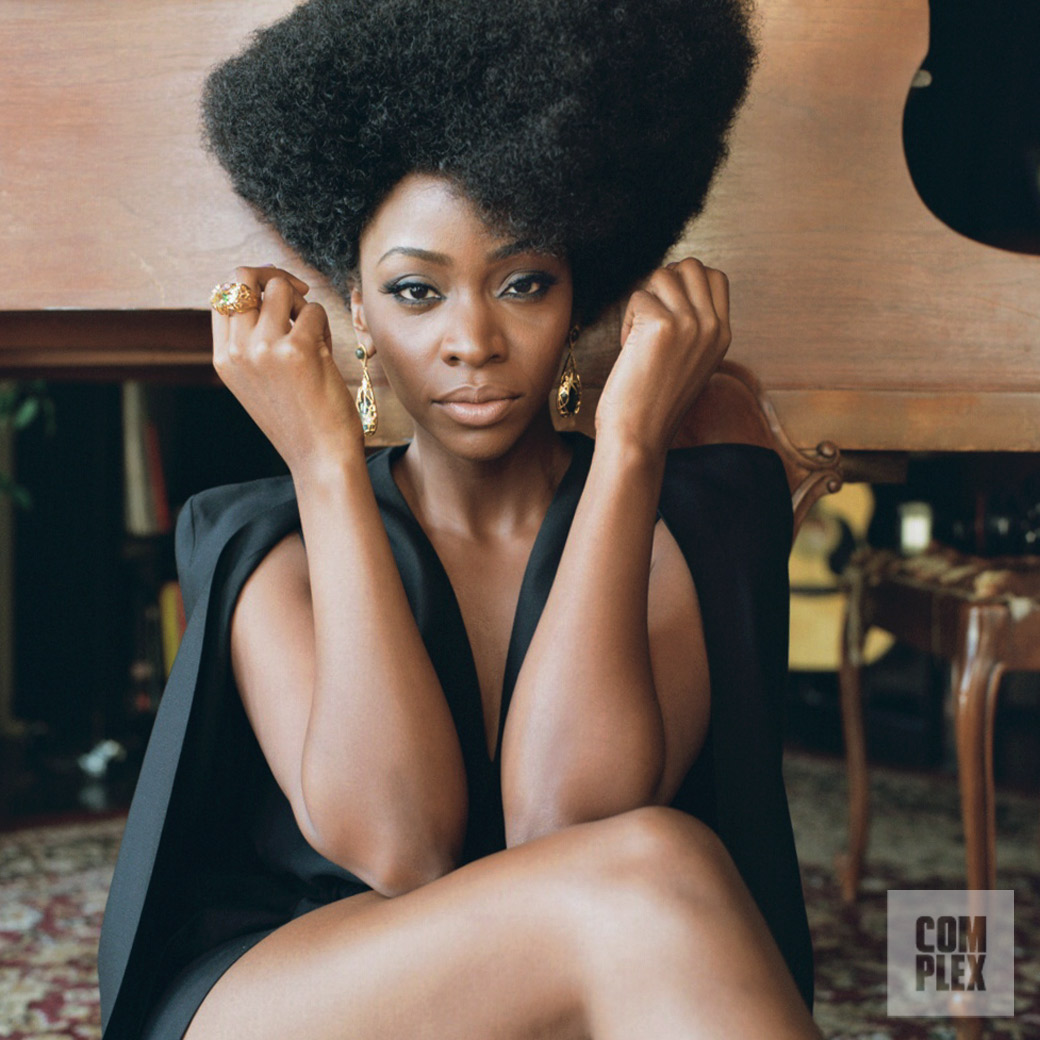 Within a couple years of graduating, Parris was acting on Broadway alongside Jeffrey Wright and Mos Def in the George C. Wolfe-directed, Pulitzer Prize finalist A Free Man of Color. Set in 1801, the play follows the wealthiest black man in New Orleans before racism enters the city and upends his world. Afterwards she intended to try her luck in L.A. for three months. She stayed for five years. 
Chi-Raq, which is tentatively set to open this winter, stars Parris as Lysistrata, who convinces the women of the city to withhold sexual favors from their husbands as a way of forcing the men to negotiate a peace treaty. Parris, who describes the film as "the Greeks meets blaxploitation meets a Spike Lee joint," actually performed in the Greek comedy in college, though she exclaims that there's "no point of reference to know what [Chi-Raq's] going to be like!" 
Meanwhile, the LeBron James-executive produced Survivor's Remorse, the story of a basketball player named Cam and his family's lives after he signs a pro contract, is back for its second season this Saturday, August 22. Shifting from Mad Men, where she experienced not only the characters, but the actors' mixing up her and the actress who played Shirley, the other black secretary, to the mostly black cast of Survivor's Remorse was a "shock," she says, laughing. 
There should be more primetime shows like Survivor's Remorse. It's a family dramedy in the vein of Entourage, except the motto is less "bros-before-hoes" and more "if mama/wife/sister ain't happy, ain't nobody happy." At its best, it's fresh, tackling prickly topics. For instance, in one episode, Cam's mother (played by Tichina Arnold of Martin and Everybody Hates Chris fame) chuckles on television about disciplining her son by spanking him, most creatively with a Hot Wheels racing track. It's compelling, watchable television, no matter what color the cast. In this case, however, it does matter, just as Parris says. 
"I love the show because it shows people of color, black people, from different backgrounds and classes and cultural upbringings. We are diverse in that way," Parris says. "We come in different textures and with different points of references. You can see all of that clash."
In an interesting twist this season, Parris' character Missy will undergo a transition close to Parris' own heart—that of ditching her perma-perm and going natural.   
"I would relax my hair because I thought I had to in order to make it in this business and be accepted socially," she says. "I decided to challenge myself because I had no clue what my natural hair looked like. That became a whole other journey for me, learning to accept the way God made me and what naturally comes out of my head. It's a process, for some. I had to accept my hair being big and curly and a small 'fro. You're like, oh I love myself, I like how I look—but you like what you do to yourself to make yourself look [like that]. Your hair does not grow straight and long like hers, so get over it. It made that self-acceptance go deeper."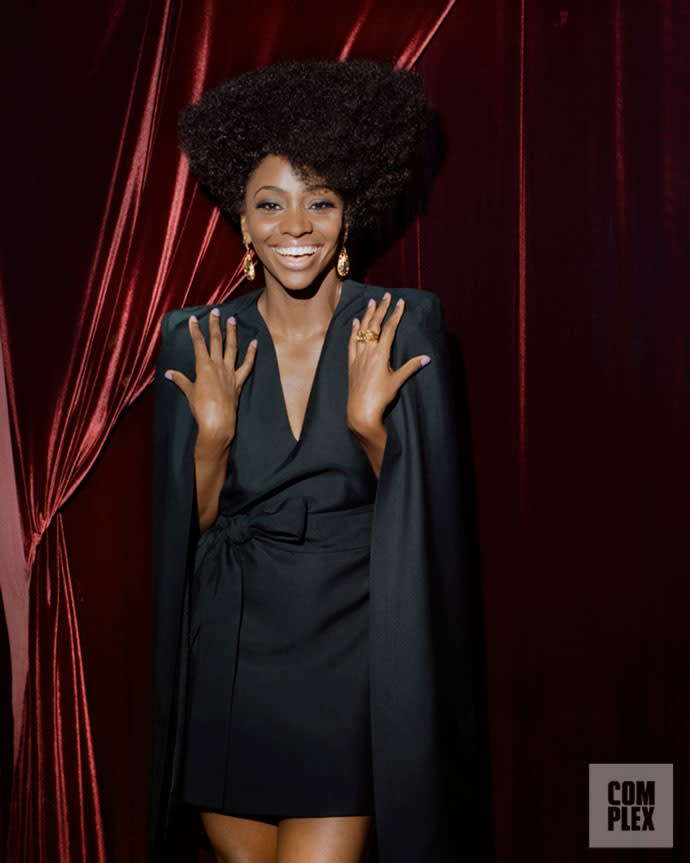 It's hard not to contrast the beauty of that journey to self-acceptance with the horror of the result: being objectified and made a target of racism. Then again, Parris is well acquainted with objectification and racism—she's a woman in Hollywood. 
Attracting alarmed coverage everywhere from The New York Times to LA Weekly, recent statistics concerning Hollywood's discrimination against women and especially minority women are staggering. According to a 2014 study conducted by the Geena Davis Institute of Gender in Media, women are twice as likely to be shown nude or in suggestive, skin-baring clothes, and five times more likely to have their appearance remarked on than men in films. 
Just this month, USC Annenberg's Media, Diversity & Social Change Initiative released a study that deemed minority women are "nearly invisible" in Hollywood, going on to report that "females function as eye candy." And in top-grossing movies, the researchers discovered that African-Americans won only 12.5% of speaking roles.  
Parris' Survivor's Remorse co-star, Tichina Arnold, who is a 20-plus-year industry veteran, takes a "what doesn't kill me makes me stronger" stance. 
"Just being a black woman has it challenges, but as a black woman, I welcome any and all challenges in and outside of this business called show," she writes in an email. "When it's all said and done, at least I can say I'm a better person for it. Don't let anything determine the person you are. Always be YOU." 
Parris plans on doing exactly that. She seems more than up for the fight to change the future—even though she might not be so polite next time. 
"Given everything that's happening in the world, it's hard to be a black person, to be allowed to live in your skin and be treated as a human," Parris says. "[But] I have a spirit that's ready to do what I need to do and say what I need to say through my art."