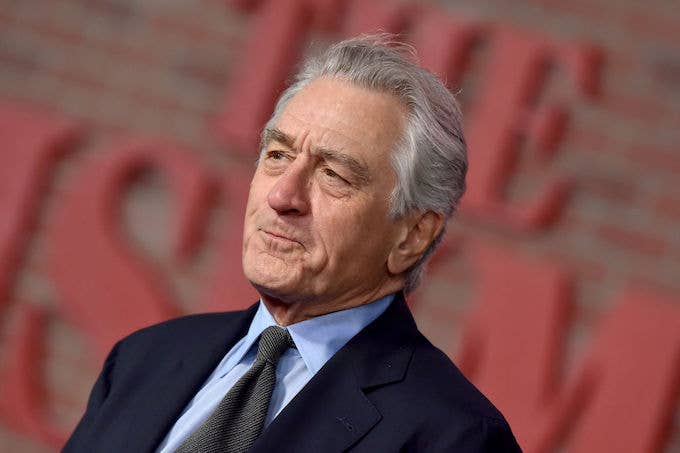 For those of you who sat through all 209 minutes of The Irishman, you may have noticed that Anna Paquin was in the film—even though she only had seven words throughout the entire Netflix movie.
The True Blood actress portrayed Peggy Sheeran, the daughter of Frank Sheeran (Robert De Niro). Peggy starts to get close with union leader Jimmy Hoffa (Al Pacino), so naturally she asks her father why he hadn't reached out to Hoffa's wife when the teamster goes missing.
"Why?" Peggy asks Frank when he reveals he hadn't reached out to his wife. Frank says "What?"
Peggy asks Frank "Why?" again, to which he responds "Why what?"
"Why haven't you called Jo?" Peggy asks.
And that's it for the Oscar-winner's lines in the three-and-a-half-hour film. When asked about Paquin's lines, De Niro said the actress was "very powerful."
"She was very powerful and that's what it was," he told USA TODAY. "Maybe in other scenes there could've been some interaction between Frank and her possibly, but that's how it was done. She's terrific and it resonates." 
The reaction to Martin Scorsese's choice to have Paquin speak so little was mixed. "Anna Paquin gives such a masterful performance. She is the conscience, the moral standing of this movie," one Twitter user wrote.
"Just saw The Irishman and there is much to say but the most important thing is that Martin underused Anna Paquin SO much my head is spinning," another person tweeted.
The actress also shot down rumors that she was ordered to appear in the film by the legendary director.
"Nope, nobody was doing any 'ordering,'" Paquin tweeted in November. "I auditioned for the privilege of joining the incredible cast of @TheIrishmanFilm and I'm incredibly proud to get to be a part of this film."