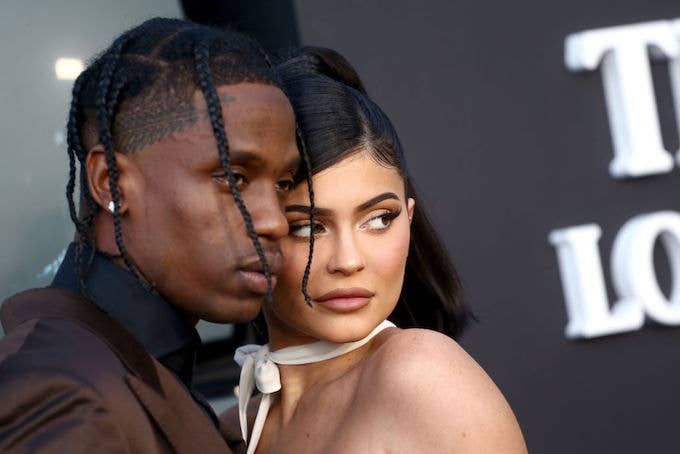 Despite taking a break from their relationship, Travis Scott and Kylie Jenner still appear to be on very good terms.
The duo was spotted together over the Thanksgiving holiday on a family trip to Palm Springs, according to E! News. They first went to Kris Jenner's home on Thanksgiving, and then went to the Agua Caliente Casino to gamble together on Black Friday. Travis and Kylie's young daughter Stormi, along with Kendall, Kris, Khloe, her daughter True Thompson, and Corey Gamble were all in attendance on Thanksgiving Day.
According to the entertainment news outlet, Travis still looked as though he was right at home. "They all stuck together at one table before Khloé went over to join her friends for a game," a source told E! News. "Kylie and Travis then got up together and got drinks. They were strolling slowly, watching some of the table games, and were followed by Kylie's security."
Kylie and Travis were spotted walking into the casino together, fueling rumors that the pair might be rekindling something. But it's more likely that they're just being good co-parents. "They seemed very close," the source detailed. "There was no PDA or anything romantic, but they seemed happy to be together. They whispered in each other's ears a lot and laughed. They were having a good time. They all headed back to Kris's house for the night."
Back in early October, Kylie addressed rumors that she met up with her ex-boyfriend Tyga, clarifying that there was no "2 a.m. date."
"The internet makes everything 100 times more dramatic than what it really is," she said. "There was no '2 a.m. date with Tyga.' You see me drop two of my friends off at a studio that he happened to be at." In a follow-up tweet, Jenner added, "Travis and I are on great terms and our main focus right now is Stormi. Our friendship and our daughter is priority."