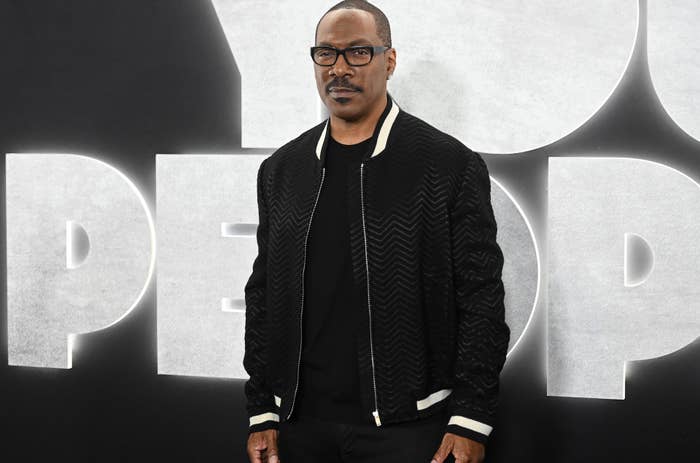 Eddie Murphy wants to incorporate music in his eventual return to stand-up. In an interview with Complex about his upcoming film You People, Murphy laid out his plans for his return to the stage. "There are two other films that I'm supposed to do," the actor said. "And then I'm going to try to get some new material in and see if I could still do stand-up." 
Since Murphy returned to the spotlight with Netflix's Dolemite is my Name in 2019, his plan was always to get on the road again with a new comedy special. He had tour dates set and in place—and then COVID happened. He told Complex that while he still wants to do stand-up, he needs new material since so much time has elapsed since. "[It's a] whole different world since the pandemic," he said. "But my show won't just be stand-up; my show will be music and stand-up."
Murphy had a shortlived yet successful music career, releasing three studio albums and a hit single "Party All the Time," which peaked at no. 2 on the Billboard Hot 100 Chart in 1985. A return to music seems fitting for the comedian who loved to incorporate singing in his early comedy specials.
Another benefit of Hollywood adjusting to the pandemic is Murphy's ability to launch his third act. He has a string of movies set to be released including his latest project with Netflix, You People. The Kenya Barris-directed film is Guess Who's Coming to Dinner with a modern-day, sneakerhead twist. A Jewish man, Ezra (Jonah Hill) falls in love with Amira (Lauren London), a Black woman whose family is Muslim. Their love is strong but so are the cultural, societal, and generational differences between them and their families. Murphy stars as Amira's father Akbar, who does just about everything to make it difficult for the two lovebirds to make it down the aisle.
"Most romantic comedies don't have an edge to them," said Murphy. "This had this edge because of this racial conversation. And I thought that made it unique." 
You People is Barris' feature directorial debut and even though he's worked with the comedian before on Coming to America 2, Barris says that working with Murphy is still intimidating. "Honestly, I'm scared of him, but at the same time, making Eddie Murphy laugh is like Kobe being like, 'Not a bad shot,'" Barris told Complex. Barris also complimented Murphy's "surgical" acting skills, saying, "The way that he knows his lines, knows everyone else's lines, knows the scene. I understand why he was at one time the biggest movie star in the world."
You can watch Murphy alongside Hill, London, and Nia Long, in You People, streaming on Netflix on Friday, Jan. 27. Read our brief chat with him below.