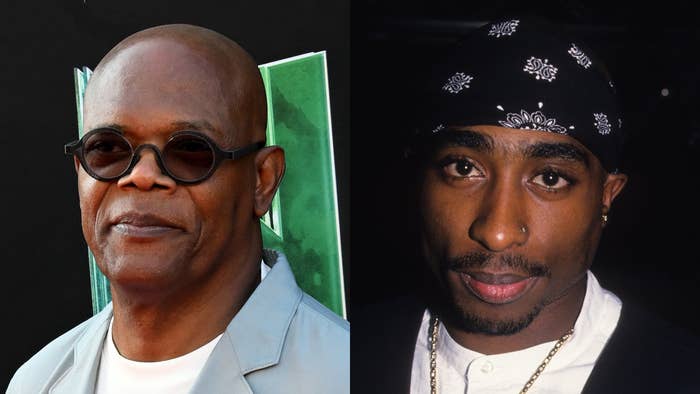 Samuel L. Jackson has revealed his wife LaTanya Richardson Jackson once yelled at 2Pac on the set of Juice for cursing with women present.
During his visit to Sway's Universe on Sirius, the legendary actor recalled his time making the classic 1992 film. According to Jackson, the experience was nothing short of remarkable, but there was one particular moment he'll never forget.
"My wife was on that film," Jackson recalled in the clip below. "She was the chubby kid's mom. And I guess 'Pac was walking through a room one day, and he was cussing somebody up. And my wife grabbed him and was like, 'Young man, you see all these women sitting in here? You can't be in here cursing!'"
The 74-year-old—one of the pop culture kings of cursing—continued, "He looked at her and was like, 'Oh, I'm sorry, ma'am.' ... He apologized and he left, and everybody in the room's like, 'Do you know who that was?' She was like, 'No! I have no idea who he was, but he shouldn't have been cursing in front of all these women in this room.'"
Jackson explained from that point on, the late rapper would always acknowledge LaTanya respectfully whenever they crossed paths on set. "As much as everybody puts 'Pac in that whole, you know, rapping world, he did go to a performing arts school, he understood the business of acting and what was going on," Jackson said.
Tupac Shakur played the antagonist role of Bishop in Juice, while Samuel L. Jackson starred as the arcade owner Trip. The 1992 project was directed by Ernest R. Dickerson. Starring alongside 'Pac and Jackson in the cult classic were Omar Epps, Jermaine Hopkins, Khalil Kane and more.
See Jackson's full Sway's Universe appearance below.