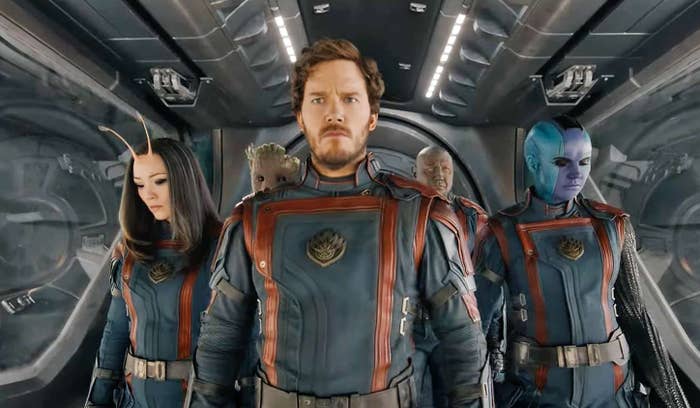 Guardians of the Galaxy Vol. 3 toppled The Super Mario Bros. Movie to take the top spot at the domestic box office, Varietyreports. 
James Gunn's final film for Marvel Studios opened with $114 million domestically, marking the second highest opening for the Guardians franchise. Guardians of the Galaxy Vol. 2 opened with $146.2 million in 2017, while the first movie in the franchise opened with $94.2 million domestically in 2014. 
In the overseas market, Guardians of the Galaxy Vol. 3 opened at No.1 and took in $168.1 million in over 52 markets, which pushed its global earnings to $282.1 million. The film made $28.1 million in China, 14.7 million in the U.K., $13.6 million in South Korea, $13 million in Mexico and $8.2 million in France.
Vol. 3's numbers were good enough to finally push The Super Mario Bros. Movie to the No. 2 spot in its fifth week, earning $18.6 million. That brought Mario's domestic total to $518.2 million and $1.16 billion globally, making it the biggest film of the year so far, and it's not particularly close.
Vol. 3 marked something of a return to form for Marvel, after a series of films that failed to meet the lofty expectations the studio has set for itself in recent years. While it earned the lowest Rotten Tomatoes score of any movie in the trilogy, it did earn an A CinemaScore, because let's face it, Gunn gives the people what they want. 
Guardians of the Galaxy Vol. 3 stars Chris Pratt, Zoe Saldaña, Dave Bautista, Karen Gillan, Pom Klementieff, Sean Gunn, Bradley Cooper and Vin Diesel. The new additions to the film include Chukwudi Iwuji as the High Evolutionary and Will Poulter as Adam Warlock.