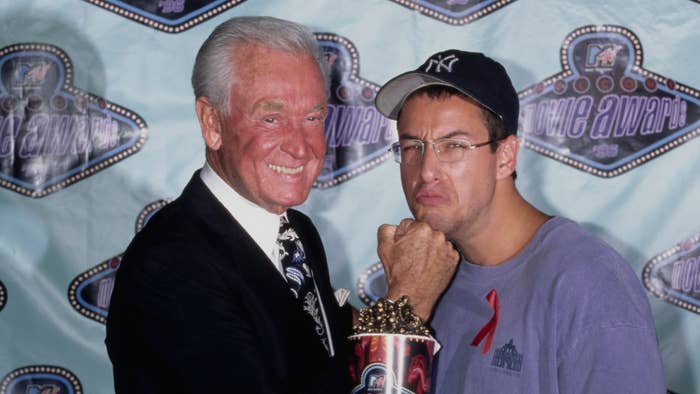 Adam Sandler has paid tribute to his Happy Gilmore co-star Bob Barker, who passed away at the age of 99 on Saturday.
Sandler took to his Instagram following the news of Barker's death with a special post honoring the iconic game show host via photos of the two of them together.
"The man. The myth. The best," the 56-year-old Sandler wrote. "Such a sweet funny guy to hang out with. Loved talking to him. Loved laughing with him. Loved him kicking the crap out of me," he continued, referencing his and Barker's legendary onscreen brawl in the comedy film."
He continued, "He will be missed by everyone I know! Heartbreaking day. Love to Bob always and his family! Thanks for all you gave us!"
In the 1998 film, Sandler starred as Happy Gilmore, an unlikely golfer with anger issues, while Barker played himself in a role that saw him come into conflict and team up with Gilmore in a celebrity tournament.
The two eventually come to blows in the film, and Barker took the win, with Sandler delivering one of the most classic lines in the movie when he said, "The price is wrong, bitch."
Sandler and Barker filmed another fight in 2015 for the Night Of Too Many Stars event, where the two spoke about the autism fundraiser before getting into another bout. They destroyed a hospital room and later died but continued their fight up in heaven as angels.
Barker's Happy Gilmore role was originally written for Ed McMahon, but the The Price is Right host took it after Sandler was able to meet a requirement that he got to actually fight.
"Bob was like, 'Yeah, if I get to fight, if I get to throw punches, I'm doing it,'" Sandler said in an interview with Collider earlier this year. "That was a good, good time for all of us."