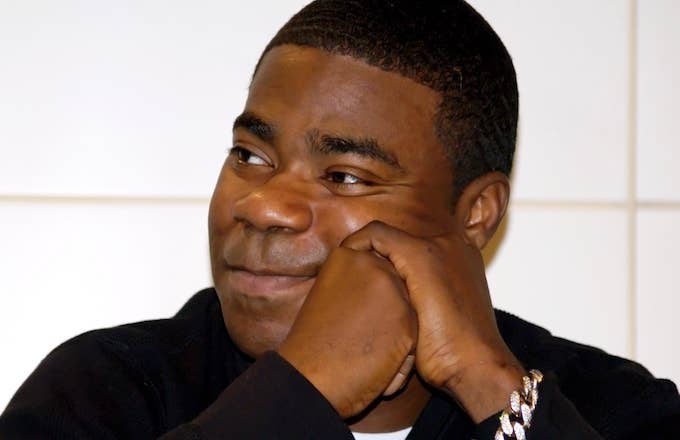 Comedian Tracy Morgan is the latest Prince superfan to share his experience with the musician following his passing. In an emotional piece as told to The Hollywood Reporter, Morgan says he first learned of Prince's death right before his standup set in Las Vegas, and he used the audience's standing ovation as an opportunity to pay tribute to Prince by exclaiming, "This standing ovation is for Prince—and I would like to have a moment of silence."
Morgan shares how Prince's music was especially significant to him when his father passed away. Since "Condition of the Heart" from the 1985 album Around the World in a Day was the last song Morgan and his dad both enjoyed, Morgan says he played the song for 24 hours after his father's burial.
Morgan tells a story of how, when he was invited to Prince's house in Los Angeles seven years ago, he took Prince telling him to "get the f— out" as an opportunity to share how much the singer's music meant to him. Morgan writes that "as I walked out the door, I grabbed him by the back of the neck, and I pulled him close to me. I noticed that mole on his face. He was so pretty, I turned gay for about five seconds. I said, 'My father loved "When Doves Cry."'" To which Prince replied, "Yeah, yeah. Just get the f— out!"
As Morgan grew to know Prince he learned the musician's pizza preference, "He was down to earth: regular, no extra cheese, no pepperoni," and experienced the mystique of Prince, saying how the musician just magically vanished from the Billboard Music Awards before Morgan, the host, could say hello.
However, Morgan ends the piece with the greatest lesson he learned from Prince, saying, "Prince's music taught me how to suck titties! He taught me to be gentle. Because of him, I once sucked a titty for an hour. At the end, it looked like a tater tot. I love Prince."