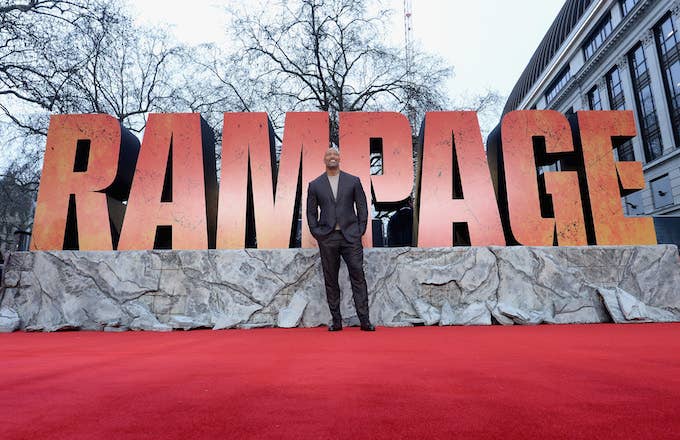 Video games are infamous for their history of botched movie adaptations (do we need to mention Super Mario Bros.?), with only recent years giving gamers hope that we might one day get a decent one. While it certainly looked like Michael Fassbender's Assassin's Creed would break the curse, and the Alicia Vikander Tomb Raider movie seemed like another potential savior, we've mostly been stuck in a perpetual state of Game Over. However, Dwayne Johnson's latest film—an adaptation of the 1986 Midway classic, Rampage—is currently on an incredibly promising streak which might result in the dreams of gamers worldwide finally coming true.
According to Rotten Tomatoes, the online movie review aggregator responsible for the scorn of many Hollywood executives eager to blame low box-office numbers on the ratings their products receive online, Rampage could become the highest rated video game movie of all time—provided it maintains its current fresh score of 53%.
Naturally, this got enthusiasm-personified, Dwayne Johnson, thoroughly and publicly excited. He even refers to the video game movie curse, hoping to launch it into the ether finally. Additionally, of course, he couldn't help but remind us all of that utterly mediocre video game movie adaptation he was partly responsible for, oh so long ago. In an unexpected albeit very welcome turn of events, the developers of that game took notice—and reminded Johnson that they're watching.
Frankly, the most common mistake screenwriters, directors, and the studios who hire them make is the decision to convert a game into its cinematic doppelgänger. In other words, the Doom game wasn't engaging because we're playing it from a first-person perspective, but because of the atmosphere, tone, and level design. So what did the studio do? They focused on recreating first-person sequences, prioritized action, and threw atmosphere and tension to the wayside. Movies don't have to resemble their video game sources as closely as possible—they have to be solid movies, on a script and directorial level. Here's hoping that Rampage has learned from the mistakes of the past, and focused on making the most engaging, satisfying movie they could.