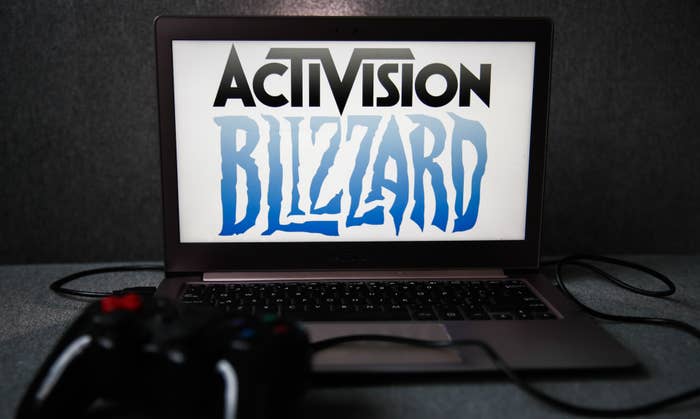 After Activision Blizzard was investigated over rampant claims of sexual harassment, a California judge approved a settlement on Wednesday that will see the video game behemoth pay its accusers $18 million.
The decision, as reported by NPR comes after the U.S. Equal Employment Opportunity Commission conducted a years-long investigation into Activision Blizzard's work practices following numerous allegations from employees who were subjected to severe sexual harassment and pregnancy discrimination. The accusers also said the company would retaliate against those who complained. In September, the federal agency filed an official complaint.
"Our goal is to make Activision Blizzard a model for the industry, and we will continue to focus on eliminating harassment and discrimination from our workplace," said Activision Blizzard CEO Bobby Kotick in a statement following the decision. "The court's approval of this settlement is an important step in ensuring that our employees have mechanisms for recourse if they experienced any form of harassment or retaliation."
The decision comes as multiple organizations continue to investigate the work practices of the company behind the World of Warcraft and Call of Duty franchises.
The California Department of Fair Employment and Housing has also filed a lawsuit against the company for equal pay violations, gender discrimination, and sexual harassment, accusing the higher-ups of fostering a "frat boy" culture.
The department claimed male employees would "drink copious amounts of alcohol as they [crawled] their way through various cubicles in the office and often [engaged] in inappropriate behavior toward female employees," openly joking about rape and sexual matters. The company is additionally facing an investigation by the Securities and Exchange Commission over its handling of harassment and discrimination allegations.
"We appreciate the courage of any current or former employee in coming forward and will continue to investigate claims brought to our attention," an Activision Blizzard spokesperson said of the decision in a statement. "There is no place in our company or industry for sexual misconduct, harassment, discrimination or retaliation of any kind." 
Activision Blizzard is currently in the throes of a massive Microsoft merger worth nearly $69 billion, though the deal has not been approved or finalized by federal agencies.