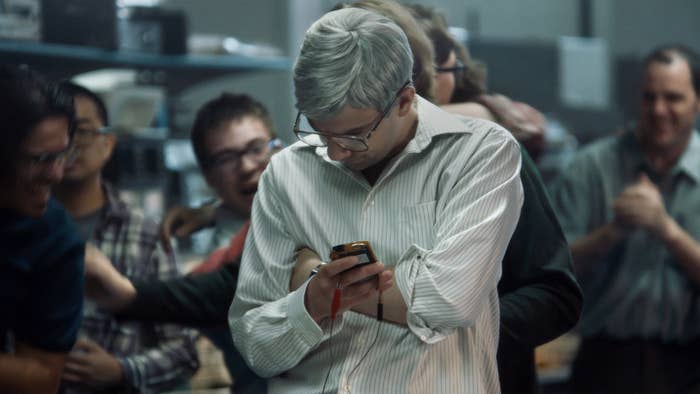 For years, Apple's iOS and Google's Android operating systems have been at the centre of the smartphone rivalry. Jay Baruchel wasn't particularly interested in either of them. In fact, up until recently, the Montreal comedy veteran refused to let go of his precious BlackBerry phone.
A fan of the physical keyboard, Baruchel would swap his device every so often to keep up with BlackBerry's continuously dwindling lineups. Before switching to an iPhone just a few years ago, Baruchel used the BlackBerry Key series which saw the return of the physical keyboard. Given his deep history with the phone manufacturer, it was only natural that Baruchel was tapped to play BlackBerry's founder Mike Lazaridis in the new film adaptation of this quintessentially Canadian story.
Baruchel's take on Lazaridis saw him as a quiet, sometimes awkward leader of a company whose ideas desperately needed the expertise of someone who knew how to sell them. He never met Lazaridis in person during the making of the film as producers cautioned Baruchel away from meeting him to not taint his portrayal. 
Opposite of Baruchel is Glenn Howerton's take on the once co-CEO of BlackBerry Jim Balsillie who acts as the fire to Lazaridis's ice. Portrayed as an angry human being, Balsillie's rage compares to Howerton's Dennis Reynolds character from It's Always Sunny in Philadelphia. Though the two substantially differ from each other, the constant yelling marks a mutual character trait between them.
"It was the best because it always gave me a way in. I always knew where I was at in the scenes with him," Baruchel said. "Any scene with him I always knew because I had to be a counterpoint to him. For every kind of outburst born of greed, I knew I had to care more about quality. For every time he was yelling, I had to go internal and smaller."
Complex Canada met with Jay Baruchel ahead of the release of BlackBerry where the Montreal actor spoke about his takeaways from the 2022-23 Montreal Canadiens season, where he hopes the projected top pick in the NHL draft Connor Bedard doesn't go (the Chicago Blackhawks have since won the lottery and will likely draft him), and whether or not we can expect a re-release of his long-buried 2008 gem Real Time.
I have to start with a burning question: how did you feel about the Montreal Canadiens this season?
You know, I didn't go into this worried that we were not going to make the playoffs or anything like that. So all things considered it could have gone way worse. I've lived through much worse seasons than this one. Actually one last season. So at least there is something to be psyched about.
What are you anticipating for next season?
How I feel about next season will be largely decided by what [Kent] Hughes and [Jeff] Gorton do this summer. If we bring Pierre-Luc Dubois from Winnipeg, or if we do all the stuff Habs internet has been hoping will happen, then I'll be very very excited. If we stand pat and we don't get to draft Connor Bedard, I'll be really fucking pissed.
Is there a team you don't want to see grab Bedard in the draft?
If he goes to any of the other garbage teams like the Columbus Blue Jackets or any of the other teams we all forget exist, then it'll be just as bad.
True, I mean, who really remembers Ohio exists, right?
Legit! Especially Columbus!
So now onto the BlackBerry movie. What's your personal history with BlackBerry phones?
A very positive one that ended only two years ago. I would buy a new BlackBerry every few years up until two years ago.
Which model did you have until the very end?
The last one was a sort of return to the hard keyboard. For a while, there were the sort of Android phones that you could run a BlackBerry operating system on and you could also buy the QWERTY keyboard attachment that you put on and I did, I had all that shit. It was the return to the actual proper hard keyboard back one. It's literally like two or three years ago. Yeah. I was very susceptible to being guilt-tripped by my mother and my sister, and my wife about baby photos that I wasn't seeing. So that's it: group texts. The group texts got me.
As an Android user, I understand the shame sometimes.
There you go!
You played founder Mike Lazaridis. Did you ever talk to him to try and get a feel for how he was in real life?
They made it clear that they didn't want us to know any of these guys in the creation of the film. Afterwards, whatever. But when we were building the thing, they were like, "We don't want you to meet these fellows because you might get along with them. And if you get along with them you're going to like them. And if you like them, no matter what, if only subconsciously that will be a concern and your work will be filtered through that. And we want you to just be fussed about making the movie that we can make with the best version of the script we have." We didn't want to make any species of propaganda.
Lazaridis is very reserved, and sometimes awkward in tense situations. You were the ice to Glenn Howerton's Jim Balsillie's fire. He went ballistic as Balsillie. How did you contrast his energy with Lazaridis's character?
It was the best because it always gave me a way in. I always knew where I was at in the scenes with him. Sometimes part of the gag, in acting, is figuring out what the guy's POV is in the scene you're doing. It's a series of POVs that hopefully are a bit different every time that when put all together will be a character arc. And so it's always trying to figure out where you are trying to get a beat on what your part of the thing is. Any scene with him I always knew because I had to be a counterpoint to him. For every kind of outburst born of greed, I knew I had to care more about quality. For every time he was yelling, I had to go internal and smaller. And so, It gave me this amazing thing to feed off of and it always told me what my POV was. So it was a blast and and also just as a fan getting to watch him do that shit live was fucking exhilarating.
Do you have any moments that were particularly definitive about his or the movie's energy?
The scene when he first moves into our office and we set him up in that shit hole and Doug [Fregin] has the nerve to fucking hang up the phone on them. And he broke that fucking phone so many times. And then he broke that fucking pay phone like crazy. Getting to watch that was the best. Yeah, this is all I ever want.
It's been a few years since your FX series Man Seeking Woman ended. The finale of the third season kind of works as a series sendoff, but how receptive would you be to a revival given that everything seems to be coming back these days?
I'd go back in a heartbeat. That was the best gig ever, man. Like we all got on like a fucking house on fire. Simon Rich is one of the few people in the world to whom the word "genius" actually applies. And it was just a blast. It was also cool because I was told beforehand, they don't do American half-hour comedies in Canada. I said "So?  We got a lot of exciting people like why is this any worse than any other place?" And what was so neat was, as each year went on the show got more and more Toronto, and more and more Canada. And so, year one, especially in the pilot, they flew everybody up. By year three, cinematographer production design, VFX, SFX, makeup and writers, a huge portion of our cast were all locals. And had we gone to season four, they were like "We're full-on going to just make this a co-pro." And for all of the Yanks who came from New York and LA, they fucking dug it. And so it was this cool kind of supergroup. It was this cool combo of the best artists in Canada coming together with the best artists in the USA and we made this special fucking show unlike anything else on TV that still to this day, nobody has touched. So we would all do it in a heartbeat.
What can you tell us about your upcoming show Fubar?
Just that I play Schwarzenegger's daughter's fiancé, and that's fucking crazy. And he wiped a booger off my face on set so that was the best. Yeah, it's a blast, it's a ride. It's super trippy for me, as a boy born in 1982, who came of age when Schwarzenegger was the biggest movie star—and it's still to this day, the biggest movie star ever in the history of movies—to get to show up to work every day with him in Toronto. We shot it a seven-minute drive from my house. Bro, I just got picked up and dropped off at this studio and I was in a  Schwarzenegger action movie every week, it was like the best. The show is an absolute blast. It is a really light goofy, fun time. It was a darling gig.
I find that your energy tends to match well with fellow Canadian comedian Nathan Fielder. Have you ever thought about joining forces with him?
That'd be cool. It's funny you say that. He went to high school with friends of mine. I feel like I knew about that kid before he was on TV. I think I met him before he was on TV. I think I met him in Vancouver before he was doing the shit. Yeah, I think he's very, very funny dude. I'd work with him in a heartbeat.
This last question is a bit of a relic. Your movie Real Time back in 2008 with Randy Quaid, it's been extremely hard to get a copy of that or just to find it online. Can we ever expect a re-release on Blu-Ray?
That's a good fucking question and I wish I had a satisfactory answer. I only have the first run DVD. I don't think it's ever been out there. They've never done a Blu-Ray transition, eh? So it would be sick to watch a 4K rendition of Real Time. Let me do some homework because I love that movie. It's one of the movies I'm most proud of.