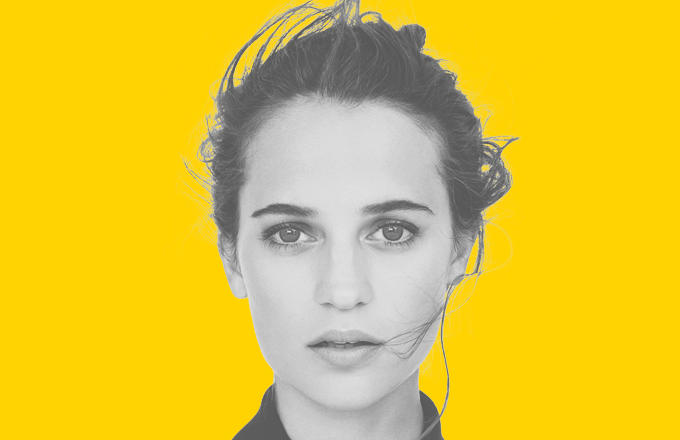 If you've gone to the movies at all this year—or maybe even just thought about going to the movies this year—then you know Alicia Vikander's face. With her soft lips and big brown, curious eyes, Vikander brought a human touch to the otherwise cold, mechanical robot body of Ava, the fembot in Ex Machina that puts all other movie A.I.s to shame. Even when she's in a bald cap and wearing a robotic suit with a hollow torso, she's so warm and gentle in mannerism (everything from her speaking to her gait) that she makes you want to believe that she is someone you can love and trust, despite her actions and unclear intentions. Her helplessness makes you want to protect her, and you can't help but be seduced by her sadness and desire for freedom. Amidst the complicated guessing game about the man vs. machine relationship (who's tricking who?), it's Vikander's captivating onscreen presence that keeps us rooting for her. 
Thankfully, Ex Machina would be far from the last we see of Alicia Vikander (which, by the way is pronounced Uh-LEE-see-ah Vi-KAN-der). Rather, it would be the catalyst that set off her rapid rise to superstardom, the first of her many major film appearances in 2015 alone: Testament of Youth, The Man from U.N.C.L.E., and Tom Hooper's Oscar bait film The Danish Girl, which opens on Nov. 27. And that's not even mentioning her small roles in early-year flop Seventh Son and late-year flop Burnt. But for someone who's been pretty much an unknown up until this year, it's amazing how an indie success like Ex Machina has already made her a near-household name (or at least face) in just seven short months.
Weirdly, it's her offscreen presence that's been known to be more robotic than her portrayal of Ava. In May, shortly following Ex Machina's release, The New York Times profiled the It Girl (then 26) with the aloof—if not true—headline, "There's No Easy Way to Get Inside Alicia Vikander's Head." The writer never seems close to even penetrating Vikander's head, wondering in the second paragraph whether their trip to the Museum of Modern Art is Ms. Vikander's choice or that of her "ever-present handlers." She's described as a "thinking-man's Blake Lively" (what does that even mean, and does it add to her mysterious aura?) while her eyes—so warm in the Alex Garland sci-fi film—are characterized as "doll-like" and "coolly remote." On top of it all, Vikander is seen "ignoring nosy questions." She doesn't "politely decline" or "giggle and allude to," etc.; she ignores. It feels similar to her W Magazine cover story from a month before, in which Vikander is said to be "polite but not warm."
It's hard to imagine she'd be so cold if you've see her acting, or even her talk show appearances, like the one on The Tonight Show With Jimmy Fallon during her Man From U.N.C.L.E. promo. She comes across as that fun, goofy friend you want to get down with. She's seen literally hopping around the stage, chanting in Swedish, doing shots, and singing drinking songs with the host. She's the ideal girl, and it's perfect.
Somehow that version of Alicia Vikander has never translated to journalists. Of course, her main off-limits topic is that of her high-profile relationship—I imagine she shuts down those kinds of questions swiftly. The actress has been dating (or has dated) Michael Fassbender since late 2014. They reportedly split in September, but now they're still rumored to be dating (apparently he couldn't stop gushing about her performances in a recent interview, though that's not very indicative of their relationship status). The two met while shooting the 2016-due Derek Cianfrance film The Light Between Oceans, in which they play a married couple, and while neither likes to talk about their personal love lives, they've been pictured canoodling and kissing on multiple occasions. It's unclear whether they're still together or not, but the 38-year-old Steve Jobs star is one of the most desirable and well-respected actors working right now, and his romantic involvement with the newcomer could have only boosted her profile. Perhaps she's so guarded about that aspect of her life because she doesn't want to be perceived as "so-and-so's girlfriend," and rather as a notable actor on her own. Or perhaps she's just uncomfortable discussing her dating life.  
Her reluctance to talk about such manners has garnered the 27-year-old such an ice queen reputation that she was even questioned about it in a new interview in the L.A. Times. "Vikander became visibly upset," notes the reporter. Then the actress clarified: "I try to be myself, but I'm always nervous letting go. I am very serious about my work. But I think it's a bit of a cultural thing, too. Everyone thinks my English is so good. But with the language barrier, I often feel like I want to add that little extra flavor to what I'm saying. Sometimes I wish people could hang out with me for 10 minutes when I'm speaking Swedish."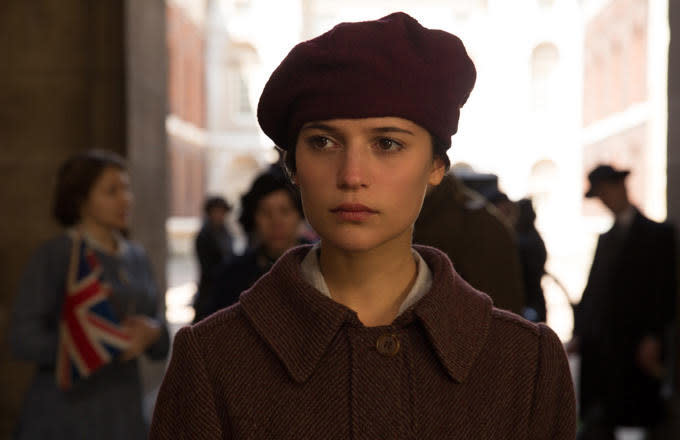 You wouldn't know just from looking at her, or even hearing her, that she's Swedish. "Swedish" probably makes most people think of blonde hair, blue eyes, and light skin, whereas the Gothenburg-born actress is a dark-haired, dark-eyed beauty with olive skin.
She also has a slight British accent, spoken in an enviously charismatic husky voice. Currently residing in London, she picked up her English in the U.K., making her enunciation a charming mix of European accents. But she is very much Swedish born and raised, the only child to her mother, stage actress Maria Fahl Vikander, and one of six to her psychiatrist father Svante Vikander. Though Vikander wasn't always an actress—or even an aspiring one—she had been an entertainer since a young age. Her first love was ballet, which shows in her postured body language and dancer figure. At 15, she left home to study at the Royal Swedish Ballet School in Stockholm, but then got an injury a year later, which coincided with her newfound passion for acting. 
She went on to appear in Swedish TV series Andra Avenyn before landing her first feature film role in 2009 Swedish film Pure, written and directed by Lisa Langseth. Receiving accolades for her role as Katarina (she got a Shooting Star Award at the 2011 Berlin International Film Festival and the Rising Star Award at the 2010 Stockholm Film Festival), Vikander was poised to become a huge star, both at home and abroad—it just took half a decade or so.
Her first hope of finding stateside success came with a callback for Snow White and the Huntsman. After flying to London—on her own budget—to meet with casting directors, she was flown out to L.A. for a screen test. Of course, the role of Snow White ended up going to Kristen Stewart, but in 2012, she ended up appearing in Anna Karenina alongside Keira Knightley and her future Ex Machina co-star Domhnall Gleeson. From there, it was a steady rise to stardom until her explosive 2015.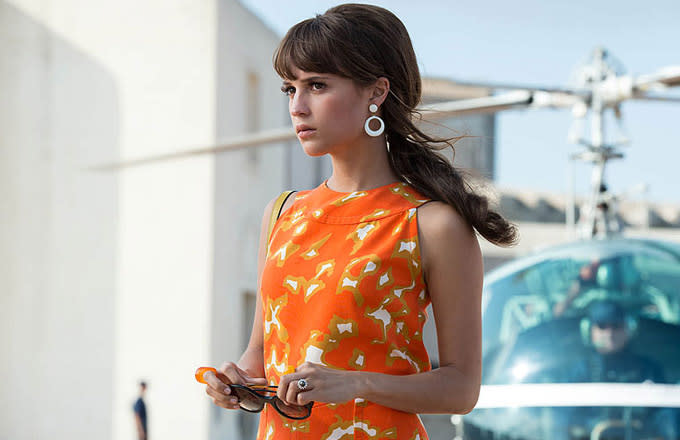 After Ex Machina's release in April, Vikander would go on to appear in several period pieces. She's got a classically beautiful face for such roles, but she's also got a face that fills in that delicate space of youthful and emotionally mature. Vikander—whose real-life persona W Magazine describes as "certainly not vulnerable"—is best when she's given the role of a strong, opinionated woman, whether that be in artificial intelligence form or that of a self-willed lady in a period set. It's no surprise then that she shines in acclaimed World War I drama Testament of Youth as writer and feminist icon Vera Brittain, who volunteered as a nurse during her time at Oxford University while her brother and fiancé were fighting in the war. As Brittain, she's fiercely determined—playing an independent woman in a time that was limiting to women's rights—but all the while compassionate, putting her academic aspirations aside to help the ones she loves most. Even though she's college-aged in the film (and, in her mid-20s, she certainly still looks it), you never get the sense that she's too immature or incapable. She brought that same kind of uncompromising spirit to Guy Ritchie's stylish spy movie, The Man From U.N.C.L.E., as a decoy dressed in the most fashionable '60s dresses. Even though she lacks in spy training unlike her strong male counterparts (the irresistibly alluring Henry Cavill and Armie Hammer), her role is the most memorable of them all due to the life she breathed into her character Gaby, who's never just a play piece in their mission.  
By fall, Alicia Vikander had racked up so many notable roles all year long that when she appeared in a small part in the Bradley Cooper chef film Burnt, she felt more like a famous cameo than an extra. Her enduring quality has to do with the fact that in every one of her big roles this year, Vikander has been the best part of them. That's hard to do, considering what a stacked cast of talent she's worked with. And even though she's seemingly been everywhere this year, she doesn't have a sickening presence. In fact, we're left wanting more. What else does she have in store for the future? 
Whether or not it's her best role (or even her best movie) of the year, it's Tom Hooper's The Danish Girl that will have the biggest impact on Vikander's career. The biopic about transgender pioneer Lili Elbe (one of the first people to receive the male-to-female sex change) is a sure bet in the upcoming Oscar nominations, and Vikander, once again, is given the role she does best—that of a woman unchanged by societal expectations, someone who can think for herself but also thinks of others. Plus, Danish Girl director Tom Hooper has won a Best Director Oscar for The King's Speech in 2010 and its star Eddie Redmayne (who plays Lili) won a Best Actor Oscar for his portrayal of Stephen Hawking in last year's The Theory of Everything. The two had previously worked on the Oscar-nominated Les Misérables in 2012, which took away several nominations and wins.
This means that Alicia Vikander's performance—which is a stand-out, even next to Redmayne's—will be seen by the Academy. Whether that means a nomination for her, or possibly even a win, at the Academy Awards next year, it can only mean good things for her (a future win—certainly a nomination, at least—seems like only a matter of time for her). She's on the fast track to A-list status, and it won't be long until every in-demand director wants to work with this emotive beauty who's come out of nowhere to steal the scene. All in a year's work.