"PEENOOOO… GRIIII-GIO!"
The Unbreakable Kimmy Schmidt actor Tituss Burgess and I are drinking Pinot Noir together on a Tuesday afternoon ("Absolutely… NOT," he replied in dramatic fashion when I asked if ordering Pinot Noir was too on the nose), but he's singing about something a little different. He belts out this tribute to white wine while surrounded by several paintings of horses, a portrait of a rich white man, and a statue of Lady Justice in the middle of Capital Grille, a midtown Manhattan joint that smells like money and steak.
There's a pause before I realize what he's singing about, then a gasp, then full-on laughter.
Tituss has reappropriated his iconic Unbreakable Kimmy Schmidt anthem "Peeno Noir"—what his character calls "an ode to black penis"—into a tribute to Ben Affleck's white dick. 
It's taken six drinks for him to get to this point. 
The first three were shots of espresso. "Lord have mercy," he said after the first taste. An hour ago, Tituss was barely saying a word, and I was worried that my preconception of the actor—shaped almost entirely by his chatty, flamboyant Kimmy Schmidt alter-ego, Titus Andromedon—would be shattered.
But by his fourth drink, a Diet Coke, he started turning up during his photoshoot. "I'm just thinking, Beyoncé," he said between sips and shots, as if an imaginary wind machine had just come on. 
Which brings us to Ben Affleck's dick. The actor comes up in conversation not because we're talking about the extremely topical Batman v Superman, but because of 2014's Gone Girl, the last movie Tituss saw in theaters, and fell asleep during. "Guess what? I was gone, girl!" Tituss exclaims before we both explode in laughter. "But I woke up in time to see Ben Affleck's wee-wee. Girl, he did us all a favor. So nice of him, so considerate." He sighs and looks off into the distance, as if recalling a fond memory. "The Hallelujah chorus started playing. It was fast, but the imprint is in my mind forever." 
He continues, unprompted: "I fell asleep during The Dark Knight Rises, I fell asleep during The Hunger Games, all of them. I cannot stay awake. As soon as a movie starts, I'm asleep!"
One might say, then, that television is the perfect format for Tituss, especially the delectable, 25-minute-long episodes of the very show he stars on, Unbreakable Kimmy Schmidt, the Netflix comedy from the creatives behind 30 Rock (Tina Fey and Robert Carlock) that premiered to instant popularity last March. Like his co-star Jane Krakowski, Tituss Burgess, too, comes from the world of 30 Rock, though casual viewers may not even remember him. Tituss appeared on four episodes as D'Fwan, the sassy hairdresser to Tracy Jordan's wife, Angie. During those four episodes, Tituss left a bigger impression than even he knew.
Even though his part was small, he started gaining a fanbase, thanks to his adroit comedic timing. He nails his one-liners, but he can make you laugh with just his facial expressions. A cock of an eyebrow is all it takes. Since playing D'Fwan, but mostly since playing Titus Andromedon, Tituss has fulfilled the "sassy best friend" role—not just for Angie Jordan or Kimmy Schmidt, but for all of us. And in person, Tituss really could be your best friend. You want him to be your best friend. He cracks jokes with you in a manner that makes you think you're the star of your own comedy sitcom, and he's your sidekick. That's the kind of touch Tituss has, and it's why fans have attached themselves to him so fast. He's become the TV BFF.  
He purses his lips and shakes his head slowly when I ask if he had any idea he got on Tina Fey's radar, enough for her to bring him back as a main cast member on her next show. "She was lovely," he says. "We talked about musical theater most of the time I was there, but I never, ever thought for a moment that she thought about me outside [the show]," he says. "She has so much going on. She is aware of all things simultaneously. Let's just say, if she didn't want to work with me, I wouldn't be here." 
He looks around at the bougie establishment, still weirded out that he's here—not here, at Capital Grille necessarily, but here, in a bigger sense. At 37 years old, Tituss Burgess is neither a young star on the rise nor an anomalous late-bloomer, but newfound fame is weird at any age. "My world is changing so rapidly. Suddenly here I am doing these things that I never dreamed of doing," he says. He looks at Lady Justice behind him and trails off: "Dining by a gorgeous statue…"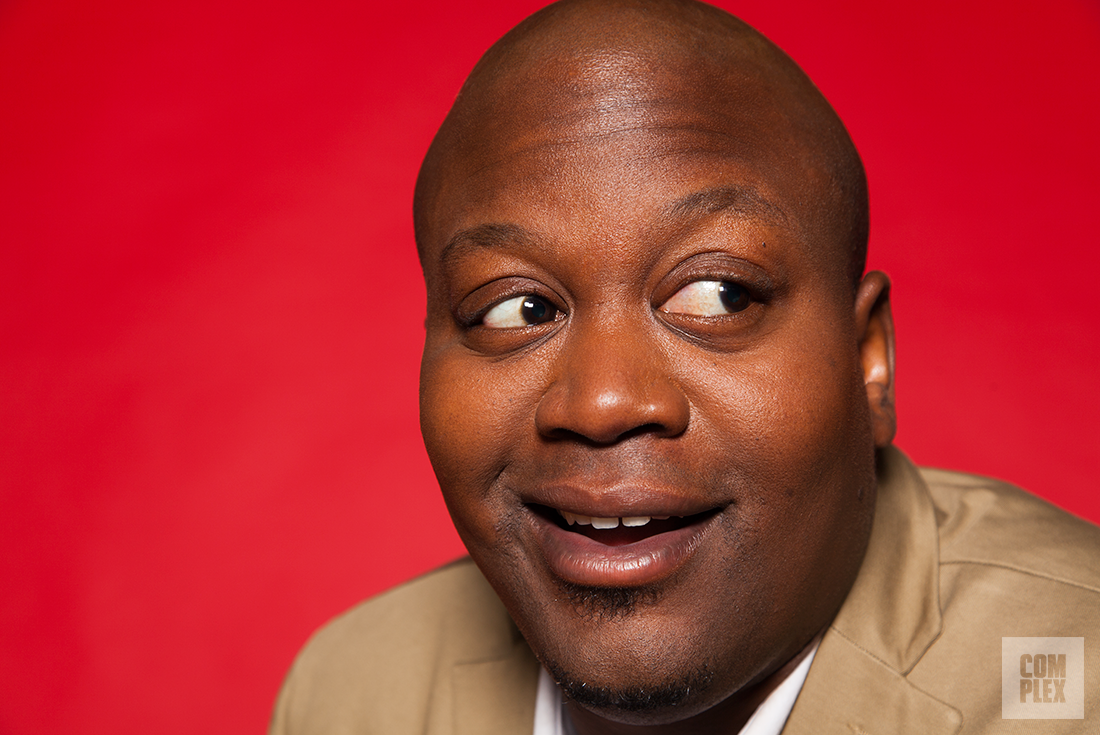 In a way, Kimmy Schmidt's Titus Andromedon is an extension of D'Fwan, as well as an extension of his real-life self. Andromedon, like Tituss, has a musical theater background, though his onscreen struggle (wearing an Iron Man costume in Times Square and tanking his Lion King audition) is a comedic dramatization of the Broadway vet next to me who's starred in Good Vibrations, Jersey Boys, The Little Mermaid, and Guys and Dolls. 
"The struggles were the delay, not the interior of the audition," he says. "Just not being considered at all." He clarifies, explaining that roles for black people, both onstage and onscreen, are still few and far between. "The first role that I got on Broadway was supposedly for a white man. But I had some producers who fought for me and allowed me to come in." Despite the obstacles, Tituss is impressively confident when it comes to his artistry. "I never had trouble within the audition room," he says, straightening up. "That is a room that I control. So while I certainly experienced versions of what Titus Andromedon was going through, I never experienced the self-doubt." Tituss mostly grew up in Athens, Ga., but also lived in Florida for a while before moving to New York to pursue acting. He's been in the city for 15 years now and at his current residence, in Harlem, for the last five. 
Tituss Burgess is more or less what Titus Andromedon aspires to be, and it makes sense that people would assume the actor in real life is just like the character we see on the show. But, "we couldn't be more different," Tituss protests. "I'm much more serious. I hover closer to earth than I do the clouds." 
"I never had trouble in the audition room. that is
a room i control."
Sure, Tituss is a toned-down version of Andromedon, apparent both in his mannerisms as well as the neutral tones he sports the day we're together—a beige blazer over a white button-down, gray checkered pants, and newspaper print Oxfords—but he's selling himself a bit more serious than he actually might be. After all, he was just singing about Ben Affleck's "wee-wee." 
Tituss says he's more considerate of other people's feelings than his Kimmy Schmidt character, and less obsessed with the spotlight. When I ask what he likes to do, he says stuff like "cooking for friends" and "playing with my dogs"—the usual list of hobbies—and then he adds "staring into space." Sometimes, he says, he will just sit on his couch, turn off all his devices, and do absolutely nothing. 
"It's a charmed life Tina Fey has given me, and I am so deeply appreciative," he says. "The only way I know how to repay her is to show up and be as funny as I possibly can." Kimmy Schmidt has opened so many doors for Tituss. He gives an emphatic "Yes!" when I ask if people have been offering him a lot of roles. Aside from starring in the second season of the show—which finds Titus Andromedon with a steady love interest—Tituss is on a star-studded lineup of comedians appearing in the upcoming Angry Birds animated movie. Maya Rudolph, Bill Hader, Peter Dinklage, Hannibal Buress, Kate McKinnon, Jason Sudeikis, and Danny McBride are just a few of his co-stars. 
But he's being selective about the projects he accepts, because now he can be. What he really wants to do is have a Kristen Wiig moment. He wants to go in the opposite direction of D'Fwan and Titus Andromedon. It doesn't have to be a totally serious movie, but he brings up Wiig specifically as a model, how she did Bridesmaids and Welcome to Me—both performances with comedic flair, but in wildly different ways. He's ready to show the world a different side of himself. Maybe then, people will see that Andromedon and Burgess aren't necessarily one in the same.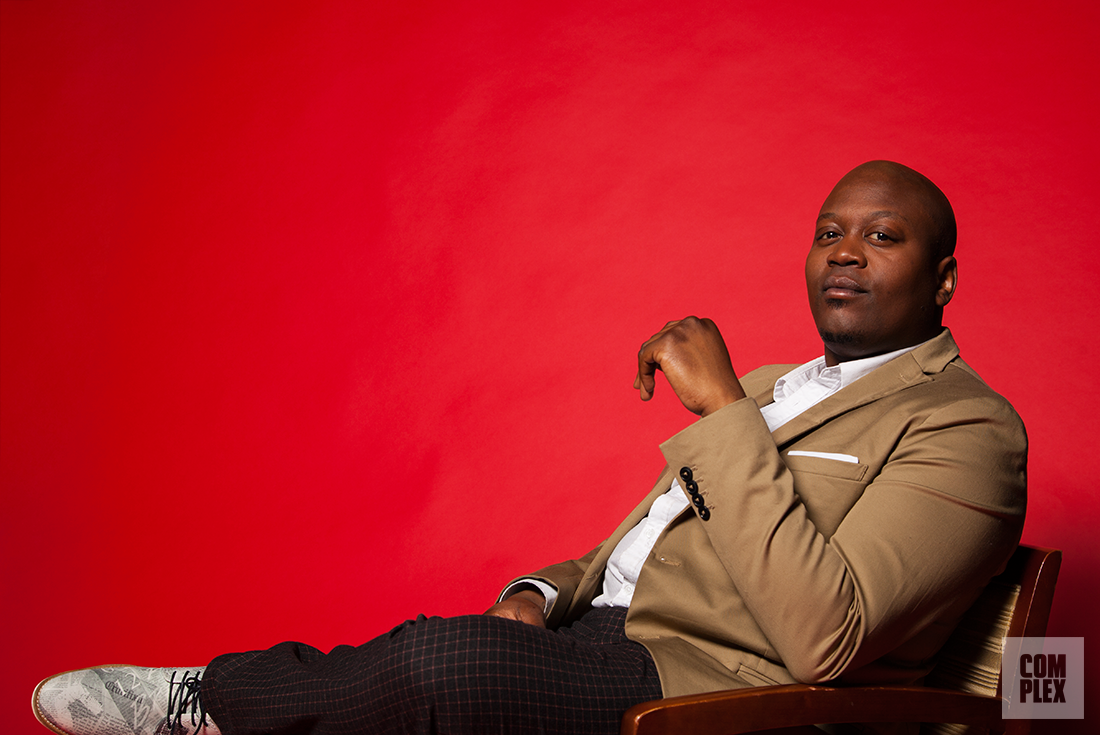 What Tituss does have in common with his character, though, is the way he carries himself in a naturally flirtatious manner. "Thank you, Ricky," he tells our waiter. There's a sing-song timbre to his voice as he talks, the kind of charming tone that might get you a free glass of wine (and sure enough, Tituss' second glass of Pinot is on the house). Ricky has been bringing us our food—a steak tartare appetizer to share, and Chilean sea bass for us both, with mashed potatoes for me and a side of broccoli for Tituss—and now he's brought Tituss a canister of melted butter for his broccoli. 
What Ricky did forget, however, was the wedge salad Tituss ordered earlier. Ricky apologizes profusely, but Tituss won't have any of it. "Stop apologizing! You were so charming, it more than made up for it," he says. 
When Ricky goes back to the kitchen, I imagine he and the staff will murmur about how Titus Andromedon is actually here and that he's actually drinking Pinot Noir. The wine has become an integral part of Tituss' brand, thanks to "Peeno Noir," and he's capitalized on that personal brand by making his very own bottle: Pinot by Tituss. As he sips his glass of Belle Glos Meiomi, he gives a discerning look. "It's pretty good Pinot Noir, but it's not as good as mine."
He puts on his sommelier pants, and tells me about his wine. I expect him to use wine-related words like "oaky" and "mouthfeel." Instead, he describes his batch as "very smooth." "Not too sweet," he says. "A little darker. A little heavier than the Pinot Noir I've had in the past. I don't like thin-tasting wine. I like it closer to the consistency of a Merlot or a Malbec. It's just shy of the way those feel going down. It really is so good. I could go through a bottle by myself."
Tituss never meant to get in the wine business, but he saw an entrepreneurial opportunity thanks to the virality of "Peeno Noir" (composed by Kimmy Schmidt executive producer Jeff Richmond). His fans—who Tituss calls his "fanmily"—tweeted so many pictures of the variety at him that he jumped at his chance. And before long, "I found myself tasting wine in Santa Barbara County." He talks about it casually, but it speaks volumes about his business and branding instincts—maybe more advanced than he lets on. 
"i didn't come out, but i didn't come in either! Hell, if you wanted to know, i'd tell you."
Now we're talking about work crushes, and well, we have a mutual crush. Tituss' work crush is my celeb crush: his co-star Ki Hong Lee, the Korean actor who portrays Kimmy's Vietnamese immigrant love interest, Dong. 
"He's hot," Tituss says, his eyes widening—no, sparkling. "SO hot."
He pokes my leg under the table with a knowing nod. We could go back and forth on the matter forever. 
"All of us had crushes on him though, no joke," he says. "All of us did. He's such a wonderful actor. He's equally as lovely off camera as he is on. I'm going to miss him. I don't know what's happening with his storyline, but I do hope he comes back. He has to come back. He's hot."
Tituss is assertive about what he wants, and his confidence has never wavered, even before he got his big break. Titus Andromedon's storyline includes the struggles of being gay and black in America, and while Tituss can check off both boxes in real life, he never really had that "Coming to Terms With My Identity" narrative. 
"Hell no!" he responds when I ask if it was difficult growing up gay in Georgia. "When I was four or five, I knew exactly the type of man I wanted to be with." He lets out a joyous laugh, the kind of laugh only a man fabulous from birth could let out. 
There was no closet according to Tituss. "I didn't come out, but I didn't come in either!" Another burst of laughter. "Hell, if you wanted to know, I'd tell you," he says. "I had absolutely nothing to hide. Never have."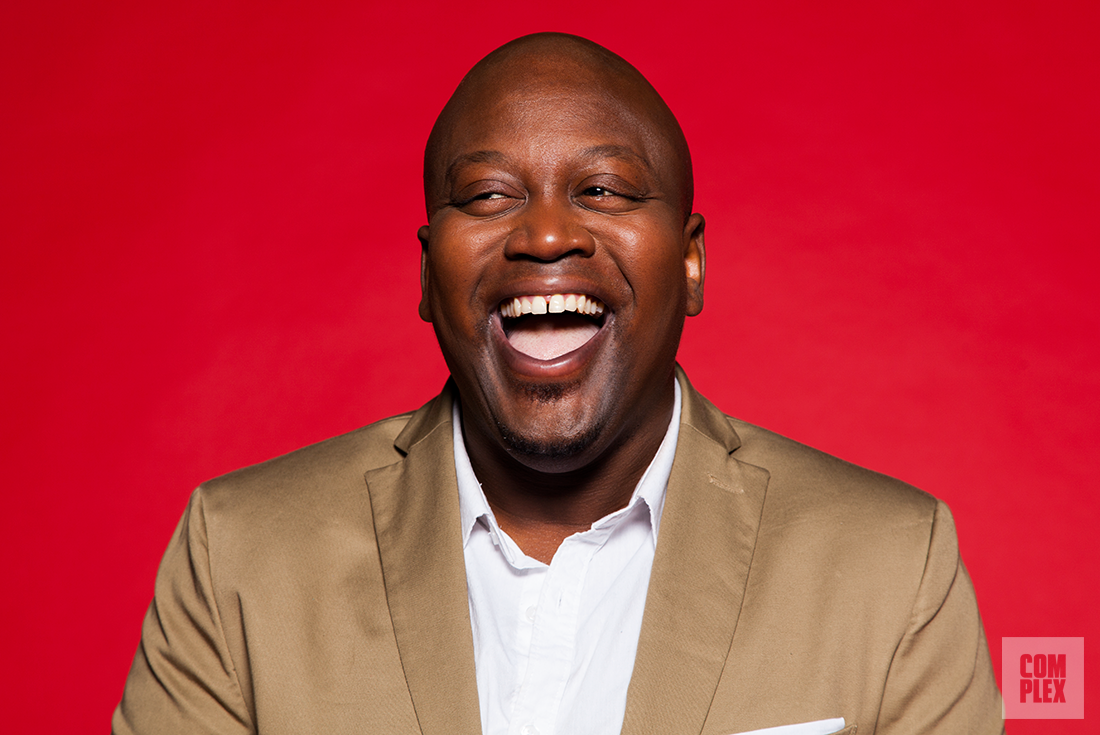 "I need a nice blazer," Tituss tells me as we wrap up lunch. "I don't like what the publicist picked for me." Next thing I know we're in the middle of a Men's Wearhouse. Tituss scans through the blazers, half-heartedly grazing with his fingers. 
"Let's film a makeover montage like we're in a '90s teen movie!" I say.
"Do it!" He poses with a couple different outfits while I open Snapchat and take photos so he can see what he looks like. 
But Tituss is no Tai to my Cher. He doesn't like the "hot professor" blazer with suede elbow patches I pick out for him. In fact, he's forgotten about blazers altogether now, and is skimming through the button-down shirts. Ditching his neutral color palette, he picks out two bright shirts of different orange hues. They don't have either in his size, though, and Tituss lets them both go. "Maybe I'll try Zara later," he says.
As we part, he walks into the heart of Times Square. We've seen plenty of Titus Andromedon wandering around Times Square—in a robot suit, singing "Circle of Life" with Kimmy—but Tituss Burgess in Times Square is a different beast. There's a confidence in his stride. It's the stride of a man who knows exactly what he wants—a man who is off to get it.