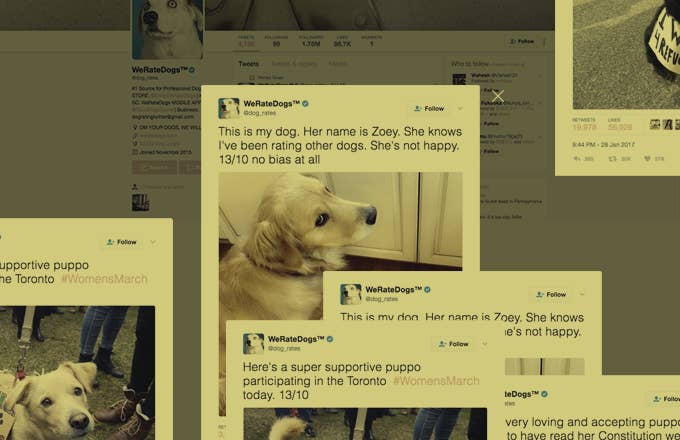 We've all probably figured out by now that the key to Internet gold is adorable animals. But pair squeal-worthy photos of pups with hilariously wry captions? That's the goldmine Matt Nelson struck when he created his We Rate Dogs Twitter account—where he rates and comments on user-submitted photos of their pets—in his freshman year of college. Only a year and half later, Nelson, now 20, now has over 1.5 million followers and even a We Rate Dogs book on the way. 
Since his Twitter has gotten more famous, the canine lover has had to deal with some extreme trolls—especially when it comes to political content—including a couple instances of envious wannabes trying to shut down the account (once even successfully). On the bright side, Nelson has gotten one hell of an endorsement from J.K. Rowling and has since mended things with the viral "they're good dogs Brent" guy.
Complex got on the phone with the comedic genius behind the best dog account on the Internet to talk about canine appreciation in Trump's America, A Dog's Purpose, and well… good dogs. 

You started your account your freshman year of college? Were you just noticing good dogs on the street? 
I found Weird Twitter and I realized that all of my jokes that had anything to do with dogs did much better than all the others. People ask me all the time, "How are you that obsessed with dogs?" I'm like, well that's not really it. I'm obsessed with comedy, and dogs just happened to be the medium that reaches the most people. 
What's your ratio of pictures of dogs that you take versus Internet finds or submissions?
I've posted my dog on the account like twice, but those are the only pictures that have come from me. The rest are user-submitted. Everything I post is with permission of the owner, but there are occasionally videos and photos that so many people request that I post, that I comment on it anyway.
So you only have one dog? 
Yes, I have a four year old golden retriever named Zoey. It'd be much easier to run the account if I had dogs at my access 24/7. 
Since your account has gotten so big, have you had any good celeb interactions?
J.K. Rowling followed the account probably six months ago. She didn't really interact with it much, and then one morning she literally was like, everyone go follow this account. That's insane. I DMed her to say that just made my year. She responded, and it was really cool. I've also been DMing Cole Sprouse for a year and a half now, trying to get him to send me his dog but he won't. He never responds and it's really depressing.
But obviously your greatest celeb interaction is with "Brent."
That's correct. He's actually into social media marketing and a bunch of other tech-related things, so it seems planned but it wasn't. He's verified for reasons outside of our recent interaction, not just because he became a timeless meme.
He conceded, right? He said they're good dogs.
Yeah, he's a great guy. I had like an hour long Skype interview with the Washington Post and him about what happened. It's cool to talk about. He's a really, really great guy. If he wasn't a good sport about it, none of this would have been possible.
Speaking of not good guys, you had your account suspended last year...
It happened twice, now. Basically anyone can pretend to be anyone, and go through the system flawlessly and get anyone's account taken down. It was just ridiculous that that ever went through. Eventually I did get in contact with some individuals at Twitter that were able to help me out and reinstall my account. 
You often give dog ratings above 10, which how could you not? What's the highest you go? I've seen 13/10 ratings.
14 out of 10. As far as 11, 12, 13, they're really arbitrary. The 14s are this category that people hold in high regard. They're like heroic dogs. I even made a Twitter moment out of all the 14 out of 10. We're waiting on the first 15 out of 10.
Last year I wrote about how there were so many dogs dying in movies. Did you happen to notice that, by any chance? I saw, like, six movies from last year in which dogs died.
I'm not really an avid moviegoer, but what was the movie, A Dog's Purpose?
No, well that one had real PETA drama because the dogs were drowning on set.
As soon as that footage came out, everyone expected me to support this boycott while there was an ongoing investigation, I'm glad I didn't listen to thousands of people that were like, "Why aren't you boycotting this?"
Do you have a favorite movie dog?
I grew up on Air Bud. That's my generational dog movie series. 
There are a lot of other cute animal accounts on Twitter that cater directly to the political climate. Have you noticed more people drawn to cute animals at this time, or have you started shifting the tone of your Twitter?
Yeah, a few of my posts were deemed political. I think the draw of the cute animal accounts has always been the same. I think it's just people looking for a reliable, positive thing in their day. There was a picture from the women's march of a dog with a sign that said "I march for my mom." I posted that and it went stupid viral. I had some comments that were like, "I don't want to see this in my feed. I'm seeing enough about this march already." I commented to someone that this isn't something you should be ignoring. That started to get faves. Around 1,000 people unfollowed me, which was my most unfollowed day by a ridiculous amount. But I also got 37,000 followers that day.
Look at that.
I was happy that most of my audience seemed to be very progressive when it came to this women's march. Then during the Muslim ban, there was a dog with a sign "I wag for refugees." Again, it was adorable. I didn't think of it as political. It was more like right and wrong to me, and to most of my followers. I put that out there and I said something about how the dog had read its Constitution well or something to that extent. I knew that the criticism was coming. I think I'm misquoting but someone was like, "I'd appreciate it if I didn't see any of this in my feed." I said, "I'd appreciate it if you'd fuck off" or something like that. With those responses, I made my personal opinion clear, which was my goal because I want people to know that there's a person behind the account, especially in situations like this. Ignoring what's happening is not the best way to go about it.
Now you have a book that you're working on, right?
Yeah, I actually finished all the material for the book and submitted it last week. I didn't think you could make a book out of a Twitter account. It ended up being about 70% of the greatest hits of We Rate Dogs so far and then about, and then about 130 new, exclusive pictures that I've collected over the last four or five months.  I could've never imagined this happening from a little idea for a Twitter account.