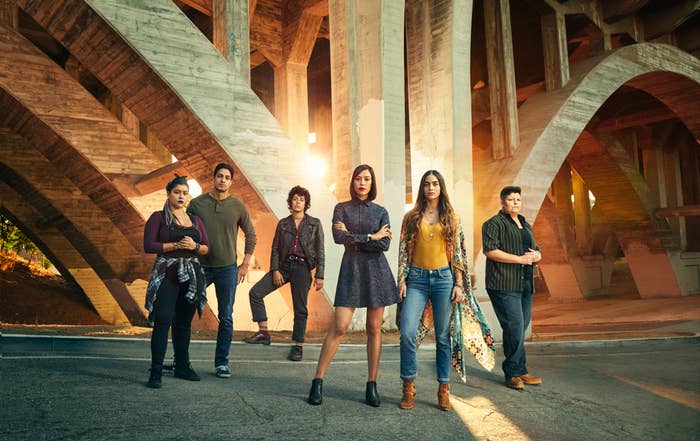 Without getting on some "woe is me" shit, it can be tough being in charge of keeping up with pop culture in the era of Too Much TV. Putting something like our Best TV Shows of 2019 (So Far) list is a Herculean task, especially weighing what we think of something critically versus what our readers may or may not be rocking with?. It's never easy, but it is exciting, especially when we get to ride for highly underrated shows like Vida, the Starz series that just ended its second season with a finale that not only paid off the series' many storylines, but left some cliffhangers out there to keep us wanting more for Season 3 (which was announced back in May).
[Ed Note: Spoilers for Season 2 of Vida follow.]
The half-hour drama (which can be streamed in its entirety on the Starz app) takes place in an East LA Mexican community, and concerns two sisters, Emma (Mishel Prada) and Lyn (Melissa Barrera), who are picking up the pieces of their deceased mother Vida's life, which includes everything from what to do with the bar she was running to her partner, Eddy (Ser Anzoategui), which is even more surprising considering they were unaware of their mother being gay. It's hilarious, it's heart-breaking, it's open with its sexuality, and it's opening doors for those who have gone unseen. While the series may not be a ratings dynamo, its impact is being felt from the critics who are tuned in as well as those in the real world who are delighted in seeing themselves represented on screen as regular people, not as "thugs" or any other stereotype Mexican actors are prone to be typecast for.
"This show represents a lot to them," Barrera shares during some downtime on the set of Lin-Manuel Miranda's In the Heights. "It means a lot because it's the first time that they're seeing their culture on TV. It's always amazing when you see something that you can relate so easily on TV." Prada, her on-screen sibling, has similar sentiments. "What's refreshing is how normal it is because I think for so long it's like, 'Oh, this community, it's this specific way.' And it's been painted a certain way. Or immigrants or minorities or under-served communities or working-class communities, we've had this picture of this is the way it is."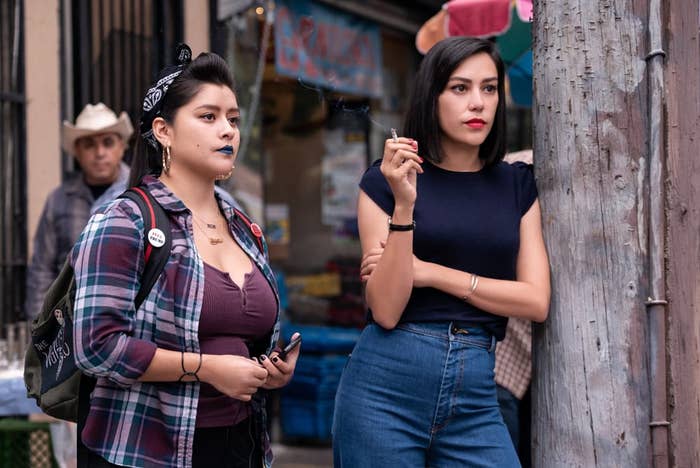 Chelsea Rendon, who plays tough activist Marisol "Mari" Sanchez, grew up in this part of LA, and actually has some familial history that low-key showed up in the series' pilot. "When I'm yelling at the sisters for the first time [in episode one], those storefronts are connected to a duplex in the back. My mom grew up in [this] duplex," Rendon says, "and she came to set and got really emotional because she was like, 'Yo, this is so like destiny. This is so meant to be: the fact that I lived in this one bedroom duplex with like six brothers and sisters and my single mom, and the rent was $50 back in 1960 when I was five years old. And then you're here filming your first episode of your show.' It's so surreal."
"I feel like our show is so important," Rendon continues, "and it helps humanize brown people. In Hollywood, you've only seen the cartel guys, the gang leader, the maid, the sexy mistress. We're finally showing Latinos as humans in this space."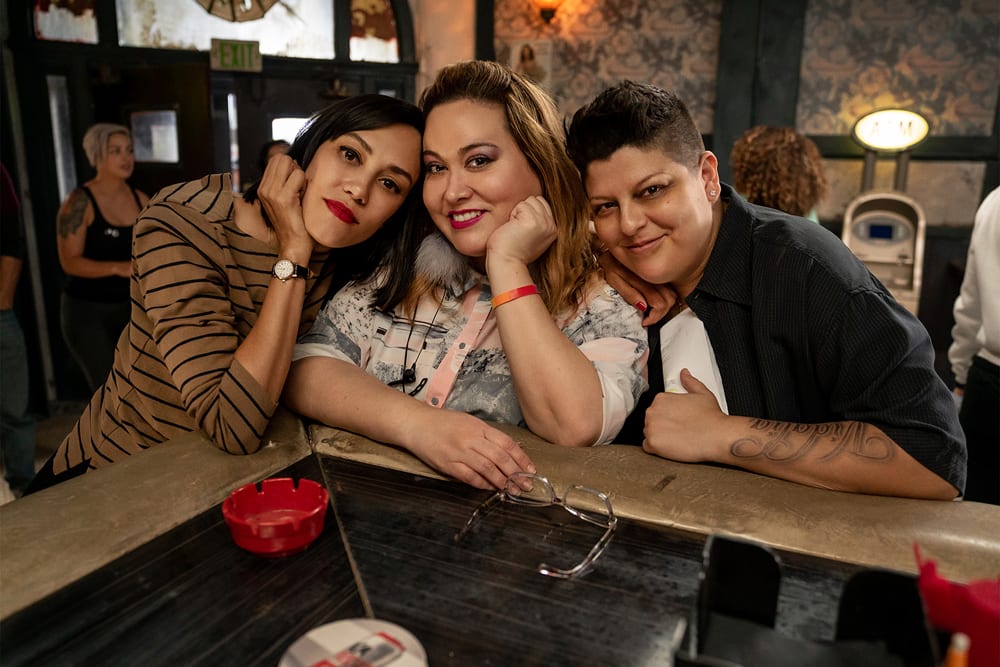 The impact of Vida, while important, can feel like an anomaly. The series' showrunner, Tanya Saracho, had been working in television since 2012, writing on shows like Girls and How to Get Away With Murder before diving into Vida. The work being done on camera—heavily examining the LGBTQ+ Latinx life in Los Angeles—is mirrored behind the scenes, with a writer's room that aside from one cis male, is female-identifying, and Season 2 has featured Latina directors exclusively (including Saracho, who made her directorial debut with the Season 2 finale). That's a milestone in and of itself, but for actors like Anzoategui, it's something that could (and should) be mirrored more at the larger networks, especially when it comes to gender inclusivity.
"[Take]Grand Hotel," Anzoategui—who identifies as non-binary and shared that, because of their look, regularly has a smaller batch of roles to choose from—said of the new ABC series starring Demián Bichir and Roselyn Sanchez. "That's a lot of Latinx cast, but in those types of shows, on ABC, that's where the work needs to be more inclusive. Jane the Virgin. Even though you would imagine, 'There's a Latinx show' or 'there's an opportunity for a lot, not all of the Latinx, but there's another opportunity,' it comes down to the gender. Gender presentation, gender expression, and what that means in the scope of their show." They aren't just talking out of their ass, either; Anzoategui got their role on Pamela Adlon's Better Things because of their work as Eddy on Vida. "[Adlon] saw me play the role of Eddy and said, 'I need this representation on my show.'" Anzoategui also admits that while "there's more work to be done, cable has been very good."
It's one of those things that should be commonplace in America, which is often referred to as a "melting pot," and yet it's anything but. There's always the hope that shows like Vida could help break down those walls, not just between black and brown but for more of Middle America, or for those who might only see Mexicans and Mexican-Americans as one thing. "You start realizing that the more we accept each other, the broader picture that we see," Prada explains, "which is why I think these shows are so important. It's not just being told this is what this community is like, it's being invited into the living room these communities and these houses. Maybe staying in the guest house, seeing a few fights, things are getting a little awkward. But that's okay because you realize you see yourself and your family."
That battle, the drive to have a television show be a window to exploring what makes this community and its culture be seen, is layered. The idea of gentrification in the community is a constant through the series, from the changes the sisters make to the bar in a busy intersection to the larger entities buying up all kinds of properties to then flip into trendy eateries, stripping a block of its identity. It's dope to have people appreciate seeing themselves on screen, but when I asked Rendon about any possible backlash for this series filming in their neighborhood, she did share that "there were definitely attacks. We were attacked through social media. Tanya was attacked. But it's one of those things where, being from the neighborhood, I got tough skin. That's why when those things happen on social media, it's a lot of...just [do] a little research. If people get a little bit of research and they knew what we did as a show—having an all-brown writer's room, having it mostly queer, having an all-Latino cast where you even had a Cuban play a white character in Season 1. Where there are programs that we work with, with the community to help people get jobs. That we donate money to these programs." With anything, you live and learn, and Anzoategui explained that there were some changes done to make sure the community felt seen during the production of Vida.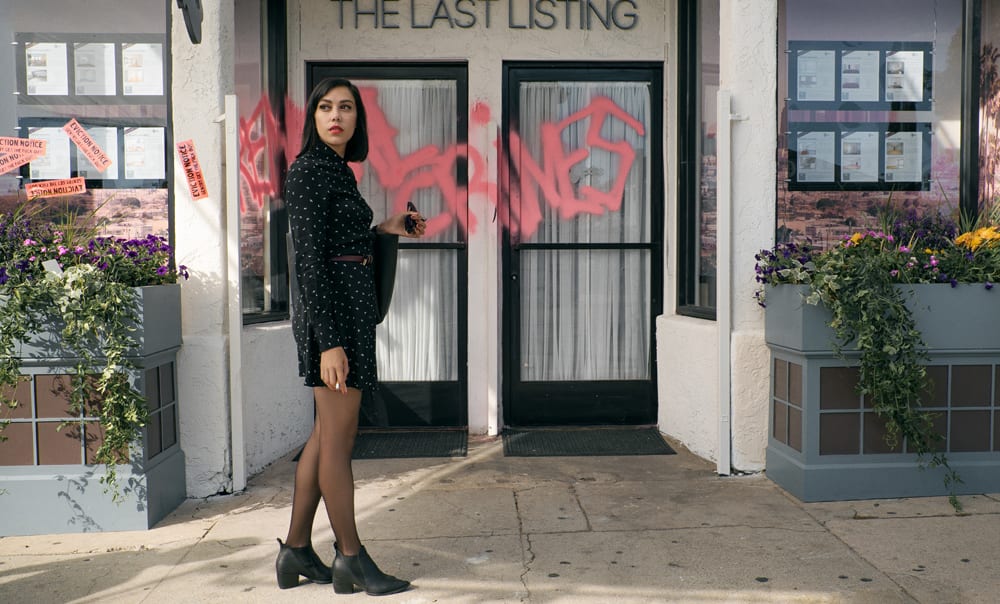 "Taking accountability as a production of being in the area" was a big part of that initiative, Anzoategui says. "It's a real exciting and interesting time, because we have these opportunities to do things different in a production where before, they'd be like, 'Hell no, what do you mean? What do you mean not white-wash a mural on a wall when we paid for it? We paid the owner,' but the community doesn't want the mural to be taken down for their movie purposes. Tanya's an executive producer and she does all the things to be able to make it and not disrupt the community. We learned stuff in Season 1 and we applied it in Season 2. Having food and being able to have extra food every week from crafty that's left over, donate it to a local church and a shelter. It's things like that too, that we can do that's different." It's those little things that can turn an inconvenience of a series being shot in someone's front yard into an opportunity to leave an area better than when you got there.
Those issues came to a head in the Season 2 finale, where Lyn's long-awaited music night was going great while the activist group that Mari is down with was holding a protest outside of their doors. It's an intriguing situation for Rendon's character, considering the ways she alternates between ally and antagonist to their sisters, even living in their apartment for some time at one point. During the protest, Mari gets caught literally in the middle. Contrary to how I'd read the scene, Rendon explained that "That's the whole point. She doesn't go and throw the soap. She doesn't stop it. She literally is, in a sense Switzerland, because she's realizing there's a gray area, and she never knew there was a gray area. It was always black or white." It's a key to the series; we see all of these characters growing, trying to identify and secure their truth and happiness, and while we might want things to be one thing, it's deeper than that.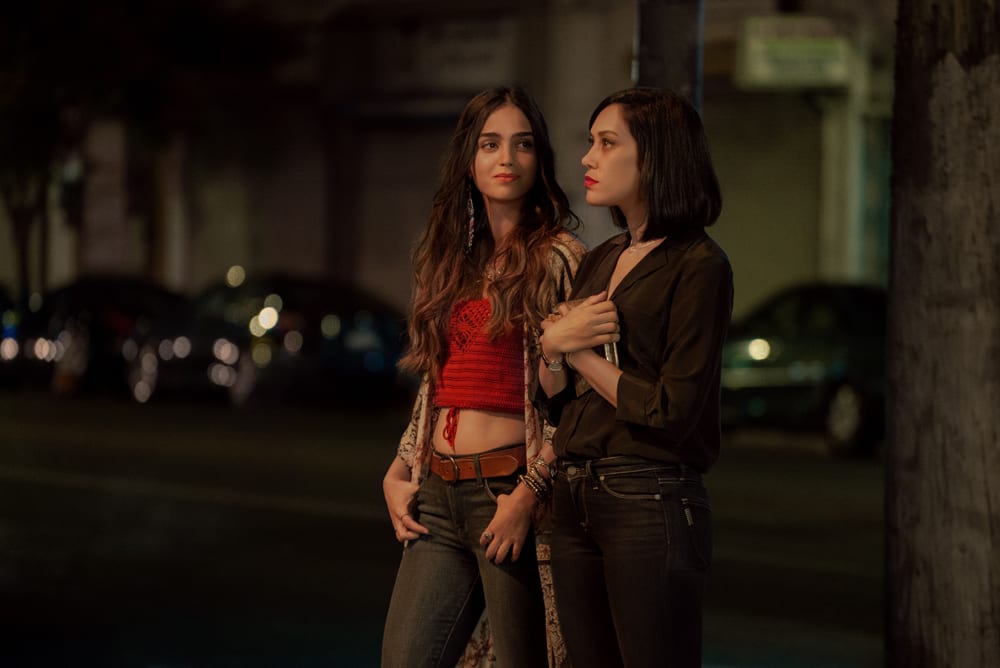 Which is to say that one can only hope that a show like Vida—which is doing everything right by its Latinx culture, for the LGBTQ+ community, and for those of us who genuinely fuck with great television—gets some kind of Emmy consideration, right? Many of the cast members are sharing "For Your Consideration" images on their pages, but in speaking with them, they aren't gassing themselves up about awards (although they did win the GLAAD Media Award for Outstanding Comedy Series this year); they just want to continue doing dope shit.
"I'm definitely not nervous," Prada admits. "I feel confident. Our show stands for what it stands, regardless of whether it received an award or not. It doesn't need an award to be deemed worthy or important or special. I do think that those awards bring awareness." Rendon feels similarly, but hopes that any success the show has during awards season has a domino effect. "I feel that Jane the Virgin [and] One Day at a Time helped us become a show. And I feel that we had a part in the Party of Five remake being greenlit, Gentefied on Netflix getting greenlit. If we were to get nominated, I think that that would help the brown community in Hollywood so much. Whether the cast gets nominated or individually someone gets nominated, no matter what, if one of us gets nominated, it's a win for all of us."
Could Vida win an Emmy? It's tough; Barrera says that her on-screen sister Prada ("Mishel is going to be in my life forever") is a member of the Academy, so she can vote. The thing is, after seeing the "pages and pages" of shows up against Vida, it can put things into proper perspective. If Vida doesn't get an Emmy, it's not like all of this was for naught. Inclusivity on all levels; that's what Vida stands for. Standing tall for the Latnix community, the LGBTQ+ community. It's about human beings; not stereotypes or preconceived notions of a certain person or group of people. Doing the best with what you've got while trying to figure out how you'll make it past the next obstacle. The series, if all goes well, will be remembered not just for who it represented, but for who it influenced. In the grand scheme of things, Vida has already won.