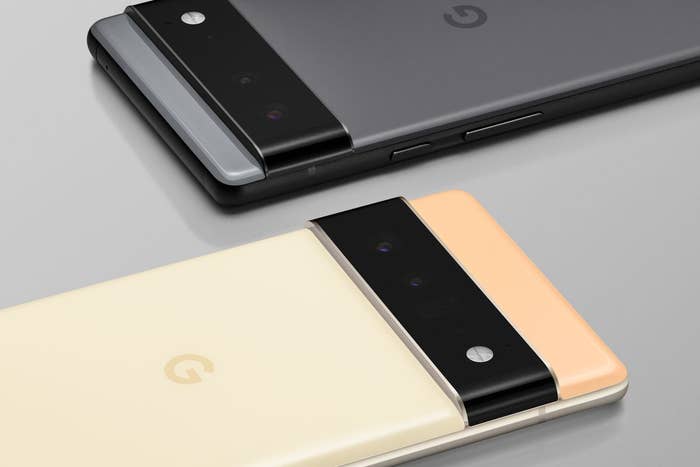 In October of 2017, I asked if Google's Pixel 2 would be the iPhone X killer. In hindsight, that question only had one answer, but that question has guided my smartphone journey ever since, and I've built quite the mountain of Google Pixels. I won't be asking if Google's latest phone, the Pixel 6, is going to be taking out any competition, as it seems like Google's aim this go-round was to remix the device I've grown to love, going into the higher-end of smartphone design.
With the Pixel 6 (and the powerful Pixel 6 Pro, which is where they really upped the ante), Google's set to improve on the impressive foundation they've built. From developing their first-ever processor chip for these phones to reimagining the way they've delivered this experience, Google found a way to push the boundaries they set from their previous phones (including the mighty Pixel 4a, which is still my daily Pixel phone) and bring an experience that feels as complete as ever, especially when held up against the competition.
We were able to get our hands on both the Pixel 6 and the Pixel 6 Pro and ran them through regular everyday Deputy Editor of a Complex vertical use over the last week. Here's everything you need to know about the next chapter in Google's Pixel journey: the Pixel 6 and Pixel 6 Pro.
While dealing with the 4a as my go-to device, I have ran the Pixel 5a through its paces, so it was interesting to see that the overall size of the 5a and the Pixel 6 were fairly close; the 5a actually has a 6.43" OLED screen, where the Pixel 6's screen is 6.4". Not something that tripped me up, but when you then hold the Pixel 6 Pro's 6.71" OLED screen (which is at 3120 x 1440 compared to the 2400 x 1080 of the other two phones), it was easy to find out which Pixel 6 I finally binged Squid Game on.
The actual design of the phone threw me off, too. Over the years, I'd gotten used to the Pixel's fingerprint scanner on the back of the device. It was positioned in a natural spot and was always preferred over the Face recognition that owned iPhones and was featured on the Pixel 4 (although it was gone by the time the Pixel 5 hit). They have a fingerprint scanner that you use on the screen, and it's not as easy as just putting your finger there. You have to hold it a bit, and light glows from underneath your fingertip while it registers. On the backside of the phones is a little area for Google's Quick Tap feature, which allows you to tap a specific area and trigger an action (think taking a screenshot or opening your notifications or alerting Google Assistant). It works very well but can take some getting used to, especially if you're like me and strictly used the back of your phone to unlock your screen.
The Pixel 6 and Pixel 6 Pro are also heavier in hand. It's not a huge difference compared to the 5a, but it's there. The bigger difference actually lies in the screens for each of the Pixel 6 phones. While the Pixel 6 has a flat screen, the Pixel 6 Pro has a bit of a curve, which gives a nice differentiation between the two devices. Also different is the positioning of the front and back cameras. While many Pixel phones have had the front camera tucked in the corner, the Pixel 6 devices place it directly in the center. The back camera (and the back of the device in general) is where you see a real change. Older Pixels would have multiple cameras sitting in a square off to the side; the Pixel 6 devices both have a strip where the cameras sit. (And for those who are wondering, the Pixel 5 and 6 both share the same 8MP front-facing camera, while the Pixel 6 Pro sports an 11MP front camera. On the back, the Pixel 6 pairs 50 MP wide camera with a 12MP ultrawide camera, whereas the Pixel 6 Pro features a 0MP main, a 12MP ultrawide, and a 48MP telephoto with 4x optical zoom.) We will get more into what you can do with the Pixel 6 cameras (and camera software) in a bit, but just know, the cameras on these new Pixel phones continue to prove why these phones need to be in your pocket if you like taking quality pictures on the go.
Forgot to mention the intriguing names Google gives the colorways of their devices. The Pixel 6 I received was a peachy Kinda Coral, while the Pixel 6 Pro came in Stormy Black, which had a doper blend of darker grays and blacks. Google has always had dope colors (especially when they get into more muted tones), but the blends of the colorways on the Pixel 6 specifically showed off what feels like Google really trying to elevate their flagship phone series.
One of the biggest knocks against the Pixel phones has been the use of the Snapdragon processors. While they were plenty strong for what Google has going on, they'd always either be seen as flat-out inferior or would be running at slower speeds than other devices on the market. The Pixel 6 has introduced Google's Tensor processor, the first processor they've built with the Tensor chip with an eye for utilizing advancements in machine learning to help deliver a better smartphone experience.
In previous Pixel phones, you may have noticed that the back of the phone would get pretty hot (and, at times, maybe force itself to stop doing certain functions) if you were doing too many things at once, all of this being a bigger drain on battery life (which is a problem with Pixel phones already). The Tensor chip fixes all of that; it's working smarter, not harder, which means your phone can give you more accurate transcriptions in Recorder without killing your battery life. You can use services like Face Unblur, which help you get a better shot of a toddler who isn't good at standing still for photos.
There are a number of improvements on the Google Pixel 6 and Pixel 6 Pro; the Tensor feels like it plays a huge part in Google being able to unlock the treasure trove of daily improvements to your life—surely what the Tensor is capable of helping you with is vast. We're at the point now where Google Assistant, on the Pixel 6 and Pixel 6 Pro, can show you the different menu options you encounter when calling a business or even find out the best times to call a business that may be experiencing wait times. 
That camera though
I've tested a few Android phones over the years, and even when you go from Pixel to Pixel, you're not always guaranteed a seamless transition. Throwing my info from the Pixel 4a to the Pixel 6 took a bit longer than previous years; it was also as easy as connecting the two phones using a USB-C cable. Transferring photos, files, whole accounts, WiFi passwords, Home screen settings, and more is simple. I let Google handle most of it, and they really laid things out exactly like I had them on my previous device. That said, this is a different vibe altogether.
Seen, the Pixel 6 feels alive and welcoming. I'd tinkered with their "Live" wallpapers in the past. It's always fun seeing the background move when you move (just like that), but this may be the first time where some of the wallpapers come with colorways for your entire icon and menus. I chose one dope floral background, and the rest of my phone was decked out in the colors of the plant. It doesn't always mean you get a dope blending of the colors; I actually like when my menus are in Dark Mode at this point, so having a burgundy-and-light green accent on my menus took a bit of getting used to.
And again, with the aforementioned Quick Tap function, you're not given another (customizable) way to get to the functions and apps you use most. I'm addicted to the Quick Tap screenshot, but that may just be me! 
Not necessarily, although I guess, if I have to nitpick, I still wish the battery life was a bit better. Left to its own devices, the 5a did perform a bit better in terms of battery life before it needed a charge, but it's hard to truly judge. Again, with machine learning and the Adaptive nature of the Pixel in general, your phone does perform a bit better based on what it knows you use (and what you normally don't). What I'm saying is, I didn't expect above-average battery life, and it was just about where we were with previous versions. It is what it is.
I also just wanted to note: you're going to need some kind of case on this. I'm clumsy with phones, so I always suggest a case to begin with, but with the weight and the slick outside of this phone, I could see butterfingers dropping and damaging this bad boy all over. I was able to test these with the Pixel 6 and Pixel 6 Pro cases that were provided (and match the phones beautifully), and it added just enough texture to make the case a bit easier to grip. Be careful, though; these screens are too gorgeous to mess up.
And if we're being honest, I do miss the Fingerprint sensor on the back of older Pixels. It's been around—and preferred—for some time, so this is just taking getting used to, but it would've been dope if there was a way to give you an option; the Fingerprint sensor on the back of the phone was also hella discrete in the field. It may not matter to anyone else, but it worked well for me! Just something to get used to.
Final thoughts