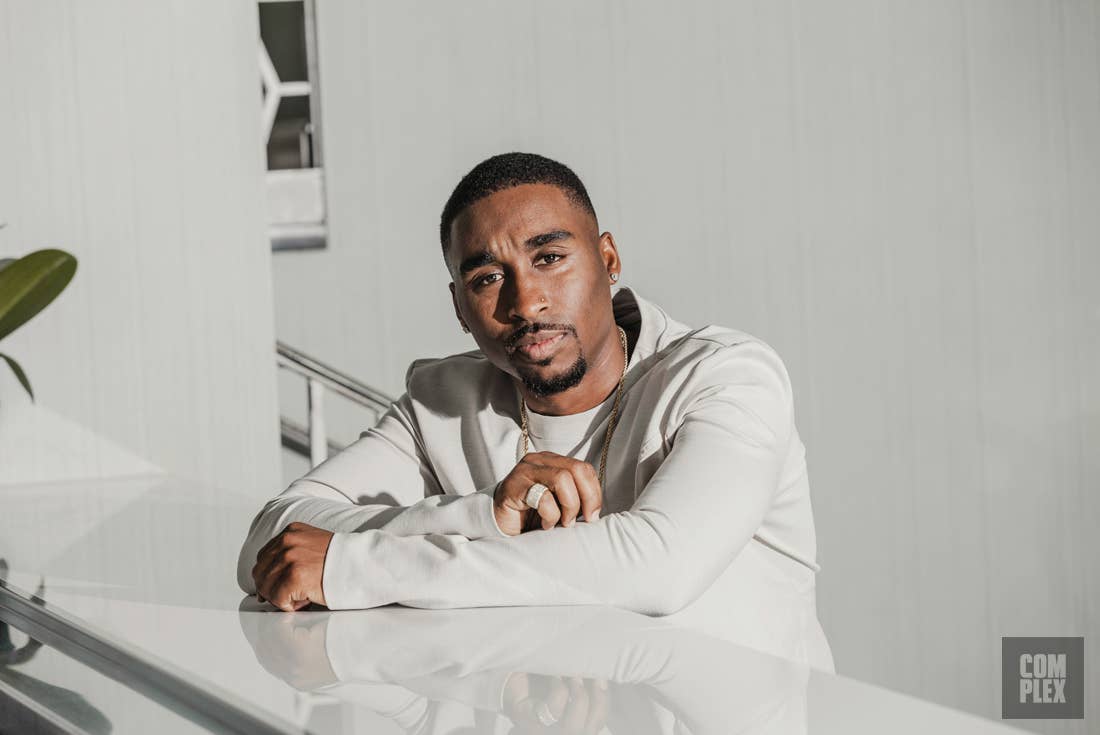 2Pac is a religion. Twenty years after his passing, the hip-hop legend born Tupac Amaru Shakur has done what few musicians, or celebrities in general for that matter, have done posthumously: He's become bigger than his art. His lyrics have touched on social issues that are still true to this day, shaping a generation of artists who have all been inspired by him. 

Fans have hypothesized for years about Shakur somehow cheating death and either hanging out in Cuba or some other secluded locale. Or, there's the belief that he's reincarnated in other people (rappers, specifically). Rap fans still love to give impactful up-and-comers the distinction of being "The next 2Pac," and for certain artists (50 Cent, for example) the comparisons can be apt to a certain extent. But to other artists who worship the late rapper, whether it be Ja Rule or Nas, it doesn't always work. Those more grounded in reality have taken Pac's teachings to the classroom, expanding the contradictions and philosophies that have come to define him and compared him to the likes of Nietzsche or Ralph Waldo Emerson. Pac was a poet, an actor, a brother, and, most importantly, he was and still is all of us. 

Despite Pac's continued influence on pop culture in the 20 years since his violent death, his story has never really been adapted in the same way as some of his contemporaries. We've sat through documentaries and big screen adaptations of Kurt Cobain and John Lennon, but 2Pac's tragic tale has frustratingly gone untold, and his death has become as enigmatic as the man himself. 

There are literally hundreds of theories about who killed 2Pac, but no definitive answers—was it his father figure and labelhead Suge Knight? Vengeful gang member Orlando Anderson? The police? The conspiracies alone make for an enticing movie plot. But while The Notorious B.I.G. got his own (critically lambasted) movie, 2009's stinker Notorious, Pac's life story has been absent from the silver screen. Sure, a handful of actors have portrayed the rap legend in films like Straight Outta Compton and the aforementioned Notorious, but someone of the caliber of Tupac Shakur needs his own feature film. After years of waiting, that's finally coming to fruition this summer. 
Former 2Pac producer and close friend L.T. Hutton has teamed up with prolific video director Benny Boom to release All Eyez On Me, a biopic about the life and death of Tupac Shakur. Hitting theaters on June 16, which would have been Shakur's 46th birthday, the movie has had a troubled production, from director shake-ups to Shakur's estate not authorizing it to be made. But after five years in development hell, the film is ready to see the light of day. While that's reason enough to be excited, what has critics and fans clamoring is the powerful performance by newcomer Demetrius Shipp, Jr.   

After snagging the role of a lifetime, Shipp, 28, has the lofty job of translating Pac to the big screen, and early word says he performed it well. But he's more than just a lookalike; his story, of the everyman that's been plucked out of obscurity and thrust into the spotlight, matters too. A symbol of Pac's own rose that grew from the concrete, Shipp is living out the stories that the rapper captivated his listeners with; someone who has siezed opportunity despite growing up in an area that doesn't give many and channeling it through a legendary muse.

Born in Carson, California, Shipp has one thing in common with lots of other kids from Los Angeles—2Pac has long been one of his idols. His father, Demetrius Shipp, Sr., produced "Toss It Up" on Pac's first posthumous album The Don Killuminati: The 7 Day Theory. "My father's relationship with Pac was something I was proud of," Shipp, Jr. recalls. "I didn't know anything about the [East Coast/West Coast beef] or anything. I was only [7-years-old]. I was too busy playing!" 

Even before Shipp was revealed to the world as the man who would take on the role of 2Pac, he had been hounded with the fact that he looks eerily similar to the iconic rapper. Actually, similar is the wrong word to use here—he looks just like 2Pac. Whether watching him from afar or up close, he is the spitting image of the slain rapper, with no photoshop or makeup needed—I did a double take when I first saw him in real life on a sunny May afternoon at the glamorous Chamberlain Hotel in the heart of West Hollywood. Shipp retains Pac's mix of swagger and vulnerability. And while their journeys to the public eye are wildly different, Shipp's modest rise to fame could be relatable to anyone from California to Montana. It's why he's perfect for the role—he's representing us. 
"If I could give people a smidgen of what Jamie Foxx did with Ray as Tupac, then I did what I was supposed to do."
It also wasn't long ago that Shipp was working odd jobs just to survive and feed his three young children, from working at Target to being a cable man. "[My goal] was always to be solid," he says. "I didn't have it like that, where I could do [acting] and not have a [steady] source of income." 

Shipp's hustle was grounded in his desire to give himself a better life, but also the discipline he'd learned as a child. He started playing drums at his church, and he actually wanted to be a music producer, not an actor. He threw everything at his passion much in the same way that aspiring actors and actresses go hard for theirs. With his role as 2Pac, he wants to put in the same amount of work to fall into his character, citing Jamie Foxx as one of his biggest influences: "If I could give people a smidgen of what [Foxx] did with Ray [as Tupac] then I did what I was supposed to do," he says.

Even though his original career path towards producing mirrored his father, Demetrius seems more guarded when asked if his dad supported his foray into music. "I guess so," he says coldly after pausing for a brief moment. "[My dad] just wanted me to do whatever I put my mind to." 

It was Shipp's father who brought Demetrius' tryout video to Hutton's attention, which eventually landed him the highly coveted role. "[Demetrius] didn't get on my radar until his father told me that he had to show me something," Hutton recalls. "So the next thing I know, I'm sitting in my office and my assistant calls me and says: '2Pac is in the lobby.' I thought she was playing, so I walked out and sure enough—he was 2Pac."

The search to find the new 2Pac was an interesting moment in 2011. Imagine a Willy Wonka-esque open call to find someone who could be the proxy to one of rap's most important visionaries—even if they didn't have acting experience. Hutton and the film's casting agent didn't want to use a known actor in the role for fear of them having their own "baggage" that would divert the audience's attention from the story. Relative unknowns had the same chance to win the role—but the journey to get there was equal parts sad and scary. 

"I saw a great deal of 2Pacs," Shipp says with a sly smile. The whole world saw a number of different people trying to score the role, as submissions were not confined to just the website where they were hosted but on YouTube as well. Twitter personality Damario Brown was a very early frontrunner in many people's eyes thanks to some excessive self-promotion, and he expressed an obsessive amount of excitement to land the part. However, it ultimately went to Shipp, and Brown hasn't been seen or heard from since—with his last tweet (asking users to follow his new, blank account) being from 2012. It's fitting that the circus of the casting call ended in the selection of not only someone close to 2Pac, but Hutton as well. "You can't just find 2Pac," Hutton says. "[Demetrius had] Pac's humility, and his charm. He was himself, but he also had his characteristics."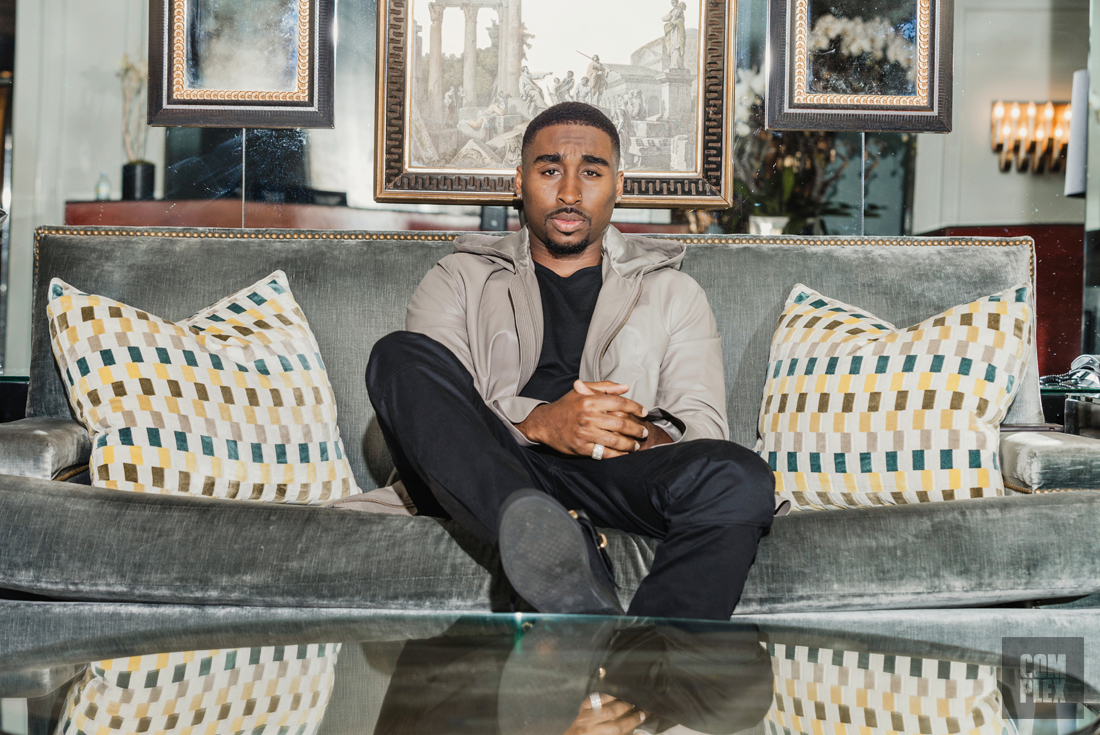 Calmly running through outfit changes and dropping a joke here and there, Shipp words are terse and thoughtful, as if he's fully aware of the gravity of the position that he's in. During the course of our conversation I couldn't tell that it was his first movie, or even if the pressure affects him. He has a magnetic energy that matches his uncanny resemblance to Shakur—no wonder he was mobbed at local radio station Power 105's annual "Powerhouse" summer concert a week prior. With a lineup that boasted headliners like Big Sean and Lil Wayne, the concert's biggest star was ironically an actor who wasn't there to perform.

"It was dope; [it's] never overwhelming for me," says Shipp. "This is what I signed up for. I could be doing a lot of other things. I get to be around people and have fun and laugh. That's good for me." Why shouldn't he be happy? He's the face of the most important black movie of the summer.

The story of Shipp's rise to stardom is running concurrently with the glory of All Eyez On Me finally being released. In a crowded summer, it's a breakout film that not only bodes well for representation of black people in cinema, it's helping serve as more fuel to the fire of a culture that is now rightfully being heard. "It's a unique time for black film and television. I believe that we're hitting with this movie at the height of that," Shipp explains. "There's so much black content on multiple platforms and it's all getting great ratings. If you think about the Oscars snubbing Straight Outta Compton, in a way, that kicked all of this off. And the content is just being praised the way it should be."
But Shipp's road to All Eyez on Me and sitting in this fancy hotel suite has certainly been a long and rocky one. Shipp's first audition was with the very first director of the project—and that was three rumored directors ago. "My first audition was with [the film's original director] Antoine Fuqua," recalls Shipp. "There was all this anticipation, and my family was with me. I don't know why [laughs]. I read with the casting director and it went okay." 

Shipp's version of "okay" led to him landing the role. But even with the casting of its lead, the movie ran into even more production squabbles, putting it on hold for an excruciating five years as Demetrius waited for his moment to get in front of the camera. "It was like, [sighs] 'life goes on,'" he says. "I can't sit down and wait for this if it isn't real. I had one child at that time [of the first delay], and I had to move forward." 

For Shipp that meant continuing to make music and work to support his growing family, although he'd still continue to keep in touch with the behind-the-scenes goings on of the film. Hutton maintains that the major issues that held the movie back were getting the story correct and the gaining the support of a studio (Lionsgate eventually picked up the project for distribution this past January). "When you have people putting up money on a project, they may not understand it all," he says. "[I had a lot of battles]. And I won them all. I wanted to make sure that the story of [All Eyez On Me] was told correctly, and from 2Pac's point of view." 
Once the film was fully greenlit, the cast and crew had to begin bringing the script to life. Shipp couldn't just look the part; he had to meticulously transform himself to become Tupac Shakur. And because the rapper's mannerisms went deeper than just reading lines in front of a mirror, Shipp practiced for his role in a very interesting way. "I studied all of the videos on YouTube that you could find," he says. "I put it on myself to get the mannerisms down, so I would videotape myself next to a TV that [had a 2Pac interview] playing and do the interview right along with him. Then I'd play it back and study it." Shipp was also pushed by Hutton, who says he constantly did things to Demetrius just to "piss him off" in order to see if Shipp could handle the role.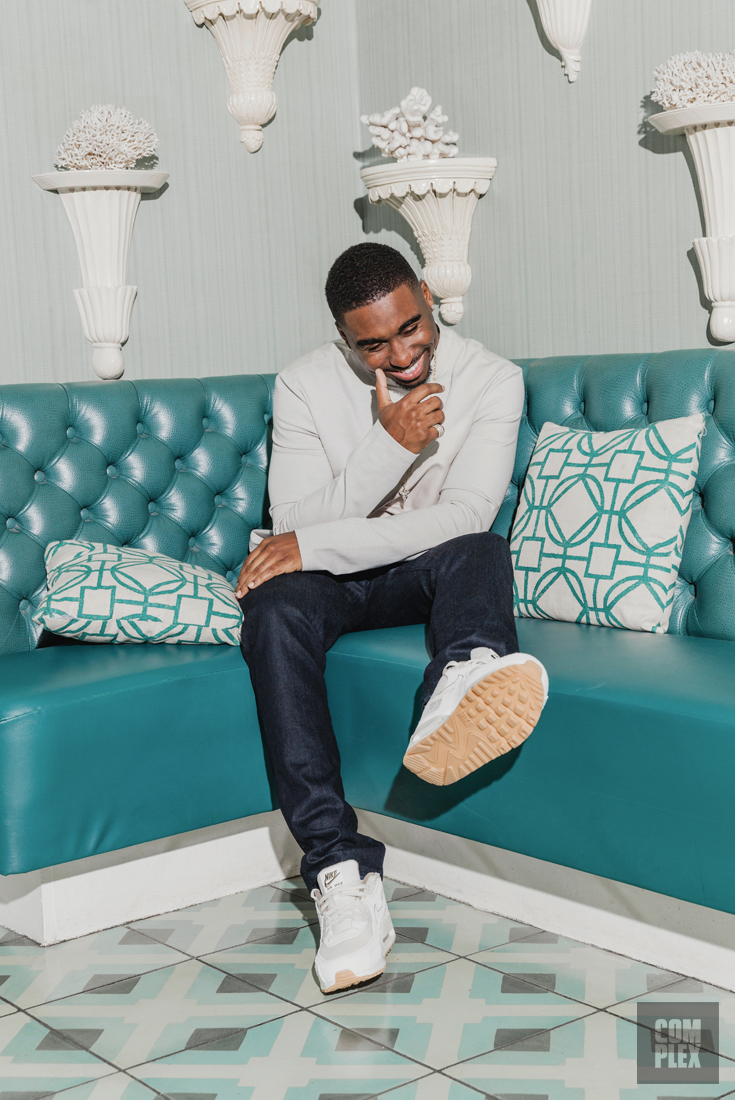 "He passed," Hutton says. On top of the rigorous work it took to become 2Pac, Shipp also had to go through a crash course in acting, which he approached with the same vigor he did researching for the role: "[Acting] took a while to get used to. It wasn't a growing pain, but my tolerance got lower to doing [multiple takes] and stuff like that. It [was an urge] for me to do my best work." 

The hard work appears to be paying off, as West Coast greats like Snoop Dogg have been praising Shipp's performance. While it's a blessing to have that kind of response, All Eyez On Me wasn't officially authorized by Shakur's estate, so none of the cast got to speak with any of 2Pac's family prior to making the film. However, through a chance meeting with the relative of a slain friend, Shipp did have a chance to speak to someone who was influential in Pac's career: the currently incarcerated former CEO of Death Row Records, Suge Knight. 

"The way that we talked wasn't even supposed to happen," Shipp recalls of his conversation with Suge. "We happened to talk [on the phone] last year at one of my good friend's funerals…He told me that he'd heard that I did a great job, [but that] the most important part is that I felt that I did."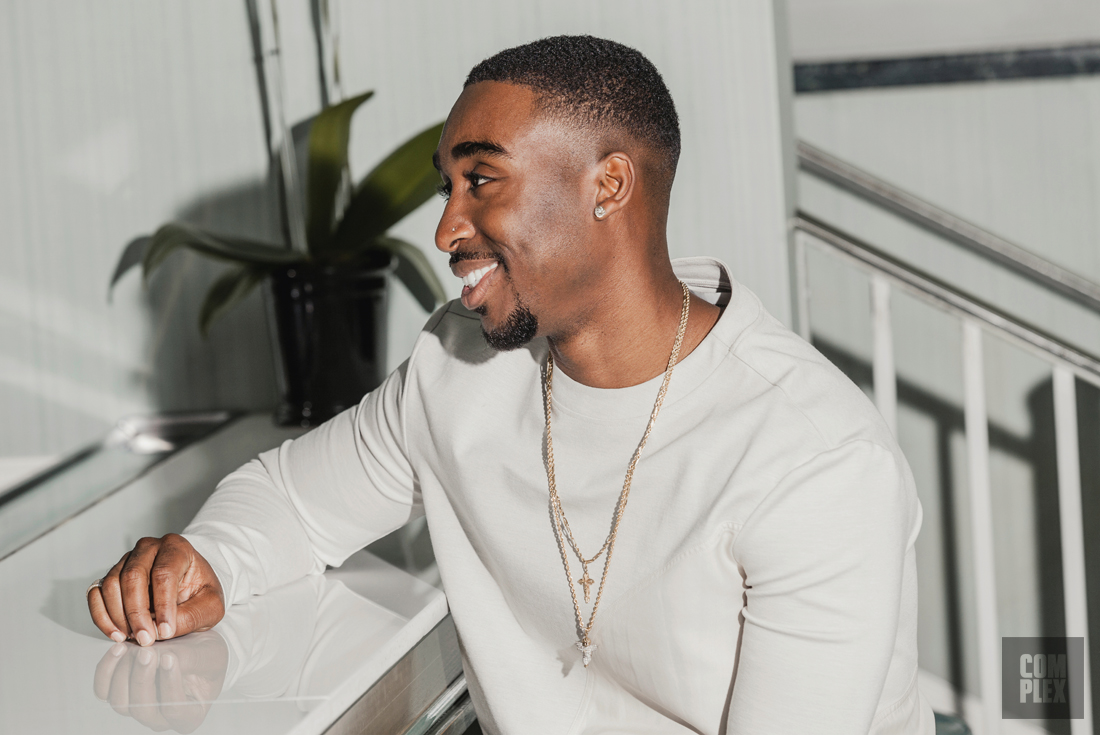 "You can't just find 2Pac. Demetrius had his humility, and his charm. He was himself, but he also had Pac's characteristics."—L.T. Hutton
The film's eventual director, Benny Boom, a veteran of music videos with plenty of major clientele under his belt, gave Shipp a better understanding about the filmmaking process as well. "I learned a lot from [from Benny] by [witnessing] the work he did on set," Shipp says. "His work ethic [inspired me]. He didn't leave until everything was done." 

The magnitude of the production of All Eyez On Me didn't seem to phase Shipp either, as the massive biopic hopes to answer the unanswered questions about Shakur as well as provide clarity into the type of person he was. The movie is grabbing audiences through its attention to detail—from the clothing (provided by influential, black-owned brands like Cross Colours to Karl Kani) to the placement of music. Putting Shipp in Tupac's old clothing wasn't just for fan service, it was meticulously planned to make audiences feel like they were back in the 1990's. 

"The film needed to have brands like Karl Kani and Walker Wear in it to be authentic because those were two designers that Tupac wore religiously," says Kenya Ware, the costume designer for All Eyez on Me and Pac's former stylist. "I wanted to make sure that all of the replicas were right. L.T. Hutton figured it would be better to hire a person who actually knew Tupac and was around him a lot because sometimes getting information from third parties or Google ​isn't that accurate." Even with his big screen debut coming up, Shipp is still focused on starting up his career in music production. His quiet and reserved shell cracks when talking about it, and he spoke of how his brand of production is less like the G-Funk-inspired styles of his home state and more of a laidback bounce. "I don't want to be just one thing [when it comes to music], whether it be rap or R&B," he explains. "Whatever I do I just want it to be good."

When asked who he'd give his beats to, Shipp names his top five rappers in no particular order—Kendrick, Cole, Drake, Big Sean, and Anderson .Paak—and one more who particularly has his attention at the moment. "Future is dope as fuck," he says excitedly. "I'd definitely give him a beat. He's all I play. DS2 and EVOL are my favorite projects from him."

To be clear, Shipp is definitely not giving up acting. Once the world gets to see his work in All Eyez On Me, the first-time actor is hoping to find more opportunities to be on screen—although he'd like to avoid TV roles. "Being on television is a little constraining," says Shipp. "You spend six to eight months filming and you get stuck in that gear. I feel like doing movies is a lot more my style."

As the days wind down until the film's release, Shipp truly has the sense of all eyes being on him. But the work is done and it's only a matter of days before the world gets to see the fruits of his labor. Until then, Demetrius remains as passionate and humble as he was when he was making audition videos on YouTube. Flanked by his publicist and friends our conversation wraps, Shipp is asked by an associate if he wants to get a drink later. He replies: "I'm not drinking until after June 16. We got more work to do." No pressure.