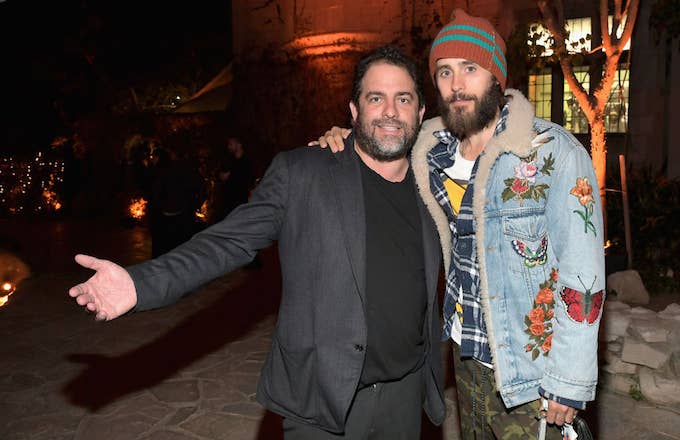 In response to the recent sexual harassment allegations made against Brett Ratner, the director's previously announced Hugh Hefner biopic is reportedly being put on hold. Jared Leto has distanced himself from previous announcements that he would play Hefner in the movie, and Playboy Enterprises has also revealed it has stopped working on the project with RatPac Entertainment, Ratner's production company, until further notice.
The news that Leto had been chosen to portray Hefner was widely reported just days after the Playboy founder died in September. However, a representative for Leto has now denied he was ever involved in the project. "Jared Leto is not and was not attached to a Brett Ratner-directed Hugh Hefner film, nor will he be working with him in the future,: the rep told Deadline. "Earlier reports were incorrect and not confirmed by his representatives."
Similarly, Playboy is attempting to tone down previous enthusiasm for working with Ratner and his production company for the project. Playboy Enterprises told Deadline: "We are deeply troubled to learn about the accusations against Brett Ratner. We find this kind of behavior completely unacceptable. We are putting all further development of our projects with RatPac Entertainment on hold until we are able to review the situation further."
The Los Angeles Times recently published allegations by six different women, including Olivia Munn and Natasha Henstrige, accusing Brett Ratner of sexual harassment and sexual misconduct. Henstridge alleges that Ratner forced her to perform oral sex, while Munn claims Ratner once masturbated in front of her.
Ratner talked about the idea of Leto playing Hefner in a movie as recently as October. "Jared is an old friend," Ratner told the Hollywood Reporter. "When he heard I got the rights to Hef's story, he told me, 'I want to play him. I want to understand him.' And I really believe Jared can do it. He's one of the great actors of today."