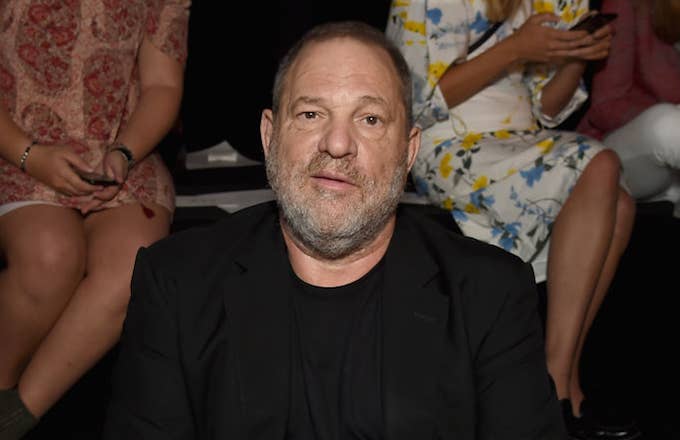 Just days after The New York Timespublished a bombshell report detailing disturbing sexual harassment allegations from various women against Hollywood mogul Harvey Weinstein, The Hollywood Reporter now reports that he has been officially fired from his own company.   
The decision comes after the all-male board of The Weinstein Company held an emergency meeting on Thursday night. During the meeting, Weinstein "pled his case," but on Friday the board chose to force him into taking an "indefinite leave of absence." They have now decided to fire him altogether.
Since the Times's piece, three out of nine members of The Weinstein Company have resigned, including Dirk Ziff, Tim Sarnoff and Milwaukee Bucks co-owner Marc Lasry. 
Weinstein is accused of paying at least eight different settlements to the women who have accused him of sexual harassment, one of which includes Ashley Judd. Judd describes a disturbing interaction in which he showed up to her hotel room clothed in only a bathrobe and then asker her to watch him shower. She said she felt "panicky" and "trapped," while also being forced to keep in mind that with Weinstein, there was always "a lot on the line, the cachet that came with Miramax." 
Journalist Lauren Sivan has also since gone public with another harrowing story. When she was working as a reporter for a local cable channel in New York City, she met Weinstein at a restaurant. He attempted to kiss her, but she rejected him, at which point he trapped her in a closed hallway in the restaurant and forced her to watch him masturbate. 
Many have felt like Weinstein's response has, at best, missed the mark. Before the Times published their piece, Variety reported that Weinstein was heavily lawyering up. Soon after the piece went live, Weinstein's response was bizarre: he completely invented and misquoted a line from Jay-Z's 4:44 and thought the best way to apologize for sexual harassment was to talk about gun control. "I am going to need a place to channel that anger, so I've decided that I'm going to give the NRA my full attention," he wrote in his statement. One of Weinstein's lawyers, Lisa Bloom, who was also the legal representation for the woman who supposedly slept with Kevin Hart, has already quit. 
The full statement from The Weinstein Company's board of directors, released on Sunday, reads as follows:
In light of new information about misconduct by Harvey Weinstein that has emerged in the past few days,  the directors of The Weinstein Company - Robert Weinstein, Lance Maerov, Richard Koenigsberg and Tarak Ben Ammar - have determined, and have informed Harvey Weinstein, that his employment with The Weinstein Company is terminated, effective immediately.