Khloé Kardashian is clearing the air.
The reality TV star and entrepreneur took to social media on Thursday to address recent reports involving Blac Chyna. Kardashian specifically expressed her frustration over "clickbait headlines" that suggested she subtly criticized Chyna's parenting of Dream Kardashian, whom Chyna shares with Kardashian's brother, Rob Kardashian. The allegations stemmed from a scene in Thursday's episode of Hulu's The Kardashians, in which she declared that Dream needed a "great maternal influence" in her life.
The comment led some to believe that the Good American founder implied that Chyna was not a good influence on Dream. Kardashian was quick to shut down those allegations in a lengthy statement shared on Instagram.
"It saddens me to see clickbait headlines that are taken out of context or twisted to be something it's not," wrote Kardashian, who shares two children—True and Tatum—with her ex-boyfriend, Tristan Thompson. "I love ALL of my nieces and nephews more than I can express. Dream and I are particularly close. My brother and I are extremely close. I am with Dream all the time because I'm with my brother all the time. I love her beyond measure."
Kardashian went on to say that she thinks of her nieces and nephews as her babies. "I take pride in this love and always have," she wrote.
"I wholeheartedly believe that it takes a village to raise a child," she continued. "Life is full of ups and downs and I am proud that we have a family that can lean on one another. That's what family does. We are a tribe and all of us will always be there for one another. Especially the babies."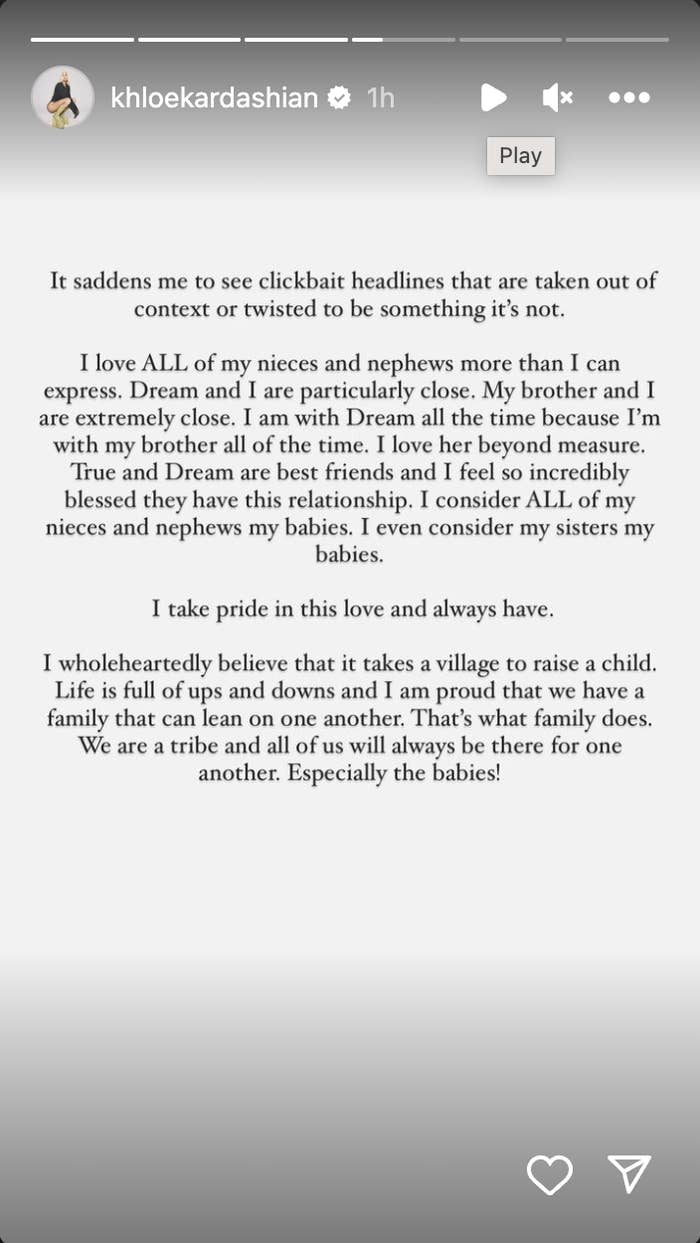 Thursday's episode of The Kardashians followed Kardashian as she helped her brother plan Dream's 6th birthday party. The mother of two then reflected on her relationship with Rob, Dream, and Chyna in a confessional.
"I feel like I'm a third parent for Dream," she said. "I do know how important it is for Dream to have a great maternal influence. Whether that be from me or her own mom or whoever, it's important and wherever she gets it from she gets it from. Dream is one of my babies too, just like all the rest of them, and I absolutely love being a mom to people. I love mothering people, I don't know if they like that or not but it's in my blood just to be a mom. I wouldn't have it any other way."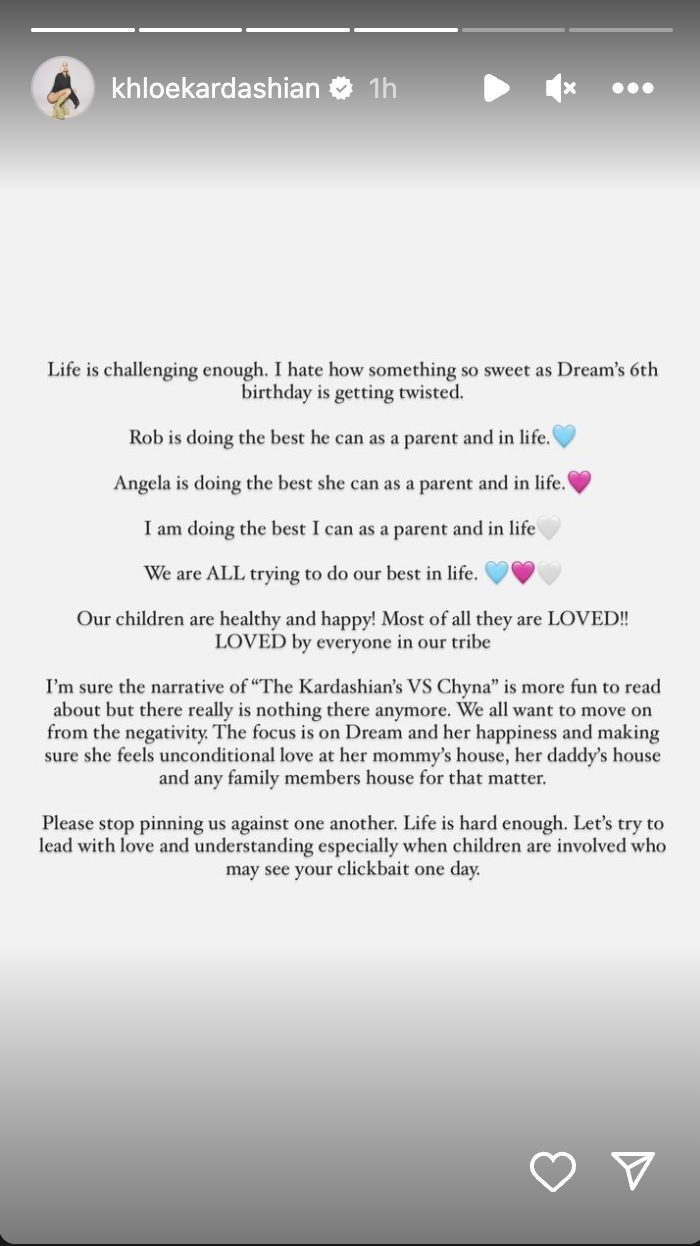 Kardashian also touched on her family's years-long legal battle against Chyna, who accused the family of sabotaging Rob & Chyna, the couple's short-lived E! reality show. Chyna claimed the family had falsely told producers she had violently attacked Rob during a domestic dispute—an allegation that prompted the network to cancel the show. Chyna filed a $100 million defamation lawsuit against members of the Kardashian family; however, no damages were awarded to Chyna, as a jury concluded the family did not interfere with her E! contract.
"I do not have a relationship with Dream's mom," Kardashian said in Thursday's episode. "[It] is hard to have a relationship with someone when they sue you for hundreds of millions of dollars."