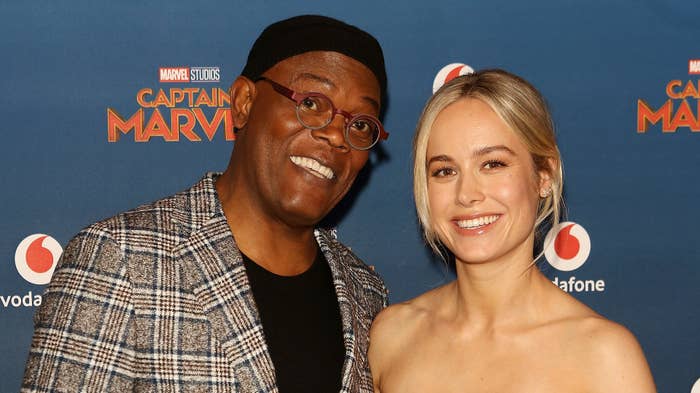 Samuel L. Jackson came to the defense of his friend Brie Larson in a recently published interview with Rolling Stone.
Jackson told Rolling Stone senior entertainment editor Marlow Stern that Larson, who was attacked by trolls for comments she made after joining the MCU, asked for his input when she was approached about playing Captain Marvel. "I was like, 'Hell yeah! Let's do it,'" he recalled.
The 2019 film was subjected to review bombing on Rotten Tomatoes after Larsin criticized the "overwhelmingly white male" representation in film criticism and called for more diversity in the field. That's when the trolls hit, but as Jackson tells it, Larson is resilient.
"She's not going to let any of that stuff [online abuse] destroy her," Jackson said. "These incel dudes who hate strong women, or the fact that she's a feminist who has an opinion and expressed it? Everybody wants people to be who they want them to be. She is who she is, and she's genuinely that."
Jackson and Larson became "great friends," as he put it, while filming 2017's Kong: Skull Island, which he admitted was "not the most wonderful experience for either of us."
The two have also appeared in Unicorn Store and Avengers: Endgame together.
"Brie's a stronger person than people give her credit for," Jackson said of Larson, who will be reprising her role as Carol Danvers in The Marvels later this year.
Meanwhile, Jackson returns as Nick Fury in the limited series Secret Invasion, which premiered on Disney+ this week.