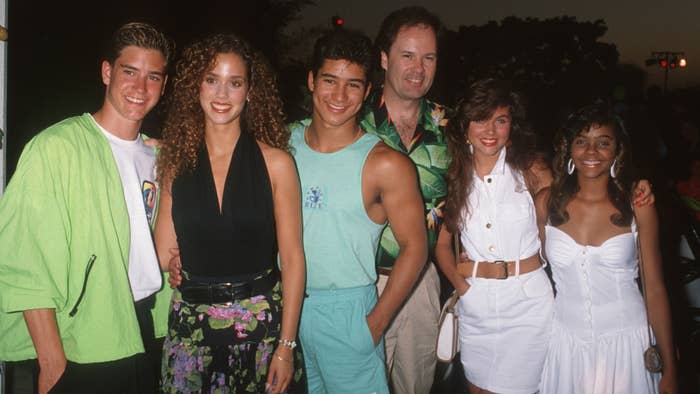 In her appearance on The Dr. Oz Show Wednesday, Lark Voorhies will discuss being shunned by her Saved by the Bell cast, especially after the announcement of a reboot coming to the NBCUniversal streaming service Peacock. 
The reboot will feature original cast members Mark-Paul Gosselaar, Mario Lopez (A.C. Slater), and Elizabeth Berkley (Jessie Spano) reprising their roles. Gosselaar will also be a producer on the show, and is said to appear in at least three episodes as Governor Zack Morris. 
Voorhies played Lisa Turtle throughout the series' four-season run from 1989 to 1993. She made an appearance on one episode each of the Saved by the Bell spinoffs, The College Years and Wedding in Las Vegas. 
In a clip obtained by E! News, Voorhies speaks on her notable absence in a photo posted by Gosselaar last year where he, Lopez, Berkley, and Tiffani Thiessen are dining at Petit Trois in Los Angeles with their partners.  
In 2015, The Tonight Show Starring Jimmy Fallon managed to get Gosselaar, Berkley, Lopez, Thiessen, and Dennis Haskins (Principal Belding) together for a Saved by the Bell reunion of sorts, but Voorhies wasn't there. Her publicist told Entertainment Tonight, "Lark would have loved to be part of the Jimmy Fallon skit (as she is a big fan of the show), however due to an intense work schedule she was not available." 
Voorhies will likely further open up about her feelings towards being left out of the upcoming Saved by the Bell reboot, and her mental health struggles on tomorrow's episode of The Dr. Oz Show.