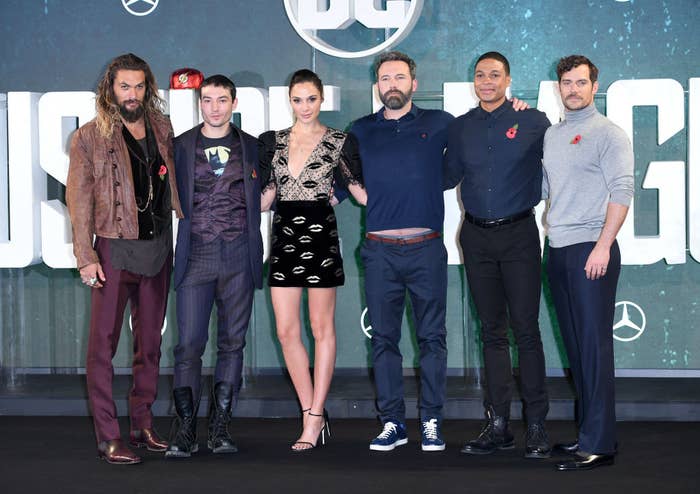 UPDATE 11/19/2017 12:05 PM:
During its opening weekend at the box office, 'Justice League' has reportedly reached $96 million at 4,051 locations. While the DC film has dominated North American box offices, it has only placed as the eighth largest opening of 2017. This disappointing result comes after the studio, in their early predictions, claimed it would reach the $110 million threshold.
Original story is below.
Following mixed early reviews and a less than favorable rating on Rotten Tomatoes, Justice League appears to be heading towards a disappointing opening weekend at the box office. According to Variety, the fifth installment of the DC Extended Universe is estimated to rake in $94 million, well below early projections in the $110 million range. It's an incredibly disappointing number for a film that had an estimated budget of around $300 million. 
In its opening weekend, Thor: Ragnarok easily cleared the $100 million hurdle, making Marvel Studios the first production studio in box office history to release three films with $100 million-plus openings in a calendar year. Aside from Ragnarok, the other two movies were Spiderman: Homecoming and Guardians of the Galaxy Vol. 2. This weekend, Ragnarok is projected to pull in a respectable $20 million which is good enough for third place. The latest installment in the Thor franchise already became the 12th straight film in the Marvel Cinematic Universe to exceed $500 million worldwide.
Aside from Wonder Woman, DC hasn't been able to strike the right balance that will entice people enough to get them to come watch their films. Meanwhile, they have to hear about the machine known as Marvel Studios pumping out hit after hit while printing money at the same time. Something needs to change in order to get the DC Extended Universe on the right track. And it needs to happen soon. The studio literally can't afford to keep taking these L's at the box office.