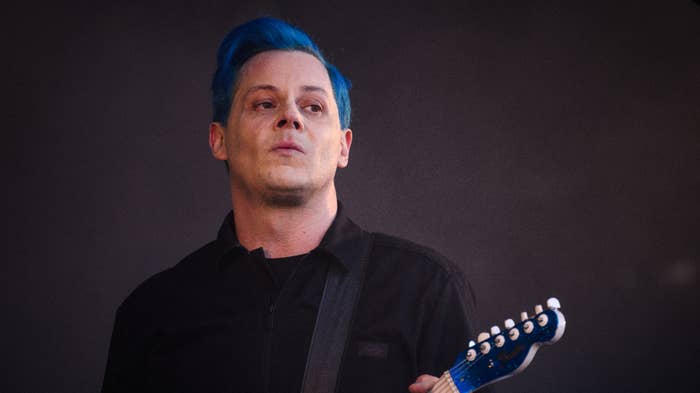 Jack White put several celebrities on blast Monday over their interactions with Donald Trump at UFC 290.
"Anybody who 'normalizes' or treats this disgusting fascist, racist, con man, disgusting piece of shit Trump with any level of respect is ALSO disgusting in my book," White, 48, wrote in an Instagram post. "That's you Joe Rogan, you Mel Gibson, you Mark Wahlberg, you Guy Fieri. This is a statement from me, not a discussion/debate."
White was nice enough to support his claim with visual evidence.
White might also dislike UFC fighter Dricus Du Plessis for stepping out of the Octagon for a brief interaction with Trump following his second-round TKO of Robert Whittaker.
The sight of Rogan and Trump being cordial is a shocking one considering the podcast host has publicly voiced his support for the equally deplorable Ron DeSantis in his 2024 presidential bid.
Rogan claimed in a 2022 episode of The Joe Rogan Experience that DeSantis would make a "good president," citing his "admirable" work as Governor of Florida. Rogan doubled down on his DeSantis support this year as Trump was workshopping disrespectful nicknames for his potential rival.
"There not a good one that you can come up with for Ron," Rogan said of the nicknames. "Because Ron, he's too good with that base and his success in Florida is pretty unparalleled."
Some of DeSantis' "unparalleled" work in the state of Florida includes a six-week abortion ban where victims of rape and incest must first provide proof, and signing legislation targeted at the LGBTQ community, but more specifically, trans people.
Wahlberg's ties with the twice-impeached former president date back to over a decade ago, when the two participated in a celebrity golf tournament. "He was very Donald Trump-like, talking about the things that he does, things that he has, business interests, properties, stuff like that," the actor said of their interactions in a 2016 interview with The Guardian. "But he wasn't ever mean or rude. I don't think he asked me too many personal questions, or about what I do."
Trump was charged in March on 34 counts related to alleged hush money payments made to Stormy Daniels, as reported by Politico. He was indicted last month on 37 counts pertaining to the alleged mishandling of classified documents.