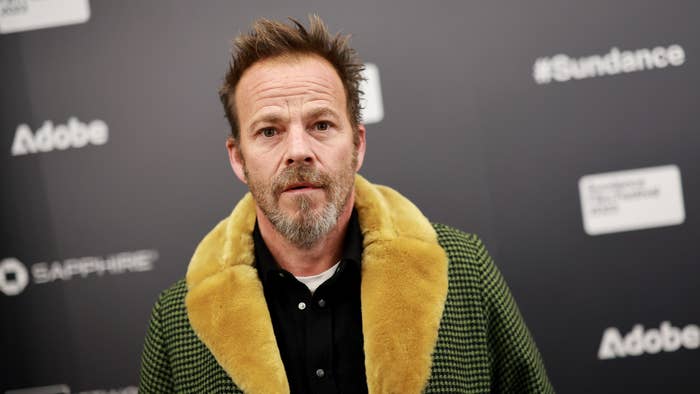 Stephen Dorff has gotten himself into another entirely one-sided verbal spat with Marvel Studios over its upcoming reboot of Blade led by his True Detective co-star Mahershala Ali.
"My life is pretty weird, but look, I love all kinds of movies," Dorff, who starred in the original 1998 Blade film, said in an interview with the Daily Beast in response to his film interests outside of comedy. "If comic book movies were more like when I started when we made Blade, or the few that have been decent over the years, like when Nolan did The Dark Knight and reinvented Batman from Tim Burton, who's obviously a genius…when they were interesting, like when Norrington did Blade, and Guillermo [del Toro] was fucking around in it."
The 49-year-old continued, "But all this other garbage is just embarrassing, you know what I mean? I mean, God bless them, they're making a bunch of money, but their movies suck [laughs]. And nobody's going to remember them. Nobody's remembering Black Adam at the end of the day. I didn't even see that movie, it looked so bad." 
In true "what he say fuck me for?" fashion, Dorff criticized Dwayne Johnson's DC tentpole twice. When asked about finding mainstream material similar to Divinity, the actor said that if major studios or DC were interested in "doing cool things," they would seek out the next Eddie Alcazar, the director of Divinity, adding with a laugh, "Not making Black Adam and worthless garbage over and over again." 
"Marvel is used to me trashing them anyway," Dorff said. "How's that PG Blade movie going for you, that can't get a director? [laughs]Because anybody who goes there is going to be laughed at by everyone, because we already did it and made it the best. There's no Steve Norrington out there."
Norrington was the director of the original Blade film. As for the upcoming reboot, White Boy Rick director Yann Demange took over after Tariq Bassam stepped down.
Dorff starred directly across Mahershala Ali in the franchise-reinvigorating third season of HBO's True Detective in 2019. Ali—a two-time Oscar-winner who's shown great enthusiasm for his Blade project and got Wesley Snipes' blessing—was nominated for an Emmy for Outstanding Lead Actor in a Limited Series or Movie for True D.
"I think Mahershala will do a great job in that part," Dorff told interviewers of Blade in 2019. The next year he said, "I think he'll do a great job with Blade and reinventing the franchise. It probably should've been done a while ago, but I think it's good for him. … To have such a great actor in the part of Blade for this new generation, it'll be great."
Stephen Dorff previously stated he was "embarrassed" for Scarlett Johansson because Black Widow looked "like garbage." He then felt bad for delivering those remarks about Johansson, whom he considers an "old friend."