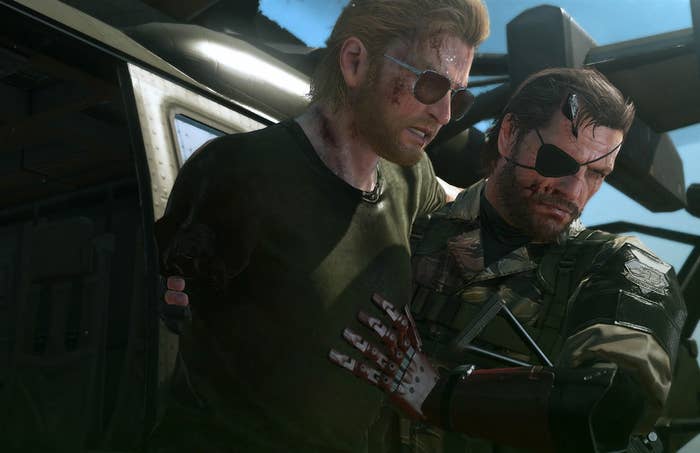 Last night's Game Awards 2015 was meant to be one of celebration, particularly for another stellar year in gaming but as it turns out even the video games industry isn't above pettiness as proven by publisher Konami.
Metal Gear Solid V: The Phantom Pain won both Best Score/Soundtrack and BestAction/Adventure Game, cause for celebration right? Wrong, Konami barred series creator Hideo Kojima from accepting the award, in his place was actor Kiefer Sutherland who played main character Snake/Big Boss. How messed up is that? You're not even allowed to accept an award for something that you created because your former employees have a vendetta against you, pure f***eries is what that is.
The Game Awards host, Geoff Keighley then proceeded to open a can of worms live on stage, explaining that Kojima had been advised by a lawyer from Konami not to turn up. Speaking to the audience he said:
"As you noticed, Hideo Kojima is not here with us tonight and I want to tell you a little about that. Mr. Kojima had every intention of being with us tonight, but unfortunately he was informed by a lawyer representing Konami just recently that he would not be allowed to travel to tonight's awards ceremony to accept any awards. He's still under an employment contract. And it's disappointing and it's inconceivable to me that an artist like Hideo would not be allowed to come here and celebrate with his peers and his fellow teammates."
This all stems from the very messy and (very) public split between Kojima and Konami – they even took his name off the cover of the game. Recent reports have also been floating around regarding the 'prison-like' work environment at the Japanese games company, with some even going as far to describe the atmosphere as 'Orwellian'. It's quite disappointing to see how things have turned out there, particularly with the relationship with Kojima ending on such a sour note. He was instrumental in making them a cultural powerhouse during the PlayStation era – and beyond, but that seems to count for nothing in their eyes.
Metal Gear Solid V: The Phantom Pain is pretty much Kojima's last game in the series, and for Konami – despite still being technically under their employment. We voted MGSV: TTP  as our game of the year describing it as "A thrill ride from start to finish".
[Via Kotaku]