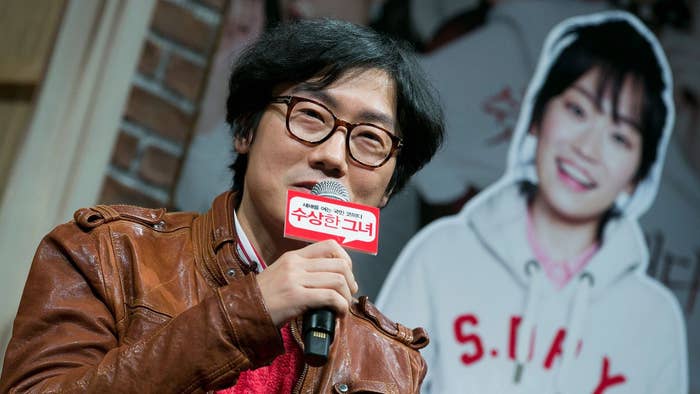 With Netflix's Squid Game recently reaching the milestone of becoming the biggest launch for a new show on the platform after amassing 111 million viewers in 28 days, the show's creator, writer, and director Hwang Dong-hyuk dove deeper into the lore of the series and its future.
In a new interview with the Hollywood Reporter, Hwang explained how the names of the main characters in the show, like Seong Gi-hun, Cho Sang-woo, and Il-nam are names of friends he has in real life, one of numerous examples where he put parts of himself into the show.
"I infused myself into Gi-hun and Sang-woo's characters quite significantly. Just like Gi-hun, after the failure of my movie, I had a time when I wasn't able to make any money and I was supported financially by my mother," explained Hwang, who began writing Squid Game well over a decade ago. "There was also a time when I was going to the horse races with the dream of winning a lot of money—although I didn't steal from my mother like Gi-hun does. His character also has some bits of my uncle who used to be a real trouble to my grandmother. And like both of them, I grew up in Ssangmun-dong [the lower-income area of Seoul's Dobong-gu district], and my family wasn't very well off when I was young."
Hwang talked about the enormous pressure to follow up such a record-breaking debut season with a story that's equally as great. He purposefully left Season 1 open-ended with certain unresolved plot points, but he's still not sure about which direction to take the show.
"And you're right, the pressure on me is huge now, with such a big audience waiting for a Season 2. Because of all that pressure, I haven't decided yet whether or not I should do another season," he said. "But if you look at it in a positive way, because so many people loved Season 1 and are expecting good things for Season 2, there are people everywhere in the world offering their opinions about where the show should go. I could actually pull ideas from fans all around the world to create the next season. I think that's what I'm wrestling with right now—that I shouldn't just view it as a huge amount of pressure, but think of all of this love and support I'm receiving as a big box of inspiration that I can leverage for Season 2."
[SPOILERS BENEATH THE FOLLOWING TWEET]
As far as open-ended plot points Hwang highlighted, those include police officer Hwang Jun-ho's brother In-ho being the Front Man, and Gi-hun not returning to his daughter. "And then I could also go into the story of that recruiter in the suit who plays the game of ddakji with Gi-hun and gives him the card in the first episode," Hwang said. "And, of course, we could go with Gi-hun's story as he turns back, and explore more about how he's going to navigate through his reckoning with the people who are designing the games. So, I don't know yet, but I'll just say there are a lot of possibilities out there for Season 2 storylines."