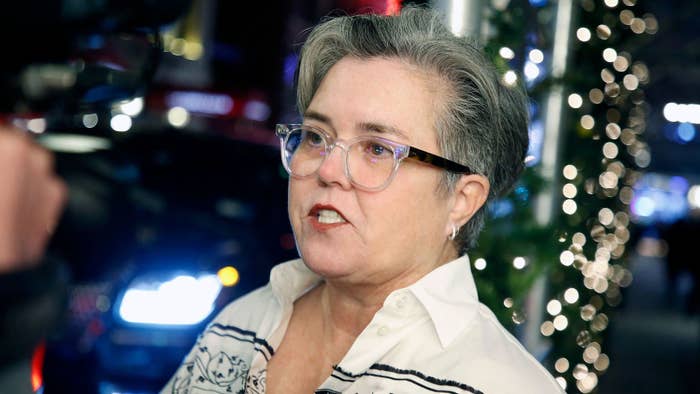 This week, Rosie O'Donnell took to TikTok to issue a formal apology to Priyanka Chopra and Nick Jonas after the comedian confused Chopra's father with a famous author with the same last name.
In the TikTok apology, O'Donnell explained how she "embarrassed" her son and his girlfriend after they went out to dinner and were seated next to the married couple. O'Donnell, who never calls Priyanka by her first name in the video, said that she went to greet them, and that's when she mistakenly called Deepak Chopra, the famous author, her dad.
"So when I said, 'Hi, Nick Jonas. You were great in Kingdom' and 'Hi, [Priyanka]. I know your dad.' She goes, 'You do? Who's my dad?' And I'm like, 'Deepak,' " O'Donnell said. "She's like, 'No, and Chopra is a common name.' … I felt so embarrassed."
Priyanka Chopra's actual father,  Dr. Ashok Chopra, passed away in June 2013. O'Donnell went on to apologize to Jonas and "the Chopra wife" in the TikTok, something that users also took issue with as well. This prompted O'Donnell to issue a second video, clarifying that Priyanka was not rude during their encounter and that she was sorry for not using her name in her first Tiktok.
"Anyway, Priyanka is her name," O'Donnell says in the video. "Priyanka — I hope I'm pronouncing that right. I just want to apologize to her and to everyone who thought that it was really inappropriate of me. Sorry, sometimes I f--- up. I did at Nobu."