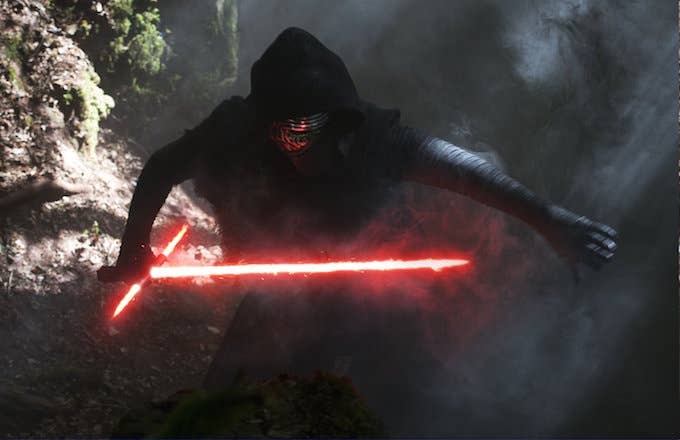 Welp, you can stop looking forward to May 26, 2017. Disney just announced Episode VIII has been pushed back to Dec. 15, 2017, Varietyreports. That short 18-month wait time between The Force Awakens and its sequel was in fact too good to be true. We're gonna have to stand by for a full two years now between flicks. 
Heartbreak aside for the most impatient of us, the move isn't that surprising. Or concerning. Many industry experts made mild opening weekend predictions for The Force Awakens given the history of December releases. Before Episode VIIThe Hobbit: An Unexpected Journey held the record for highest December opening with $84.6 million. ForbespredictedThe Force Awakens would open to the $125 million range, while Disney itself had its eyes on the $170 million mark. These safe estimations were blown away when the latest Star Wars secured the highest domestic opening of all-time with $247.9 million, well ahead of Jurassic World's previous record of $208.8 million. Disney now has no reason to be wary of December again. 
As Collider's Steven Weintraub pointed out, The Mouse may be trying to use The Force to dominate the holiday season on a yearly basis. Rogue One, the first Star Wars standalone film, was already slated for a Dec. 16, 2016 release date. With three standalone films and two more saga entries, a new Star Wars will drop every year through 2020. Why not make the franchise synonymous with the most commercialized holiday on the planet?
Fans may be having flash backs to Fantastic Four, which was delayed before brutally disappointing the 12 people who saw it in theaters. But if you think the move is more indicative of issues with the movie than pure capitalism, you gots to chill. Despite J.J. Abrams already regretting giving up the directors chair, Episode VIII is in the more-than-capable hands of Rian Johnson, who wrote and directed Looper and Brick. Dude also helmed "Ozymandius," the best episode of Breaking Bad and possibly in the history of television. The flick is still in pre-production and is set to begin principal photography next month, so it's too early for anyone to, say, get their leg crushed by the Millennium Falcon. If there are concerns about the screenplay nobody's heard of them. Abrams has been singing the script's praises, and John Boyega has described Episode VIII as "much darker." And no Sony-esque leaks have outed any problems. 
Waiting another seven months is never fun, but let's take this in stride. An 18-month gap between saga entries was extremely generous, and a full two years is still quicker than we've ever seen. Each of the films in the original and prequel trilogies were released three years apart. The galaxy far, far away is still spoiling us.