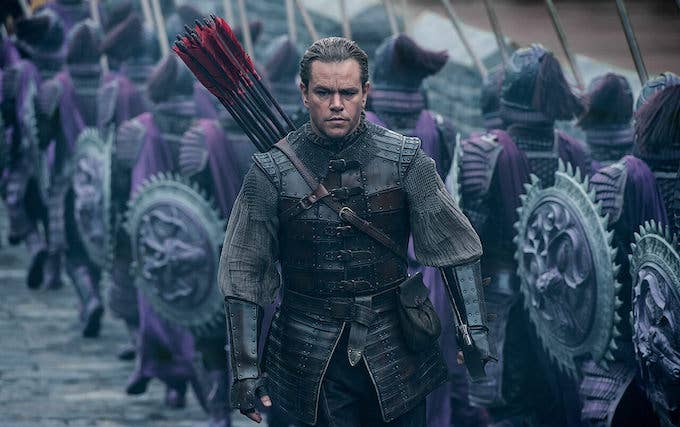 Matt Damon's latest actorial feat arrives Friday in the form of The Great Wall, a critically maligned tale of China's Wonder of the World being saved from monsters by a white, European man. Maybe you're ready to chalk this up as a misstep, a rare misguided decision to join a movie that's both #problematic and cinematic garbage. But don't let homeboy off that easy. In the age of the woke bae, Matt Damon is a nauseating imposter. Yes, he's raised money for Elizabeth Warren. Yes, he narrated Inside Job, the excellent documentary that examined the fucked up corruption that helped create the last decade's financial crisis. And yes, he offered the obligatory if not soft condemnation of Donald Trump by saying the thought of him as president makes him "nervous." While his heart may occasionally be in the right place, he's shown a recent willingness to trample over the underrepresented voices of women and minorities to get there. 
Ever since debuting his pony tail and being announced as the face of the whitewashed Great Wall, Damon has managed to speak out about the issues facing Hollywood while showing exactly why and how they persist, a self-defeating tour of pseudo wokeness. Back in August 2015, during the fourth season premiere of Project Greenlight—his since-cancelled series with Ben Affleck that gave first time filmmakers a chance to make movies—he talked over producer Effie Brown, a black woman, to mansplain/whitesplain/Damonsplain diversity and argue it was important to have non-white casting, not necessarily non-white filmmakers. 
Nevermind that more non-white filmmakers behind the camera would better represent the diverse characters in front of it. Nevermind that more non-white filmmakers would put more non-white actors in their films and put a dent in the 73-percent white dominance in the highest-grossing films. Damon, like too many studios, was willing to throw in a black character and pat himself on the back for fostering "diversity." When he "apologized" that same week, he also patted himself on the back for starting a conversation on diversity—if starting a conversation means saying something so ignorant it welcomes widespread opposition. Later that year, in December, he danced around the issue in a New York Times profile. After admitting he and Affleck already knew they had blown it (but didn't do anything about blowing it), Damon said: "The idea that I would say that there didn't need to be diversity behind the camera, it's not only complete anathema to what I believe in my heart and always have, but it's not something that I think anybody would ever say with a camera on."
That's exactly what he said with the camera on. 
In between those poor apologies for defenses of his argument, he also managed to suggest gay actors would be more successful if they kept their homosexuality hidden in a broader appeal for blanket secrecy. "In terms of actors, I think you're a better actor the less people know about you period," Damon said. "And sexuality is a huge part of that. Whether you're straight or gay, people shouldn't know anything about your sexualities because that's one of the mysteries that you should be able to play." The simple truth, though, is that a white, cis actor won't have as many intrusions into his sex life as one who is gay (closeted or not). There aren't weird heterosexual witch hunts for celebrities. Touting the artistic merits of such secrecy is an exhibition of the white male privilege he enjoys. And instead of acknowledging that, Damon came through with yet another lame ass apology on Ellen and blamed the "blogosphere," a term that's as relevant now as the Bourne franchise. 
Thankfully Damon managed not to say anything dumb around the Oscars—which the Academy has done nothing to prevent from being an apt, yearly opportunity to criticize Hollywood's diversity problem—and for most of 2016. But then Great Wall promotion season began, and Damon has proven that he can't promote without exhibiting his lack of self-awareness. In December, Damon finally responded to the whitewashing criticism that began ramping up after the trailer was released in July and related it to the era of fake news, according to the Associated Press. "It suddenly becomes a story because people click on it, versus the traditional ways that a story would get vetted before it would get to that point," he said. "Eventually you stop clicking on some of those more outrageous things before you realize there is nothing to the story when you get to it."
Except there is something there to it. While it may not be as blatant as putting Scarlett Johansson or Tilda Swinton in roles that were originally Asian, putting a white hero at the center of a story set in China still sends that signal that Hollywood doesn't believe an Asian hero can carry a film of this magnitude, even while working with the state-run China Film Group. Damon and Chinese director Zhang Yimou insist that his character was written as a European settler from the very beginning but haven't given credence to the possibility that such a decision is rooted in the same methodology that whitewashes films written in America. Hollywood, and the country at large, would benefit more from an Asian-led Great Wall film than yet another white defender of a foreign locale—an impact that could be even greater for China, whose most expensive film production now stars a dude from Cambridge, Massachusetts. 
Matt Damon and friends like Ellen DeGeneres tell you he's not a bad guy, and it's likely true that he's not malicious. He's just another successful but clueless and fumbling white dude who refuses to examine his mistakes and what drives them. Such stubborn misguidance may not sting as much as overt hate, but it's even less helpful than a hokey drama in the fight against fracking. Homeboy should stop proclaiming his good intentions, or even stop talking altogether, and start listening to his critics. He'd be a little less hallow if we weren't releasing so much hot air.