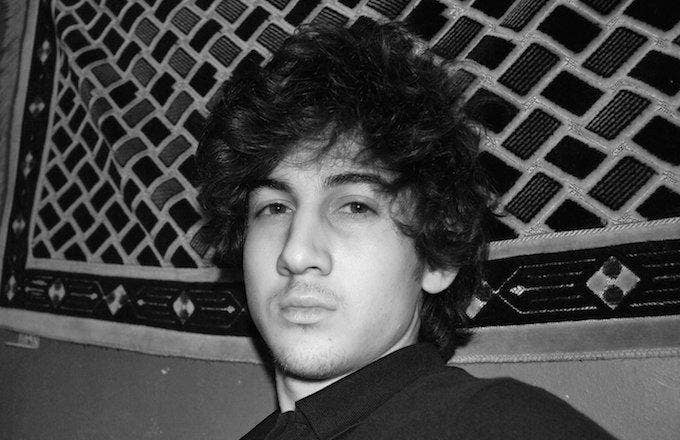 After two days of deliberation a jury has found Dzhokhar Tsarnaev guilty on all 30 of 30 charges in the Boston Marathon bombing trial. Seventeen of Tsarnaev's first 18 convictions made him eligible for the death penalty.
The trial began in January, with Tsarnaev pleading not guilty on all 30 counts. Twelve charges involve the pressure-cooker bombs used in the attack; three pertain to conspiracy; another three pertain to the murder of MIT security officer Sean Collier; and the final 12 involve the crime spree that ensued following the murder. 
The sentencing phase could begin as early as next week and will decide if Tsarnaev will receive life without parole or death.
The jury reached a decision this afternoon after seven hours of deliberation Tuesday failed to yield a decision. 
Here's the full breakdown of the 30 convictions, via WBUR:


Conspiracy to use a weapon of mass destruction, resulting in death


Use of a weapon of mass destruction (Pressure Cooker Bomb #1), resulting in death; and aiding and abetting


Possession and use of a firearm (Pressure Cooker Bomb #1) during and in relation to a crime of violence, resulting in death; and aiding and abetting


Use of a weapon of mass destruction (Pressure Cooker Bomb #2), resulting in death; and aiding and abetting


Possession and use of a firearm (Pressure Cooker Bomb #2) during and in relation to a crime of violence, resulting in death; and aiding and abetting


Conspiracy to bomb a place of public use, resulting in death


Bombing of a place of public use (Pressure Cooker Bomb #1), resulting in death; aiding and abetting


Possession and use of a firearm (Pressure Cooker Bomb #1) during and in relation to a crime of violence, resulting in death; aiding and abetting


Bombing of a place of public use (Pressure Cooker Bomb #2), resulting in death; aiding and abetting


Possession and use of a firearm (Pressure Cooker Bomb #2) during and in relation to a crime of violence, resulting in death; aiding and abetting


Conspiracy to maliciously destroy property, resulting in death


Malicious destruction of property by means of an explosive (Pressure Cooker Bomb #1), resulting in death; aiding and abetting


Possession and use of a firearm (Pressure Cooker Bomb #1) during and in relation to a crime of violence, resulting in death; aiding and abetting


Malicious destruction of property by means of an explosive (Pressure Cooker Bomb #2), resulting in death; aiding and abetting


Possession and use of a firearm (Pressure Cooker Bomb #2) during and in relation to a crime of violence, resulting in death; aiding and abetting


Possession and use of a firearm (Ruger P95 9mm semiautomatic handgun) during and in relation to a crime of violence, resulting in death; aiding and abetting


Possession and use of a firearm (Ruger P95 9mm semiautomatic handgun) during and in relation to a crime of violence, resulting in death; aiding and abetting


Possession and use of a firearm (Ruger P95 9mm semiautomatic handgun) during and in relation to a crime of violence, resulting in death; aiding and abetting


Carjacking, resulting in serious bodily injury; aiding and abetting


Possession and use of a firearm (Ruger P95 9mm semiautomatic handgun) during and in relation to a crime of violence; aiding and abetting


Interference with commerce by threats and violence; aiding and abetting


Possession and use of a firearm (Ruger P95 9mm semiautomatic handgun) during and in relation to a crime of violence; aiding and abetting


Use of a weapon of mass destruction (Pressure Cooker Bomb #3 on or about April 19, 2013, in the vicinity of Laurel Street and Dexter Avenue in Watertown); aiding and abetting


Possession and use of a firearm (a Ruger P95 9mm semiautomatic handgun and Pressure Cooker Bomb #3) during and in relation to a crime of violence; aiding and abetting


Use of a weapon of mass destruction (Pipe Bomb #1 on or about April 19, 2013, in the vicinity of Laurel Street and Dexter Avenue in Watertown); aiding and abetting


Possession and use of a firearm (a Ruger P95 9mm semiautomatic handgun and Pipe Bomb #1) during and in relation to a crime of violence; aiding and abetting


Use of a weapon of mass destruction (Pipe Bomb #2 on or about April 19, 2013, in the vicinity of Laurel Street and Dexter Avenue in Watertown); aiding and abetting


Possession and use of a firearm (a Ruger P95 9mm semiautomatic handgun and Pipe Bomb #2) during and in relation to a crime of violence; aiding and abetting


Use of a weapon of mass destruction (Pipe Bomb #3 on or about April 19, 2013, in the vicinity of Laurel Street and Dexter Avenue in Watertown); aiding and abetting


Possession and use of a firearm (a Ruger P95 9mm semiautomatic handgun and Pipe Bomb #3) during and in relation to a crime of violence; aiding and abetting


[via USA Today]