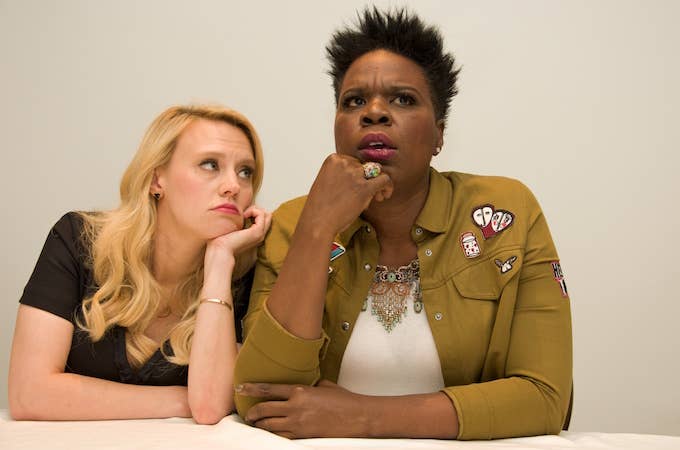 Jason Reitman will reportedly be co-writing and directing the next iteration of Ghostbusters, building upon the storylines established in the 1984 original and 1989 sequel. Many may recall Paul Feig's 2016 Ghostbusters film, a female reboot of the 1980's classic, which Reitman has explicitly said he would ignore in the upcoming movie. 
Leslie Jones, one of the leading cast-members in the 2016 comedy alongside Melissa McCarthy, Kristen Wiig and Kate McKinnon, took to social media to express her discontent with Reitman's decision. "So insulting. Like fuck us. We dint count. It's like something trump would do. (Trump voice)"Gonna redo ghostbusteeeeers, better with men, will be huge. Those women ain't ghostbusteeeeers" ugh so annoying. Such a dick move. And I don't give fuck I'm saying something!!" she wrote on Twitter. 
Jason Reitman is the son of Ivan Reitman, the director of the two original Ghostbusters films. During a recent interview with the Entertainment Weekly, Jason explained that the upcoming film is not a reboot. "This is the next chapter in the original franchise," he said. "I have so much respect for what Paul created with those brilliant actresses, and would love to see more stories from them. However, this new movie will follow the trajectory of the original film," Reitman continued. 
The decision to ignore the all-female reboot has received a considerable amount of criticism. Although the 2016 film did not exceed expectations at the box office or among critics, Paul Feig has expressed interest in directing another Ghostbusters film. In a recent Bustle article, the author points out that when a female-led film does not over perform, the chance of continuing the narrative is often characterized as risky. "The studio seems to be reiterating the idea that a female-centric reboot or a female-led comedy are "risks" and that if they don't over-perform, there's no point in continuing to make more female-focused films," she wrote.
According to recent reports, the original cast of the Ghostbusters is awaiting Sony to confirm they will be reprising their original roles. The upcoming film is set to be released in the summer of 2020.