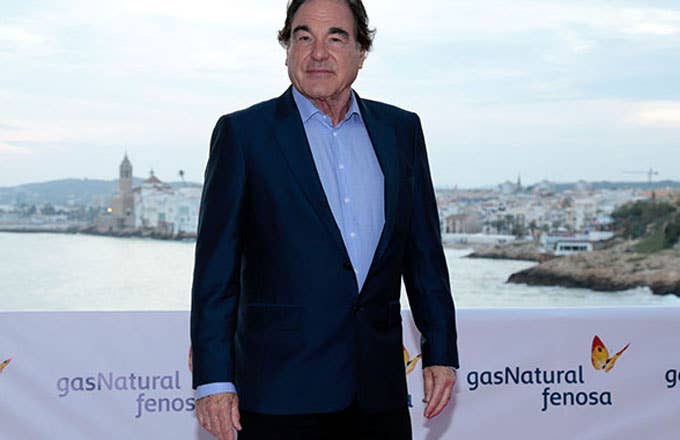 The daily revelations on the sexual improprieties of disgraced film executive Harvey Weinstein doesn't seem to end. Now Carrie Stevens, a former Playboy playmate, is calling out another Hollywood figure, Academy Award winning director Oliver Stone, for an alleged groping incident that happened 26 years ago.
In an lengthy account on Facebook, she wrote about what happened.
"I was only 22 years old. Oliver walked past me and grabbed my boob as he waltzed out the front door of a party. I still remember the cocky grin on his face like he got away with something," she wrote in a post on Thursday that appears to have been deleted. "These douchebags are not above the law, and they should be held to the same standard as every other man. It's common decency NOT to grab boobs, pu**ies (like our President does) … or any other body part of another, uninvited. They should go back to preschool, because they must've missed the lesson … 'keep your hands to yourself.'"

Furthermore, Stevens told the NY Daily News that this went down at the home of producer Ted Fields at an event being held in Stone's honor, and that the JFK and Natural Born Killers director "reached out and … honked it like a horn."
She further posits that she's not the only person who was harassed by Stone, saying, "If they do it to one, they'll do it to as many as they can get away with."
As noted by Variety, Stone originally came to the defense of Weinstein (kind of) as he said people should wait before condemning him. "I'm a believer that you wait until this thing gets to trial," he said. "I believe a man shouldn't be condemned by a vigilante system. It's not easy what he's going through, either. He was a rival and I never did business with him. I've heard horror stories on everyone in the business. So, I'm not going to comment on that. I'll wait and see, which is the right thing to do."
That my seem kind of tepid, especially when you consider he later said he was unaware of the number of women who had come forward with allegations. He also cut ties with the Guantanamo series due to the Weinstein Company's involvement.
As for Stevens, she was a Playmate of the Month in 1997, and has appeared in Beverly Hills, 90210, Days of Our Lives and (more recently) Two and a Half Men and Jake in Progress.