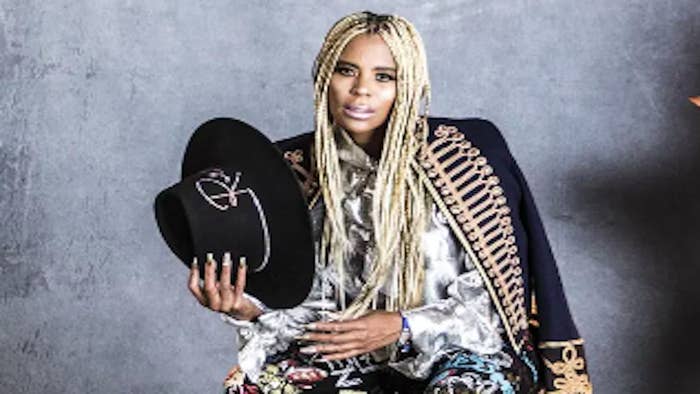 Tour season is in full swing, and the conversations around what qualifies as a great show are brewing.
One of the most talked about tours at the moment is Beyoncé's Renaissance World Tour, which kicked off in Stockholm earlier this month. The three-hour performance shows Queen Bey singing her hits in addition to her latest songs from her Renaissance album.
Intense choreography has remained a significant component of Bey's shows over time, which she effortlessly performs alongside her talented dancers. After the first few Renaissance shows in Europe, some concertgoers criticized Beyoncé's energy, highlighting that this is her first tour where the dancing isn't as involved.
There are a lot of aspects that go into touring, rehearsals, preparing one's body, and more. No one knows that better than the iconic Laurieann Gibson, who has a resume that is undeniable as a veteran dancer, choreographer, actor, singer, creative director, and visionary.
Gibson has worked with some of the most renowned artists in the industry, including Michael Jackson, Mary J. Blige, Alicia Keys, Beyoncé, Lady Gaga, Nicki Minaj, and Diddy. In fact, her time with Diddy is how most fans of the '90s came to know and love her.
In 2005, Gibson was recruited by Diddy to choreograph and help find emerging artists on MTV's Making the Band. She played a monumental role in developing the girl group Danity Kane and the boy band Day 26.
After her time on the reality show, Gibson worked with Lady Gaga, who at the time was lacking confidence after being dropped by several record labels. However, Gibson believed in Gaga's raw talent and worked with the singer for the release of her debut album The Fame Monster.
The two had an amazing run together. Gibson choreographed and creatively directed some of Gaga's most notable works to date: "Judas," "You and I," "Paparazzi," "Alejandro," and The Monster Ball Tour. Then news broke in November 2011 that the dynamic duo had parted ways. As Gibson put it in her memoir Dance Your Dance: 8 Steps to Unleash Your Passion, she was terminated via email by Gaga's team. "I was taking too much spotlight," Gibson wrote in her book.
"With Gaga, when you start out at the beginning, you actually build the IP and build the brand—I had to learn the hard way," Gibson tells Complex. "The credit was a problem. The truth of my contribution was an issue. Now, you see the decline in how the brand is performing once I left. And maybe you won't, but that's just my truth."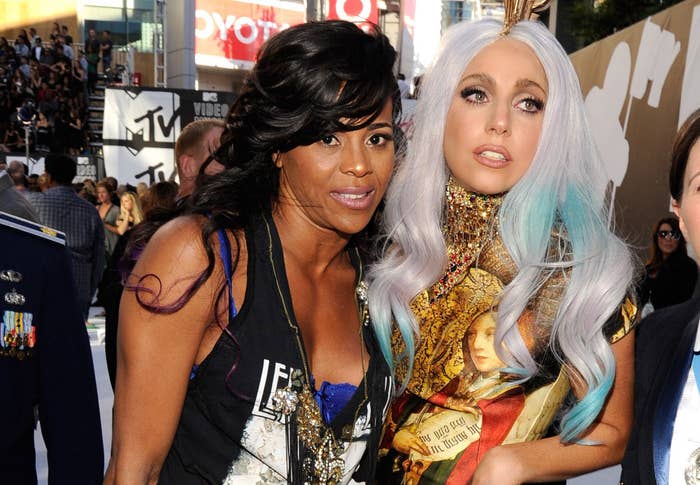 Gibson didn't allow the Gaga fallout to keep her down for long. She was then recruited by Nicki Minaj to creative direct her 2012 Grammys performance. The opportunity led to Gibson signing on for Minaj's Pinkprint Tour. Aside from her work on tours, Gibson has also appeared on other dance-related reality shows such as The Dance Scene, Born to Dance, So You Think You Can Dance, and Dance Moms.
Complex caught up with Gibson to get her expert take on what goes into making a tour, her thoughts on Beyoncé's show, her fallout with Gaga, her long history of working with Diddy and what they have in store, and more. The interview, which you can find below, has been edited for length and clarity.
Describe the behind-the-scenes prep work that goes into a tour.
It's the most exhilarating. It is the most creative part because of all the elements that have been working individually. So, the music has been an isolated element with you, and the artist, and the designs of the costume have been an isolated element. Then, the actual design of the set, and whatever trinkets or toys you have, whatever's coming out, and the choreography. And then there's just the artist.
The main event itself. Tour prep is when all of that comes together. All of the quick changes that were supposed to work in two seconds, that didn't work, everything comes together, and you actually build the experience.
How do you develop [an artist's] stage presence?
Stage presence I believe is something that you're born with. It's the X factor. It's the je ne sais quoi. It's the one thing that separates people who just get up there and do it, and then there's the stage presence of people that are born to do it. And that is what really separates an experience for the fans.
And if not, you develop it. You develop an understanding of your "why" when you're on stage. What do you want the people to feel? What do you want to leave the fans with? How do you want them to enjoy your show? If you don't have a natural sense of stage presence, then these things can be developed through your "why."
Summer Walker recently said she can't have tons of energy on stage because she makes slow songs. Does stage presence vary depending on the music an artist makes?
No, absolutely not. Marvin Gaye had one of the biggest stage presences. Some of our greatest R&B singers have the best ballads, and stage presence does not have a rhythm. It is a limitless essence to be able to communicate to people, whether you're telling them you're Black and you're proud, or "Sexual Healing."
From Bob Marley to Rick James to Diana Ross—who has the most prolific stage presence of all time. Obviously, Queen B is undeniable in that category. The artists that I have developed, whether it's [Lady] Gaga, Nicki [Minaj], Katy [Perry], or Puff [Daddy]. I could go on. I have met with Summer Walker, and she's so brilliant. I think it's just about developing the understanding to do it.
What's the most surprising thing about working on a tour that concertgoers might not realize?That opening night everything goes wrong. The show must always really go on. The beautiful thing is it's not about the tricks and the lights. It only enhances the experience. It only enhances what you want to give your fans so that they can never, ever forget that feeling, and that feeling can stay with a person for a lifetime.
Beyoncé is currently on tour and clips of her performance have surfaced on social media. What are your thoughts about the snippets?
You know I love Bey. Everyone thinks that it's easy to just get up on that stage, and be at that level that she's at. And she's just, like I said, Diana Ross, and then Bey, in my book. So she's killing it. I can't wait to see it, up close and personal.
There are a lot of people saying that she isn't dancing as much. Do you believe there's some truth to that?
Dancing has many different seasons and rhythms. If you're doing that style of an 8-count, great. If you're evolving it, and you're moving, dancing doesn't mean you have to be doing 39 million steps.
Right.
You know what I mean? I'm a choreographer, so movement speaks to me in different ways, at different times, for different reasons. I'm going to leave that one alone, because you know I should be working with Beyoncé. But unfortunately, I have Puff Daddy right now. So pray for me.
The credits for the Renaissance Tour were recently released and many people on Twitter praised the effort, saying the behind-the-scenes crews need that acknowledgment. Do you agree?
I think, yes, that's definitely been something that I've had to experience, and so thank you for talking to me because you're part of the people that get what I do. Yeah, I believe that the power in the truth always elevates you, no matter who you are. And to acknowledge people that lose sleep, don't sleep, that are part of that experience, only shows the grace of a true superstar.
Fans have also pointed out that a handful of Beyoncé's original dancers have been replaced with more "social media dancers." How has social media affected tour recruitment?
I don't care. I could find my dancer on the street corner freestyling. Talent is talent. How you find them is irrelevant. It's definitely a different time. Honey Balenciaga is one of my dancers. You see these kids come up, and they get to dance with Beyoncé. That's amazing. It's like the first time we got to dance on tour. I'm excited for them. I think the fans are allowed to feel the way they feel, but most importantly, an artist has got to continue to evolve and do whatever they feel they want to do creatively. As far as those "social media dancers"? They know how mother feels, as long as you come full out, honey, and you're ready to elevate.
What about your work on both Lady Gaga and Nicki Minaj's tours hold a special place in your heart?
I remember when Gaga was absolutely not Gaga to the world, and it was just her and I in a broken-down dance studio, with no record deal and no album. And so I was able to design everything that became that brand. So I think everything is important to me, and everything matters. Whether it's Jozzy, who's just signed to Love Records, whether it's Megan [Thee Stallion], standing on her own, and being stronger than ever. Everything matters.
It's now Puff Daddy. I don't know, he's consistently, not only an icon, but a mogul who has created the blueprint for everyone standing, and bringing his new album back to the culture. It's all challenging. It's all kind of crazy when I think about it. Or whether it's my own girl group that I have full ownership over for the first time in my career. So all the tours are great for me. Because the first time Gaga went on stage after I designed it, it was at a small club.
Nicki Minaj recently hinted on social media that she might start touring soon. What would you want to see from her at this point in her career?
I think a really good show. When I was working with her, she had the No. 1 hip-hop tour, The Pinkprint Tour, and thereafter. I think she should get back to that level of experience for her fans. They deserve it, and her music is great.
I agree. What have you learned from working with Diddy, and what do you believe he's learned from working with you?
He's learned everything from me. We have an amazing, interesting, relationship because they say true friendship, true collaboration, goes through changes and challenges, and we have. And you come out into this place where you just constantly make magic. You'd have to ask him what he learned from me. I hope he has the laundry list that I have. But what I've learned from him is the ability to understand this playing field as a business.
I've learned to continue to push the magic. He is someone that does not give up till it's as good as it possibly can be. We go toe to toe, but he might be just a tad more cuckoo than me. But I've learned to really just go as hard as you can. "Can't Stop, Won't Stop," that's general for him.
In your book, you talk about how you help an artist pose, strut, dance, and build confidence while on stage. It's easy to say that you do a lot of work when it comes to shaping an artist. Do you feel as though creative directors and choreographers get enough credit for all the work that they do?
No, absolutely not. But it's also like a misconception. Credit is one thing. You just don't want credit for credit. You want your worth. Whether it's, yes, the acknowledgment of your contribution, and obviously the financial gain to what you are contributing to. You don't want to still be where you were when the [artist] started out.
And with Gaga, when you start out at the beginning, you actually build the IP and build the brand—I had to learn the hard way. The credit was a problem. The truth of my contribution was an issue. Now, you see the decline in how the brand is performing once I left. And maybe you won't, but that's just my truth. And I think the lack of acknowledgment really caused a deficit in that brand that I built. Those are the facts, and I'm sticking to it.
Going from that situation, how do you ensure that history doesn't repeat itself and that you remain as creative as possible?
The way I'm built is an inspiration unto itself because most people would not have been able to continue after. After Gaga, I went right to Nicki, and built another super powerful brand, literally right after. So that was very difficult.
But Nicki was a completely different artist. There were similar challenges, but I had begun to understand how to migrate differently. So you don't do any less of who you are, you just understand the playing field, you make better choices, and you got to keep fighting. You might have to dial 1-800-ASK-GOD because they definitely tried my truth. Ultimately, you go through stuff to become your very best self. And it is about being a Black female in an industry that doesn't recognize our contribution but has to, as long as we keep fighting for it.
You mentioned earlier that you and Diddy have something in the works.
I will say this; this album, it's remarkable. He talks about getting to a second mountain. Everyone says, "Oh, why are you doing it? He's rich." But the love of music, and your "why" can't be bought, and to see him really get back into what he first loved is magical. And then to be able to coach, champion, and create that experience, is awesome. We are going to impact the culture, and that responsibility is amazing.
I am going back to television. So in July, I can't tell you yet, but I'll be on a channel near our streaming service soon. I have the most exciting news, ever, which is about two years ago, I announced a streaming network service that I'm building, all things dance. It's called BOP. So we're getting ready to launch in 2024. So I'm busy, yeah.
Are there any updates on the revival of Making the Band?
I don't know that there are updates on Making the Band, but there's a good update coming down the pipeline. You'll definitely see myself and brother on television very soon.
What has it been like being one of pop culture's most well-known choreographers? Fans are saying your "Boomkack" catchphrase, and praising your work—your impact has essentially shaped several childhoods.
I should have recorded that. I feel emotional. I'm learning to accept that and to hear that. I'm really learning to appreciate that because it has been a journey. I'm very grateful that my gift was felt, and not the fights, the struggle, or the pain. I'm glad that the power of my gift was powerful enough to impact. I'm really humbled, I'm really full of awe. And it also inspires me to keep fighting because I have so much more that I want them to be able to understand. This is why I keep creating. Thank you for that.