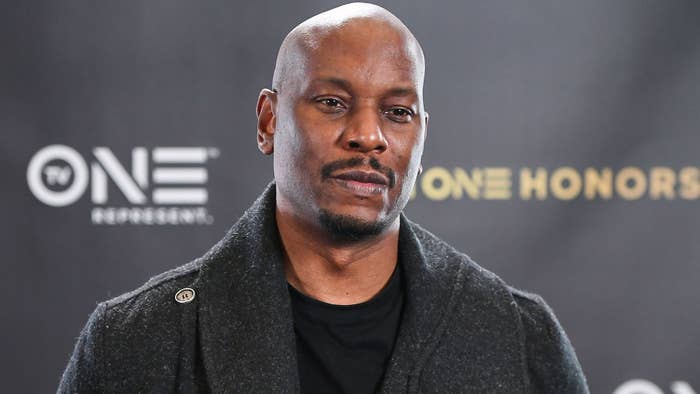 The Home Depot has fired back at Tyrese Gibson following his $1 million racial discrimination lawsuit.
According to court documents, obtained by TMZ, Home Depot says Tyrese is lying about the Los Angeles area store violating his civil rights earlier this year.
The company says that after shopping, Tyrese went to check out and the cashier scanned everything. He then went to grab more items and left the register for 25 minutes, making the cashier negate his transaction. The home improvement store also says it has footage of the incident, which shows that he never spoke to any of the store's cashiers.
Tyrese took to Instagram early Friday morning to respond to Home Depot, writing that the company's co-founder and first CEO, Bernard Marcus, is "one of Trump's largest donors" who gave "$7 million to his campaign."
"The Trump supporter attempts to slander me!!!" Tyrese continued. "I should of known the fact that's spent tens of millions in your establishment the footage of your team and staff's blatant racism and discrimination is very clear and now you put these random claims about me in court documents?"
He also issued a statement from himself and his two associates who were with him at the store, Eric Mora and Manuel Hernandez.
"Eric Mora, Manuel Hernandez, and I are 100% committed to taking a stand against The Home Depot in defense of our own civil rights and the civil rights of all who have been subjected to discriminatory practices and consumer racial profiling."
"The Home Depot and its team of attorneys seek to deny our claims,gaslighting… Trying to legally bully us and silence our voices as reflected in their most recent court filing. But we will not back down. We will use all of our energy to correct the conduct of the company, in service of the broader goal of a shared future free from discrimination."
In the original complaint from August, the Fast & Furious franchise star says he, Mora, and Hernandez were subjected to "outrageous discriminatory mistreatment and consumer racial profiling" in February.
In Tyrese's version of events, he, Mora, and Hernandez went to Home Depot to shop. Tyrese ended up waiting in his car because he was worried his presence in the store would be distracting. He says he handed his credit card to the two construction workers and told the cashier that they would complete the transaction while he stepped away. However, the Home Depot employee allegedly would not complete the sale, even when Tyrese returned to the store. A clip of the heated interaction between Tyrese and Home Depot staff was shared online.
The three men are now seeking $1 million in damages, which Tyrese claims is the amount he's spent at Home Depot throughout the years. They are also seeking punitive damages, statutory damages, and attorney's fees.