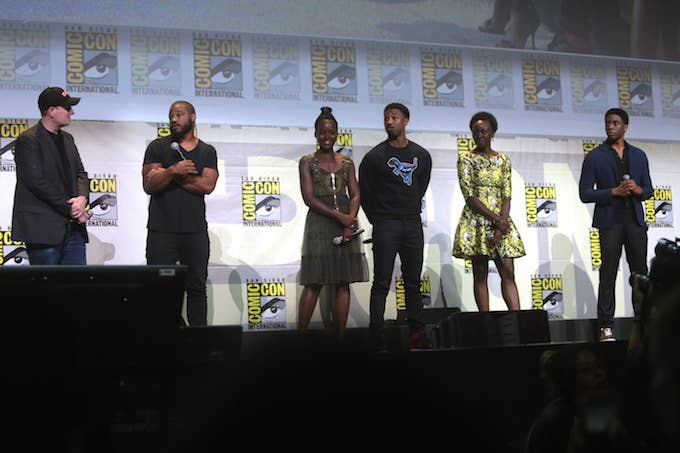 Black Panther just keeps on crushing it. After a stunning few weeks at the box office, the Marvel saga is officially the first superhero origin story to gross $1 billion worldwide, and could possibly usurp The Dark Knight as the highest-earning standalone superhero movie ever.
It also becomes the 16th Disney movie to hit the billion-dollar mark, and it did it in only four weekends. The only other Marvel movies to cross that mark are The Avengers, Avengers: Age of Ultron, Iron Man 3, and Captain America: Civil War. While The Avengers is still the highest-grossing superhero movie ever, Black Panther shows no signs of slowing down. In fact, it's on the verge of  having the third-highest fourth weekend of all time.
On Saturday, Disney revealed that it expects Black Panther to rake in more than $500 million internationally this weekend, "bolstered by an impressive debut in its final market, China," Buzzfeed reported.
And while fans won't have to wait too long for another dose of T'Challa—he'll appear in April's hugely anticipated Avengers: Infinity War—​the excitement for the inevtiable Black Panther sequel is already very real. Marvel Studios president Kevin Feige spoke about the sequel with Entertainment Weekly.
"One of the favorite pastimes at Marvel Studios is sitting around on a Part One and talking and dreaming about what we would do in a Part Two," Feige said. "There have been plenty of those conversations as we were putting together the first Black Panther." While he wouldn't go into specifics, he did reveal that Marvel has "ideas and a pretty solid direction" on where they want to take the second movie.
It looks like T'Challa will be a box office fixture moving forward. And with Robert Downey Jr.'s Iron Man potentially on his way out of the MCU, Chadwick Boseman's groundbreaking superhero could anchor this universe for years to come.