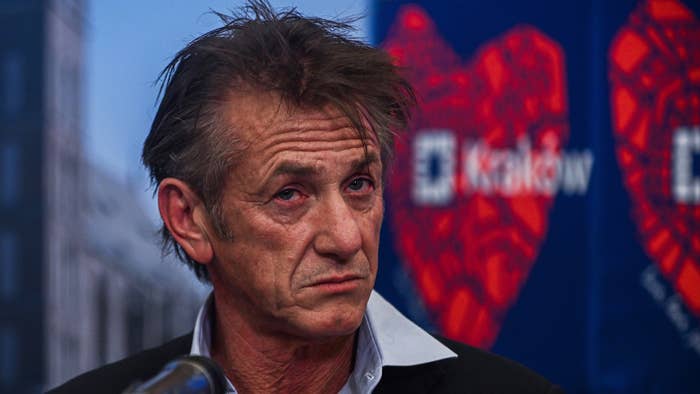 Sean Penn has sent a stern message to Oscar organizers.
While speaking to CNN's Jim Acosta on Saturday, the 61-year-old actor called on the Academy to give Ukrainian President Volodymyr Zelensky an opportunity to speak at the 94th Academy Awards; and if they refused to extend the invitation, he will publicly destroy his Oscar trophies.
"There is nothing greater that the Academy Awards could do than to give him that opportunity to talk to all of us," Penn said.
The annual awards show will take place at the Dolby Theater in Hollywood on Sunday, amid Russia's deadly invasion of Ukraine. Penn is currently in the region filming a documentary about the crisis, as well as to help supply aid to Ukrainian refugees.
In the week leading up to the annual awards show, co-host Amy Schumer claimed she had pitched the idea of having Zelensky make an appearance at Sunday's ceremony, but suggested producers weren't on board. Penn referenced the purported rejection on CNN.
"Now, it is my understanding that a decision has been made not to do it," he said about the proposed invitation to Zelensky. "That is not me commenting on whether or not President Zelensky had wanted to. If the Academy has elected not to do it, if presenters have elected not to pursue the leadership in Ukraine who are taking bullets and bombs for us—along with Ukrainian children that they are trying to protect—then I think every single one of those people, and every bit of that decision will have been the most obscene moment in all of Hollywood history."
He continued: "I hope that's not what happening. If it turns out to be what's happening, I would encourage everyone involved to know, that though it may be their moment—and I understand that—to celebrate their films, it is so much more importantly their moment to shine, and to protest and to boycott that Academy Awards. And I myself, if it comes back to it, when I return, I will smelt mine in public."
Oscar host Amy Schumer previously said she tried to get Zelensky to present during the show, but the producers nixed the idea. 
Penn has two Oscar awards under his belt: Best Actor for 2003's Mystic River and Best Actor for 2008's Milk.