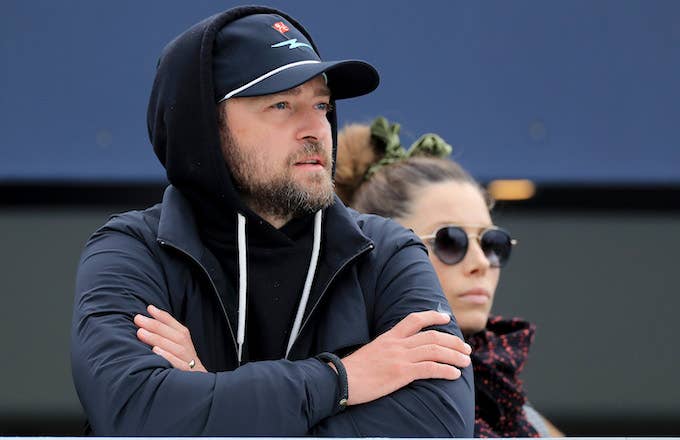 Justin Timberlake insists there is nothing going on between him and his Palmer costar Alisha Wainwright.
In late November, The Sun published a series of photos showing Timberlake and Wainwright holding hands "during a boozy night out." The images immediately sparked controversy, as well as rumors that Timberlake was being unfaithful to his wife of nine years, actress Jessica Biel.
Timberlake and Wainwright were seen at The Absinthe House, following a day of shooting. One source told The Sun the costars were "were smiling and laughing" as they sat on the balcony with a few drinks.
"At one stage he grabbed her hand and rested it on his knee. She then gently started stroking his leg," a source told the outlet. "Then he clutched her hand with both of his and was playing with her hands."
About two weeks into the scandal, Timberlake broke his silence via Instagram.
"A few weeks ago I displayed a strong lapse in judgment — but let me be clear — nothing happened between me and my costar," he wrote. "I drank way too much that night and I regret my behavior. I should have known better."
Timberlake went on to say that he did not want to set a bad example for his 4-year-old son, Silas, whom he shares with Biel. The 38-year-old singer also apologized to his wife as well as his family "for putting them through such an embarrassing situation." 
"I am focused on being the best husband and father I can be," he wrote. "This was not that."
Timberlake ended his note by saying he was still looking forward to completing Palmer—an indie drama directed by Fisher Stevens with a screenplay by Cheryl Guerriero.
You can read his full statement below. Biel has yet to publicly address the scandal.