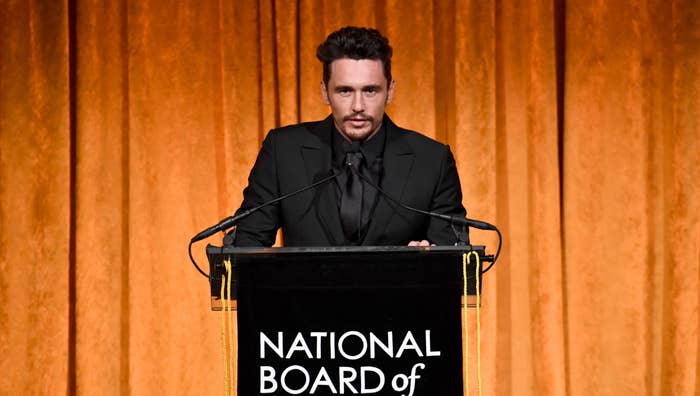 James Franco is one step closer to ending his sexual misconduct lawsuit.
According to The Hollywood Reporter, the 43-year-old actor and associated parties have agreed to pay $2,235,000 to settle the class-action lawsuit filed by two former students at his acting school. The plaintiffs, actresses Sarah Tither-Kaplan and Toni Gaal, claim Franco coerced them into performing gratuitous sexual acts on camera as part of a class at Studio 4 Film School in New York and Los Angeles. The suit alleged the Pineapple Express star "sought to create a pipeline of young women who were subjected to his personal and professional sexual exploitation in the name of education."
Tither-Kaplan will reportedly $670,500 minus $223,500 in legal fees; Gaal will get $223,500 minus $74,500 in legal fees; and the other alleged victims are expected to get about two-thirds of the remaining $1.3 million, approximately $827,000 of which will go to attorneys. Former students of the school can opt out of the agreement within two months, allowing them to pursue their legal claims against Franco and his business partners, Vince Jolivette and Jay Davis. Any remaining money from the payout will go toward the National Women's Law Center.
Tither-Kaplan and Gaal filed their first lawsuit against Franco in 2019, as the #MeToo movement was shaking Hollywood. The women claimed the coercion began in a master class at the now-defunct Studio 4 Film School, which operated between 2014 to 2017. Franco denied the allegations of sexual exploitation and addressed the accusations during an appearance on The Late Show With Stephen Colbert several years ago.
"In my life, I pride myself on taking responsibility for things that I've done. I have to do that to maintain my well-being," Franco said. "I do it whenever I know that there's something wrong or needs to be changed. I make it a point to do it." "The things that I heard were on Twitter are not accurate, but I completely support people coming out and being able to have a voice, because they didn't have a voice for so long. So I don't want to shut them down in any way. I think it's a good thing and I support it … I can't live if there's restitution to be made. I will make it. So, if I've done something wrong, I will fix it. I have to. That's how that works. I don't know what else to do,"
In addition to the payout, Franco and his co-defendants have reportedly to "non-economic" terms for Tither-Kaplan and Gaal, but the details of that "relief" have not been disclosed.
"While Defendants continue to deny the allegations in the Complaint, they acknowledge that Plaintiffs have raised important issues; and all parties strongly believe that now is a critical time to focus on addressing the mistreatment of women in Hollywood," the settlement reads. "All agree on the need to make sure that no one in the entertainment industry — regardless of race, religion, disability, ethnicity, background, gender or sexual orientation — faces discrimination, harassment or prejudice of any kind."
The settlement is now awaiting approval by a Los Angeles judge.