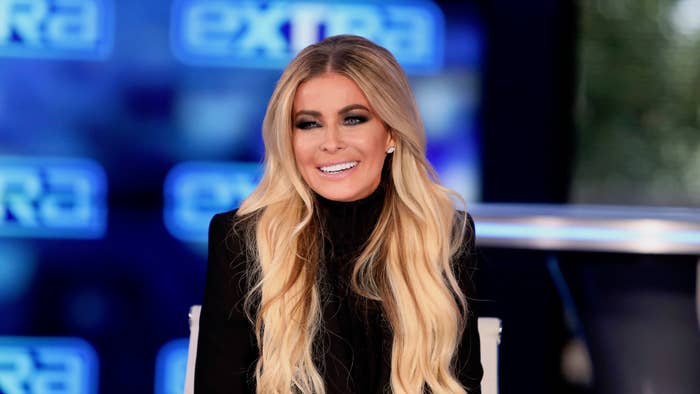 Carmen Electra's recent appearance on The Last Dance docuseries has given her a significant boost ... in Pornhub searches.
"After the episode was released on April 26th, searches for Carmen Electra surged to more than 1.7 million, compared to her daily average of just 1,500 searches," the adult entertainment site announced this week. "That compares to previous celebrity search increases including Maitland Ward, Kylie Jenner and Belle Delphine when they were featured in pop culture media."
During her interview in last week's episode, Electra spoke about her relationship with ex-Chicago Bulls star Dennis Rodman, whom she was married to from 1998-1999. The former Baywatch star recalled partying with Rodman in Las Vegas in the middle of the 1997-1998 season, unaware he had passed the 48-hour time limit coach Phil Jackson had given him. 
"I do remember being in Vegas with [Rodman]. It was on," Electra said. "The party was starting right away. One thing about Dennis, he had to escape. He liked to go out. He liked to go to clubs. We'd go to his favorite restaurant. Then we'd go to a nightclub. Then we'd go to after hours. It didn't stop. It was definitely an occupational hazard to be Dennis's girlfriend. He was wild. But to be honest, I didn't realize what the team's schedule was. I didn't know he took a detour."
After the episode aired, Electra gave a candid interview to The Los Angeles Times, and revealed she and Rodman had once had "sex all over the" Bulls training facility.
"One day when the Bulls had an off day from practicing, Dennis said he had a surprise for me," Electra said. "He blindfolds me and we get on his motorcycle. When he finally takes my blindfold off, we're standing at the Bulls practice facility, center court. It was crazy, like two kids in a candy store. We were eating Popsicles from the fridge and pretty much having sex all over the damn place—in the physical therapy room, in the weight room. Obviously on the court. ... To be honest, I don't think he's ever worked out so hard in his life."