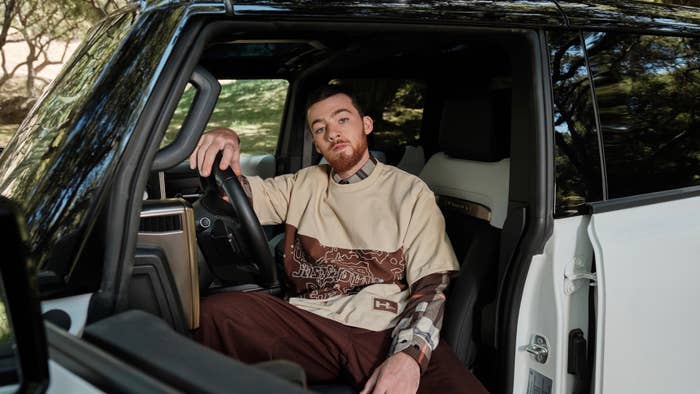 Angus Cloud has secured another on-screen gig.
The 24-year-old Euphoria star was tapped to appear in The Malibu Series, a five-episode program made in partnership with Don C. Shot in the Santa Monica mountains, the online series highlights the Hummer EV, GMC's first all-electric supertruck that was unveiled two years ago. The pickup boasts 1,000 horsepower, 11,500 lb-ft of torque (the combined total torque being applied to the wheels), and a 0-60 mph time of about three seconds.
Cloud's episode, titled "Immersive," finds the actor getting in touch with nature through the Hummer EV's infinity roof. The warm colors and ASMR-sounds were intended to evoke the feeling of being inside the supertruck. The series was shot by filmmakers Darryl Richardson and Ellington Hammond.
"The HUMMER EV shoot was an incredible experience: the Infinity Roof makes it easy to reconnect with nature," Cloud said in a press release. "I felt present, tuned in and fully immersed in my surroundings, the film pretty much feels like how a great day should feel!"
You can check out the "Immersive" episode below. The Malibu Series, which can watched at GMC.com, also stars rapper Big Sean; designer Kelly Wearstler; boxer Ryan Garcia; and Don C, who previously connected with GMC on a 2021 collection of branded merch.
"My whole career and creative point of view has been centered on the revolutionary; exploring this truck's capabilities and really getting to put it through its paces and thinking about how we can integrate such an iconic name back into the forefront of culture is a dream," Don C said about the partnership. "Anyone who knows me knows I love cars, and I can't give this one a bigger compliment than, I bought one for myself. To be a part of the electric vehicle revolution through my relationship with GMC, complements my narrative on life. The GMC HUMMER EV Malibu series was my homage to many of the things I love rolled into one: nature, sports, design, music, film and speed."