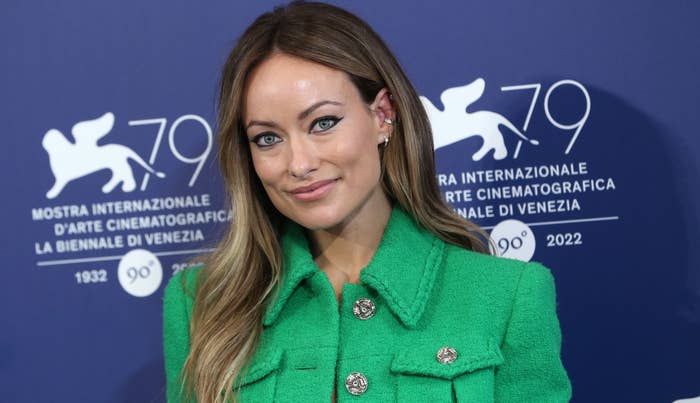 Olivia Wilde dodged a question related to Shia LaBeouf at the Venice Film Festival's press conference for her new film Don't Worry Darling, according to Variety.
LaBeouf was originally cast in the Wilde-directed thriller, before he left the film and was replaced by Harry Styles. At the Venice Film Festival press event on Monday, a moderator blocked a Hollywood Reporter journalist from asking Wilde a question about her rift with LaBeouf, claiming the director didn't need to answer because she said that she didn't want to address all the gossip around the film in a previous question.  

That's where Wilde steered away from speaking about her rumored feud with Don't Worry Darling star Florence Pugh, who was absent from Monday's presser despite attending the premiere.
After praising the actress as a "force," while saying "we're thrilled we'll get to celebrate her work tonight," Wilde shut down further questions about her alleged falling out with Pugh. "As for all the endless tabloid gossip and all the noise out there, I mean, the internet feeds itself," Wilde said. "I don't feel the need to contribute. It's sufficiently well nourished."
As for LaBeouf, Wilde told Variety she fired him from production, as "his process was not conducive to the ethos that I demand in my productions."
"He has a process that, in some ways, seems to require a combative energy, and I don't personally believe that is conducive to the best performances," she explained. "I believe that creating a safe, trusting environment is the best way to get people to do their best work. Ultimately, my responsibility is to the production and to the cast to protect them. That was my job."
LaBeouf denied Wilde's claims, instead saying he actually "quit the film due to lack of rehearsal time."
LaBeouf provided Variety an email he sent to Wilde in response to her August story, which read, "You and I both know the reasons for my exit. I quit your film because your actors and I couldn't find time to rehearse."
"What inspired this email today is your latest Variety story," LaBeouf wrote to Wilde. "I am greatly honored by your words on my work; thank you, that felt good to read. I am a little confused about the narrative that I was fired, however. You and I both know the reasons for my exit. I quit your film because your actors & I couldn't find time to rehearse. I have included as a reminder the screenshots of our text exchange on that day, and my text to Tobey."
Starring Florence Pugh, Harry Styles, Gemma Chan, and Chris Pine, Don't Worry Darling hits theaters on Sept. 23.